Weekend Wrap-Up
Jungle Book Busts Out, Beats Estimates by 30%
By John Hamann
April 17, 2016
BoxOfficeProphets.com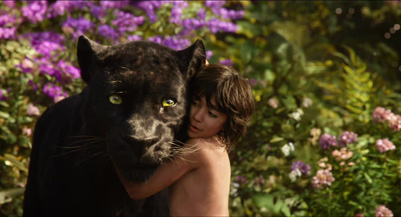 ---
Welcome to The Jungle (Book) as Disney brings the box office to its knees. We've got another massive, Deadpool-type breakout, but this time, for kids!

Disney has had the number one film at the box office six times out of a possible 16 weekends in 2016, doing it again this weekend with The Jungle Book, a critically-adored piece of art from Jon Favreau, who is becoming a generation's director, delivering those key first films that breed franchises. The Jungle Book exploded this weekend, hammering estimates that were calling for a $70 million weekend. Also this weekend, after a dozen years off, the Barbershop franchise is back with Barbershop: The Next Cut, from MGM and Warner Bros. and with Ice Cube back in the lead role. Our third opener is another troubled release from Lionsgate in Criminal, the Self/Less like actioner with Kevin Costner and Ryan Reynolds. The result this weekend is a frame dominated by The Jungle Book, as the 2016 box office has its fourth $90 million plus opener.

Disney is having the year Universal enjoyed last year, and we are only four months into 2016. Disney opened the year with two more winning weekends of Star Wars: The Force Awakens. The studio Disney took in $283 million of the $935 million domestic gross in calendar year 2016. They then had the disappointing Finest Hours ($50 million worldwide versus a $70 million production budget), but then they released Zootopia. That $150 million release that is barreling toward $1 billion at the worldwide box office and reaching a significant domestic milestone this weekend. Then, they have their summer - Marvel's Civil War in early May, and the Alice in Wonderland sequel in late May, a possible $2 billion worldwide combo. After that, they'll have three kids' films that should do significant business: Finding Dory, The BFG and Pete's Dragon. Finally, post-summer highlights include Marvel's Doctor Strange and Rogue One: A Star Wars Story to top off the year.

The Jungle Book exploded this weekend, busting expectations. It started on Thursday night at previews, earning a spectacular $4.2 million on a school night. The numbers only got better from there. The combined Thursday/Friday came in at $32.4 million – almost $10 million more than I expected. That opening day is just a few million off the $34.4 million that Fast Five had in April 2011 on its way to an $86 million opening weekend. It was also just off Inside Out, which had an opening day of $34.3 million on its way to a $90.4 million opening frame. Inside Out opened on June 19th, so most schools would have been out at the time.

On Saturday, The Jungle Book blew up big time. It earned a massive $41.1 million, an excellent figure considering it dominated the Friday number, which also had $4.2 million from Thursday to prop it up. It is almost unheard of to see this kind of increase with these kinds of numbers - Inside Out's Saturday came in at $30.9 million (down from $34.9 million on Friday), and Fast Five's Saturday was $29.9 million (down from $34.4 million). When Inside Out opened, it did so in the shadow of Jurassic World. That meant a second place finish against a film that had a sophomore weekend gross of $106.6 million. With The Boss and Batman struggling last weekend, The Jungle Book had the box office vacuum I've spoken about in the past working for it, and benefited from Batman v Superman evacuating the big auditoriums. Last weekend had the lowest top 12 since 2008, and The Jungle Book took advantage.

Over the weekend proper, The Jungle Book earned an amazing $103.6 million from a bountiful 4,028 venues. It easily out-opened Zootopia, which debuted with $75.1 million, and should have as good or better legs. The Jungle Book becomes the second biggest April opener ever, behind only Furious 7 ($147.2 million opening). It beat Captain America: The Winter Soldier ($95 million opening) and stayed well ahead of Fast Five's $86.2 million opening. The Jungle Book took advantage of great reviews and fast spreading word-of-mouth to beat weekend estimates by as much as $30 million, as RottenTomatoes has it at a remarkable 95% fresh, and the Cinemascore came in at an A, with some key demos giving it an A+. The Jungle Book is going to be another $300 million domestic winner for the studio. It had already earned $57 million overseas prior to the weekend, and increased that total to $187 million this weekend.

Jon Favreau is becoming a big deal at the box office, despite some significant misses. In 2003, Favreau made Elf, a film that is now a Christmas tradition, but at the time was a small, $33 million film that earned over $200 million worldwide (but those grosses are likely dwarfed by the revenue from home video). After a loss with Zathura – which is an under-appreciated film – Favreau directed Iron Man, which grossed almost $600 million worldwide and spawned the Marvel Cinematic Universe. He came back for more with Iron Man 2 ($624 million worldwide). He then lost Universal a small fortune on Cowboys & Aliens before making the very small Chef, which turned into a small hit. That brings us to today with The Jungle Book, a film that cost Disney $175 million to make. Favreau hit this one out of the park as well, and has already signed on for the sequel.

Finishing second is Barbershop: The Next Cut, which had to live in the shadow of The Jungle Book – a film that was playing to everyone, not just kids. Malcolm Lee stepped into directing duties this time around, as the Barbershop series revitalizes itself for MGM 12 years after the last film came out. Lee and Cube put together a very good film – it is 91% fresh at RottenTomatoes, and audiences responded. Barbershop 3 eared a decent but not spectacular $20.2 million from a trim venue count of only 2,661.

The Next Cut earned the A- Cinemascore that MGM and Warner Bros. were looking for, as both of the earlier Barbershop films earned the same score and saw decent legs because of it. This one was made for $20 million, right in between the cost of the first film ($12 million) and the third film ($30 million). Some were hoping for more here, but given the critical reaction and audience response, I think this one will be around for a while.

Finishing third and now further ahead of Batman v Superman is The Boss, Melissa McCarthy's latest that hit with her fans last weekend, but no one else. Given the C+ Cinemascore, it should be no surprise that Tammy (sorry, I mean The Boss) fell 57% to $10.2 million. The Boss fell even harder than Tammy did (!), as that one fell only 42% in its second weekend against the debut of Dawn of the Planet of the Apes, which opened to $72.6 million. The Boss cost $29 million to make, so the Universal release is going to need to earn at least $90 million worldwide to find a profit. Tammy earned just over $100 million worldwide; therefore, the same result for The Boss is going to be a stretch.

Batman v Superman: Dawn of Justice was in a close tussle with Zootopia for fourth spot. Batman v Superman eked out the win this weekend (after losing to The Boss last weekend by about $200,000). The Zack Snyder film had another weekend with a drop above 50%, as it earned $9 million and fell 61%. Dawn of Justice crossed the $300 million mark this week and now has a domestic total of $311.3 million. The overseas gross has crossed the half-billion mark, meaning Batman v Superman has crossed the $800 million mark worldwide. It's amazing how this one crossed a domestic plateau and an overseas plateau just as the Warner Bros. CEO was making presentations to theater owners this week.

That means Zootopia is fifth, as it has another decent weekend, its seventh in wide release. The other Disney feature in the top ten earned $8.2 million and declined 43%, but it's the mark it hit this weekend that's key. On its 43rd day of release, Zootopia crossed the $300 million mark and now sits with a domestic gross of $307.5 million. Overseas, Zootopia has earned more than Batman, tallying $575 million in overseas sales. Zootopia has turned into a massive hit for Disney and has to be part of the reason for The Jungle Book's success as well.

Lionsgate's latest disaster is Criminal, with Ryan Reynolds, Kevin Costner and Gary Oldman. This one hurts, as Criminal cost $31 million to make but opened to only $5.9 million this weekend, from 2,683 screens. That marks the seventh consecutive loser for Lionsgate, as Criminal follows the same path as Gods of Egypt, Allegiant, Dirty Grandpa, The Choice, Norm of the North and The Perfect Match. I wonder how long they can sell off foreign rights to keep the risk down.

My Big Fat Greek Wedding 2 is seventh, and just isn't getting the same response as the original did. This weekend, Greek Wedding 2 earned another $3.3 million and dropped 50% compared to last weekend. This one cost $18 million to make, and has a domestic gross to date of $52.1 million, along with an overseas gross that has surpassed $26 million.

Miracles from Heaven is eighth as it winds down its run. The faith-based Jennifer Garner film earned another $1.9 million and fell 60% as it lost 700 screens. The good news is that Miracles has earned $56.9 million domestically and has added $5 million overseas.

Our other faith based film, God's Not Dead 2, is ninth. This religious film is not nearly as successful as Miracles From Heaven, as it earned $1.7 million and declined 60%. The sequel to the $61 million earner will not come close to the original, as it has a gross to date of only $17 million.

Tenth is Eye in the Sky, the small Helen Mirren/Alan Rickman thriller from Bleecker Street. After a few good weekends, Eye in the Sky saw a heady drop of 46% and earned $1.6 million. So far, its domestic total is $13.1 million, with no overseas box office reported yet.

Overall this weekend, the box office was up leaps and bounds over last year, as the top two films this weekend outgrossed last year's top 12. The top 12 this weekend earned a massive $168.3 million, yards ahead of last year, when the second weekend of Furious 7 led the top 12 to $112 million. Next weekend will be another Jungle Book weekend, as The Huntsman: Winter's War – with its 17% fresh rating - opens after failing overseas, and is joined by Elvis & Nixon, a really neat look at the meeting between Elvis (Michael Shannon) and Richard Nixon (Kevin Spacey).