Weekend Wrap-Up
The Boss vs Dawn of Justice, or Bad vs Bad
By John Hamann
April 10, 2016
BoxOfficeProphets.com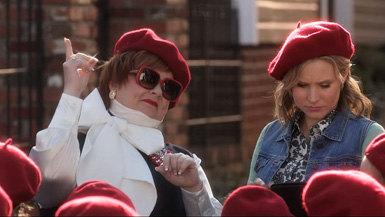 ---
The good news for next weekend's The Jungle Book never seems to stop these days.

It was the struggling Warner Bros. super-project versus Melissa McCarthy at the box office this weekend, and the battle was more like a Nerf war. The idea of building a DC Comic Universe darkens further, as audiences continue to abandon Batman v Superman at an ugly, alarming rate - at both the domestic and overseas box offices. The door was wide open for McCarthy's The Boss, but she served up another critical audience turd, similar to the grand piece of cinema that is Tammy. Hardcore Henry, an interesting looking first-person shooter type film, also hit theaters this frame. Alas, this one didn't work, either, as most gamers aren't old enough to attend – if you can drag them out of the basement in the first place. This is leaving us with a weak top 12, leaving a large amount of room for Jon Favreau's The Jungle Book next weekend.

The showdown between Batman v Superman: Dawn of Justice and Melissa McCarthy's The Boss was very close this weekend, but in the end, neither film has anything to celebrate. Finishing in top spot – at least through estimates - is The Boss, Universal's fourth Melissa McCarthy release, after smaller roles in Bridesmaids and This is 40 and the lead in Identity Thief and The Boss. After Sony botched the opening weekend of the very good Spy last summer ($29.1 million opening) due to a terrible marketing campaign, McCarthy goes back to the studio that launched Identity Thief to $34.6 million.

Unfortunately, regardless of studio, McCarthy has made so many turds now that audiences are catching on. The Boss got started during its Thursday preview by earning a decent $1 million, but that was the high point of its run. The Friday number came in at a combined $8.1 million, low compared to the $10.3 million that Spy earned, and even further off the $11.1 million Identify Thief earned in February 2013. Tammy earned $6.4 million on its first Friday, but had opened on a Wednesday in July.

The weekend take for The Boss came in at a lackluster $23.5 million from 3,480 venues. This on the low end of the Melissa McCarthy pattern, as it finishes lower than Identity Thief ($34.6 million), The Heat ($39.1 million), Spy ($29.1 million), and just ahead of Tammy ($21.6 million). McCarthy will be thankful for the upcoming Ghostbusters, which is a sure-fire hit even if just for one weekend, and then goes back to Warner Bros. (who did Tammy with her) for a film called Life of the Party. That one, like Tammy and The Boss, is directed by her husband Ben Falcone. Good for her for keeping with family, and the strategy to do one with him and then one without him, to keep her career going.

Falcone's Tammy was a brutal 23% fresh at RottenTomatoes, and was thought to be her worst film ever. It wasn't, at least according to critics, as Identity Thief earned a 19% fresh rating, and now we have The Boss, which scored an 18% fresh rating, setting a new McCarthy low. Audiences feel the same. After Spy earned a B+ Cinemascore last summer, The Boss brought scores back down to a C+, the same score that Tammy earned. This one cost $29 million to make, so all is going to be fine financially. it will pull in $30- $40 million overseas, but like Batman v Superman, McCarthy is damaging her brand despite these successes. Ask Adam Sandler how that worked out for him.

That means Batman v Superman: Dawn of Justice is second, as the news just grows worse. At one point, the damage from the critical revolt was happening within the film and the franchise. Then, with last weekend's 69% plunge and audience rejection of the movie, the entire DC Comics Universe became damaged. This weekend, the bad news is here again, and now the damage is beyond the films, banging around within Warner Bros. itself. The studio has this fading mega-project on top of the problems caused by recent releases like Pan, Jupiter Ascending, Point Break and In the Heart of the Sea. These have to be tough times for this once great studio.

Batman v Superman dropped another 54% this weekend, earning only $23.4 million, another nail in the coffin for an expected juggernaut. Normally, films that drop hard in weekend two even out the following weekend, like The Dark Knight Rises, which fell 61%, and then 43%. The first Hunger Games fell 62%, and then evened out in weekend three with a 43% drop. What Batman v Superman did this weekend is akin to a Twilight film, with Breaking Dawn Part 2 falling 69% and then 60%. What might be the scariest thing is that the dreaded debacle that was Fantastic Four dropped a similar 68% in weekend two, and followed that with a drop of 54%. I think there have to very few people on the planet who predicted an expectedly iconic film like Batman vs Superman to follow the box office behavior of the Twilight movies and Fantastic Four.

The domestic total for the $250 million film failed to reach $300 million after its third weekend, which means the seventh biggest opener of all time won't be one of the 14 fastest films to reach $300 million. With the weekend result, I am thinking Tuesday or Wednesday – its 19th or 20th day – will be when it hits $300 million. At 20 days, it would tie with Furious 7 as the 19th fastest to reach the triple century mark. Currently, Dawn of Justice has a domestic total at $296.7 million, and has picked up another $487 million overseas.

Production on Justice League begins on Monday, and if I ran Warner Bros., I would delay production by a month or two, fire Zack Snyder (and for that matter Warner Bros. CEO Kevin Tsujihara), revamp the script, and reset. Instead of being like Lionsgate and just pushing forward with the next Divergent sequel despite certain disaster, Warner Bros. and DC should do a temperature check and figure out where they are going following what has become a wild stumble – immediate financial impact or not.

Third is Zootopia, which earned $14.3 million and fell just 26%. Now in its sixth weekend, Zootopia had seen an average drop of 28.5%, right in line with this weekend's decline, and has a current domestic total of $296 million because of it. Since The Jungle Book on deck next weekend with its perfect reviews so far, Zootopia is going to get buried a bit, but it will still finish with at least $340 million domestically to go with its overseas total of $557 million.

Fourth is My Big Fat Greek Wedding 2, which is not seeing the holds the original did. This weekend, the Greek Wedding sequel earned $6.4 million, off 43% compared to last weekend. The Universal/Playtone release has now earned $46.8 million, an amount it took the original over 120 days to earn. It has also grabbed about $24 million overseas, so with its $18 million budget, this one will see a decent profit prior to exiting theaters.

Fifth is Hardcore Henry, the new action film that looks like a first-person shooter videogame. STX Entertainment picked this one up at Toronto last year for $10 million, and then sold off overseas rights to limit financial risk. This was likely not a good move, as Henry earned only $5.1 million this weekend. It already looks like this one will be more popular overseas than at home. STX likely reduced their production cost exposure to zero, but was still on the hook for a decent marketing spend. With its 51% fresh rating and C+ Cinemascore, legs do not appear to be in the cards for Hardcore Henry.

Miracles from Heaven is sixth, as this small film from Tri-Star is having a healthy run. In its fourth weekend, the Jennifer Garner flick earned another $4.8 million and dropped 33%. This $13 million film has brought its domestic total up to a strong $53.9 million. While its not going to be a hit like Heaven is for Real ($91 million domestic), this is still a strong showing for a faith based film.

God's Not Dead 2 falls behind Miracles from Heaven after opening a position ahead last weekend. The other faith-based film in the top 10 pulled in $4.3 million and fell 43%. The sequel to the 2014 original has now earned $14.1 million.

The Divergent Series: Allegiant picked up $3.6 million, and with three new releases coming next weekend, this one is going to get flushed shortly. The Lionsgate threequel fell 38% and now has a total of $61.8 million. Remember, this one cost a grotesque $110 million to make and has a domestic total of $61.8 million and an overseas take of $80 million.

10 Cloverfield Lane is ninth, and is probably the second best box office story in the top ten after Zootopia. After opening solidly with $24.7 million due to excellent reviews, it has held very well, as it is a good film with an 89% fresh rating and a good-for-the-genre B- Cinemascore. In its fifth weekend, 10 Cloverfield Lane earned $3 million and fell only 34%. The JJ Abrams-produced film cost only $15 million to make and has earned almost 4.5 times that production cost through domestic sales only. It has passed the $25 million mark overseas and still has several more international markets where it has yet to open.

Our 10th place film is Eye in the Sky, the Helen Mirren/Alan Rickman thriller from Bleecker Street. Now playing in 1,089 locations, Eye in the Sky earned $2.8 million and fell only 29% from the previous frame. So far, the platformer has earned $10.4 million, and it has yet to debut in international markets.

In limited release, Jake Gyllenhaal's Demolition flopped. It earned only $1.1 million from 854 screens, for a venue average of $1,317. Better news came from Midnight Special, which expanded to 493 venues, where it earned $1.2 million. It had an average of $2,345 and brings its total up to $2.3 million. Lastly, Everybody Wants Some, the new film from Richard Linklater, expanded to 63 screens, and earned $510,000. That gives it an average of $8,095 and a total to date of $1 million.

Overall, the combined total for the top 12 films at the box office failed to reach $100 million for the first time since 2008. The top 12 earned $94.5 million this weekend, miles off of last year when the top 12 earned $125.5 million, when Furious 7 spent its second weekend on top. Next weekend openers include Disney's The Jungle Book, a film that I think will open to $80 million, Barbershop: The Next Cut, and Criminal, with Kevin Costner and Ryan Reynolds.