Weekend Wrap-Up
Deadpool Outgrosses BvS Over Comparable Second Weekend
By John Hamann
April 3, 2016
BoxOfficeProphets.com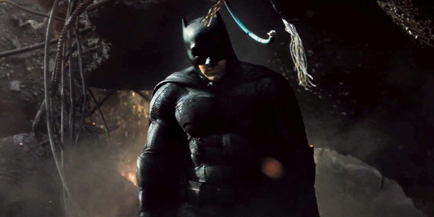 ---
After critics were treated like roadkill by audiences last weekend, they take their revenge out on Batman v Superman this time around, and man, there is blood on the street.

The news this weekend is not good for Warner Bros., as Batman and Superman lose their opening frame powers of persuasion, and the bottom falls out of the box office in the sophomore frame. Last weekend I talked about the ripple effect that making a bad film has on a blockbuster's legs and franchise, and we are already seeing some bigger waves earlier than I expected. Other studios hid this weekend, thinking Dawn of Justice would dominate for at least two weekends - and now we see opportunity lost. The only other new truly wide opener is God's Not Dead 2 (aka God's Still Not Dead, the preferred title). The disaster that is the second weekend of Dawn of Justice opened the door for the religious sequel, but even it fumbled the opportunity, debuting to the same amount of the original.

There was never a doubt that Batman v Superman: Dawn of Justice would be the number one film in its second weekend. The question was how much would it drop. After an opening weekend that ignored critics' warnings, Dawn of Justice secured the seventh biggest opening weekend of all time at $166 million. Last weekend's total was revised down from $170 million, which was the first sign that trouble was on the horizon. The next sign came via its second Friday, when Batman v Superman earned only $15.3 million, off a nightmarish 81% from its opening Friday and its Thursday preview, which amounted to $27.7 million. Without the previews, the drop was still much too high at 72%. Deadpool earned more on its second Friday ($16.2 million, off 66%) despite opening to about $35 million LESS than Dawn of Justice. The air is rushing out of the Batman v Superman balloon, and this weekend Warner Bros. was left hoping (begging?) for fanboy support over Saturday and Sunday.

The Hunger Games and Furious 7 are the other big openers in March, and when facing off against each other, they had almost identical second weekends. The original Hunger Games had a second weekend take of $58.6 million, and Furious 7 came in at $59.6 million. Both films had internal multipliers (weekend gross divided by Friday gross) of 3.15, obviously not benefiting from a holiday or summer multiplier, where kids have Fridays off. Batman v Superman had an internal multiplier of 3.4, as it had a sad second weekend amounting to only $52.4 million. Dawn of Justice fell a downright ugly 68%, higher than Man of Steel's drop of 65% and significantly higher than The Hunger Games at 62% and Furious 7 at 60%.

As expected, the critical drubbing is beginning to take hold, as is the B Cinemascore. I had a discussion with someone this week who argued that the B Cinemascore was a good result - it isn't. Out of the entire Marvel Universe, never has a superhero movie scored below a B+ (The Incredible Hulk, Thor), and only one film in the Twilight series had a lower score (The original earned a C+, all others B+ or above). All of the X-Men films were better, including the truly awful X-Men Origins: Wolverine (B+), and all of the Blade films were B+ and above, and the second two were dreadful. Man of Steel was certainly no knockout, and came in two grades higher than Batman v Superman, earning an A-. The point to all of this is that Batman v Superman is going to have a poor opening-to-total multiplier, lower than Furious 7's 2.4, or Man of Steel's 2.5 - and that previous Superman film benefited from a summer release. With a 2.4 opening-to-total multiplier, Dawn of Justice would fail to reach $400 million domestic; with a 2.3, it would finish with an awful-compared-to-opening at $380 million.

To date, Batman v Superman has earned a respectable $261.5 million domestically, but should it finish with $400 million, it will need $600 million from overseas markets to be profitable. Remember that the blockbuster cost $250 million to make, and Warner Bros. spent a fortune on marketing (commercials during The Final Four were wall-to-wall Saturday night), making the billion dollar worldwide gross necessary. Overseas numbers are being reported at $85 million for the weekend (off 67%), which gives us a worldwide cume to date of $419 million. While Dawn of Justice has no real competition until The Jungle Book hits, it didn't have any competition this weekend, so I don't know how that matters. This is the first real damage to the DC Comic franchise, but that damage really came a lot earlier, when critics and audiences chimed in.

Zootopia is turning into a springtime Frozen, as it continues to hold and hold and hold as it spends its fifth weekend in release, and fifth in a row with a gross at $20 million or higher. Only five other films in history have earned $20 million plus over five consecutive weekends: Avatar, Titanic, The Force Awakens, and The Sixth Sense, so Zootopia is in the mix with some very big players. Its fifth weekend gross came in at $20 million, off only 17% compared to last weekend. Zootopia is turning into something seriously special at the box office.

Zootopia, with a domestic gross to date of $275.9 million, is now targeting a $350 million (or more) domestic finish, which would put it in the same ballpark as Minions ($336 million domestic) and Inside Out ($356.5 million). Overseas, Zootopia has run its total up past the half billion mark, and still has Japan to come towards the end of April. Zootopia is turning into Frozen light - it has already beat it with five consecutive $20 million weekends, but would be a long shot to reach its $400 million domestic finish.

Third goes to My Big Fat Greek Wedding 2, which was looking to hold like the first one did. That wasn't to be, as the sequel played more like, well, a sequel, earning $11.1 million in its second weekend. It fell 38%, and if it's going to find legs, we will have to wait and see until next weekend, as this weekend's result is expected after the Easter holiday. So far, My Big Fat Greek Wedding 2 has earned $36.5 million for Universal against an $18 million budget. It has also earned more than $18 million overseas, so this is going to finish nicely for Playtone and Universal.

God's Not Dead 2 opens in fourth this weekend, and could not keep up with the original. The sequel got ahead of the original for one day on Friday, as God's Not Dead 2 earned $3 million on its opening day, versus the original's $2.8 million - it gets even tighter when you remove the $400,000 that the sequel in earned in previews. Over the weekend, God's Not Dead 2 earned $8.1 million, slightly less than the original's $9.2 million. Reviews were also eerily similar, as both the original and sequel earned an ugly 15% fresh rating at RottenTomatoes. Will we see the legs that the original had, finishing with $60.8 million domestic? I doubt it, but this series keeps surprising me.

Miracles from Heaven drops only one spot to fifth, as God's Not Dead 2 appears to have had little effect on it. The Jennifer Garner release earned another $7.6 million, declining a tiny 22%. The TriStar release is in its third weekend, and has a domestic gross to date of $46.8 million against a $13 million budget. Given some further good holds, Miracles could reach $70-75 million, but likely not Heaven is for Real's $91 million.

Allegiant is sixth. After a Batman v Superman-style drop last weekend at 68%, Allegiant leveled out a bit, earning $5.7 million. It fell 39% and raised the domestic total up to $56.4 million. The overseas cumulative total for Allegiant has crossed the $80 million mark.

10 Cloverfield Lane is seventh but holds nicely this weekend. The JJ Abrams-produced film earned another $4.8 million, and dropped a neat 20%. After four weekends of release, 10 Cloverfield Lane has earned $63.6 million domestic, all against a small $15 million budget.

Meet the Blacks, a new urban comedy, opens in eighth. The Freestyle Releasing picture debuted to $4.1 million from 1,015 venues, which must be a success for this small film I've never heard of.

Eye in the Sky, the military thriller with Helen Mirren and Alan Rickman, expanded to 1,029 venues and earned $4 million. This is a decent but not spectacular expansion for the film, but given its stellar 93% fresh rating at Rotten Tomatoes, this one may grow as the weekends continue.

Tenth is Deadpool, which has been in the top ten for eight great weekends. Deadpool earned another $3.5 million and fell 29%. The domestic total has now reached an awesome $355.1 million, and is joined by the overseas gross which has almost hit the $400 million mark. The budget here was only $58 million, which means the picture has grossed almost 13 times that amount.

Hello, My Name is Doris, the dramedy with Sally Field, expanded its venue count to 964 theaters this weekend. The result is a $2.4 million gross, bringing its total up to $6.6 million. Everybody Wants Some, the new film from Richard Linklater, debuted at 19 venues this weekend. The spiritual sequel to Dazed and Confused earned $323,000, giving it a venue average of $17,000. Expect this one to expand over the weekends to come, as the 91% fresh rating should push it forward.

Overall, the box office is way down. One reason for that is that last year, Furious 7 opened on this weekend and pushed the top 12 to $217.9 million, but less than last weekend, when Batman v Superman took the top 12 to $245 million. This weekend, the top 12 earned $125.5 million, which is also behind the top 12 from 2014, when Captain America 2 opened to $95 million, and the top 12 earned $158.9 million.

Next weekend three openers debut, and two of the three could take a crack at top spot. Openers include The Boss (formerly Michelle Darnell) with Melissa McCarthy; Hardcore Henry, a first person shooter movie; and Before I Wake, one of those films that was delayed while Relativity restructured. If The Boss can get to $40 million, it should take down both Batman and Superman, as I expect their struggles to continue.