Weekend Forecast for April 1-3, 2016
By Reagen Sulewski
April 1, 2016
BoxOfficeProphets.com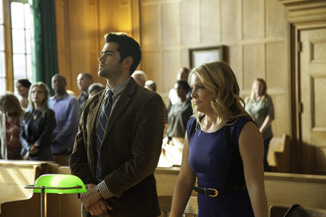 ---
What if they had a weekend and no movies showed up? This is a question we sometimes deal with at the end of the year and maybe Labor Day weekend, but for the first weekend of April? That's kind of a new one.

OK, technically it's not *no* new films, but we're talking about two very niche films that don't have a lot of marketing and aren't even really trying to compete in the mainstream marketplace. You often see films ducking the opening weekend of a blockbuster, but completely avoiding the *second* weekend of a rapidly crashing dirigible?

Anyway, we have God's Not Dead 2 leading the way, the latest in a series of exceedingly smug and paranoid religiously-based films that aren't even attempting at cross-demographic appeal (no, you did not see what I did there). After making about $60 million on a budget of basically nothing by feeding evangelicals their own fever dreams back to them, they're back for another round of "nope, didn't happen" urban legends about how Christianity is being erased from America. I'm betting Kevin Sorbo is really regretting agreeing to having his character killed off in the first film, but maybe he can appear in a blue outline like Anakin Skywalker at the end of this one.

The sequel moves from the university campus to the realm of public schools, with a story of how people go insane and berzerker at any mention of Jesus, as we do, and includes a C-team of notable conservative and/or religious actors, including Melissa Joan Hart, Ray Wise, Robin Givens, Ernie Hudson, Pat Boone (!) and Fred Thompson, but it's not as if the first film was packed with stars either. Anyway, this is essentially a legal-procedural packed with paranoid wish-fulfillment that is literally preaching to the choir. The first film opened to about $9 million and found some legs – it's lost a bit of the surprise effect and may open slightly higher, but I don't expect legs as strong. That's also to mention that the religious film market has become a bit more saturated in the past few years and has also seen a couple of flops, showing that this market is becoming a bit more picky as its audience is given options. I'd expect an opening weekend of about $11 million.

Our other new film this weekend, opening in a selected release, is of the "...the hell?" variety. Entitled Meet the Blacks, the movie is half class and race comedy, the other half ham-fisted parody of The Purge movies. Comedian Mike Epps stars as the patriarch of the Black family (subtle as a ballpeen hammer to the temple, that one). They move to Beverly Hills right at the start of The Purge, a 12-hour period where all crime is legal (and they didn't hear about this widely known event because...?). As the only black family in Beverly Hills (fact!) they are obvious targets, except it appears to be at the hands of other black people because this film isn't interested in coherency, and also because it means they can stunt cast Mike Tyson, making this a unique weekend with both he and Givens having roles in premiering films.

The film itself looks like a noisy mess that can't decide whether its real target is race relations or horror films, and appears pretty sloppily made, with a very random approach to storytelling. This screams "limited appeal" and vastly overstates both the popularity of its star and of the movie it's parodying. I'd expect just $3 million this weekend.

This brings us to last weekend's giant box office champ, Batman v Superman, which started off with $170 m... wait, $166 million, breaking the March record and coming in at sixth all time for opening weekends. This despite the lackluster reception of Man of Steel and recasting its Batman. What drove audiences here, contrary to the terrible reviews of the film, is a simple curiosity about taking two of DC's biggest heroes and pitting them into an epic battle. It's no secret that Warner Bros, owners of the rights to the DC properties, has looked on at Marvel's Cinematic Universe with green-tinged envy as Marvel and has managed to take its roster of heroes and churn them into movie after movie of world-shattering hits (Ant-Man, people! Ant-Man!). At last then, after the bright spot of The Dark Knight, WB looks like it has something it can build off. Maybe. Hopefully.

There's those terrible reviews and mediocre at best word-of-mouth to worry about, but as a proof of concept it does at least show that people want to give these films a benefit of the doubt. It's all leading up to a Justice League movie that might, might compete with the Avengers films, but has some work to do. To start with, we're going to have a major drop-off for this second weekend, particularly if we are looking at the daily performances. Often that can be a bit of tea reading, but at the least we can say there are no good signs, as it's running behind – in raw dollars even – last year's comparable release of Furious 7. I look for a second weekend of $66 million.

Zootopia continues to roll along as the top family choice in theaters, with $300 million perhaps in its sights. The not-amazing, but competent and surprisingly deep family film earned $24 million in its fourth weekend, averaging out to about 32 percent drop per week – and with no competition, it should be able to keep this up this weekend with about $17 million.

Speaking of legs, we have the reasonable opening weekend of My Big Fat Greek Wedding 2, the sequel we apparently all asked for, at about $18 million, a figure the original didn't reach until its tenth week of release. There's nothing to take anyone by surprise this time, and the extremely sitcom-y nature of the film is front and center. Due to the average age of the film's audience, I still expect a little bit of a run, with a fall to about $11 million this weekend.