April 2016 Box Office Forecast
By Michael Lynderey
April 1, 2016
BoxOfficeProphets.com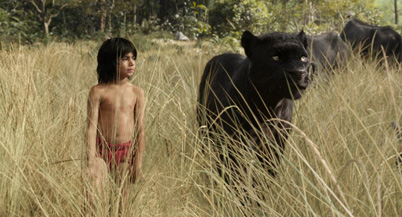 ---
April 2016 is wrenched into an unglamorous spot, coming after two of the biggest comic book film openings of all time and preceding a May that could give us a third. The month is led by three potential off-season blockbusters, with the rest of the field awkwardly divided up among smaller films and pseudo-limited releases. On the plus side, if you like unpredictability, here's a rare month where the #1 film isn't as easy to guess as usual.

1. The Jungle Book (April 15th)

Disney has grown fond of live-actionizing its near century-long output of animated films, and this adaptation of the 1967 title is as good an idea as any. As with Disney's Cinderella last year, this is certainly a quality production on all possible fronts: The Jungle Book is helmed by Jon Favreau, who has directed memorable children's films like Elf and Zathura, and whose box office result here may land squarely in between that of those films (so, precisely in between $29 million and $173 million). The star is hitherto unknown actor Neel Sethi as the boy, Mowgli, a character who lives in a land presumably far beyond the reach of child services.

The film is quietly being sold on its impressive voice cast: Bill Murray, Ben Kingsley, Idris Elba (as the malfeasant tiger, Shere Khan), Scarlett Johansson (as a slinky snake), the always-recognizable Christopher Walken, and recent Academy Award-winner Lupita Nyong'o (for informational purposes, I will note that the last time Nyong'o's real face was actually seen on screen was in Non-Stop, which opened the weekend of her Oscar win in February 2014). Murray's voicing of Baloo the bear seems to be the main attraction here, with the bear's gelatinous upside-down bodice prancing about in a lake seeming to be the big money shot in the trailer. The scheduling for this children's entertainment also seems to be just right: by the time Jungle Book opens, we'll be a month and a half post Zootopia, and more than a few weeks before anything particularly appealing to this demographic. And speaking of timing, fortune favors the film another way: for one reason or another, there's a rival Jungle Book film opening next year, and the upcoming Tarzan movie seems close enough in the ballpark to mention, so Disney ought to be commended for getting there first.

Opening weekend: $34 million / Total gross: $101 million

2. The Huntsman: Winter's War (April 22nd)

Sort of the biggest question mark of the month is this prequel to the 2012 film Snow White and the Huntsman, which does not include original star Kirsten Stewart (she's to be seen mostly in hard-edges, special effects-less indies these days) but does retain (or pretain) Charlize Theron and Chris Hemsworth, in a tale of an earlier set of misadventures involving both the huntsman and Theron's Queen Ravenna. The original film, released two months after another Snow White picture, won the war against it easily on what is probably the only relevant front (it grossed $155 million to Mirror Mirror's $64 million), though I'm now surprised to discover that the two ran about even in terms of reviews (I thought Snow White was clearly the better entry, but, on the other hand, I often make erroneous critical evaluations of films).

While the story of the huntsman's more youthful days is unfamiliar to most (it may even be totally fictional), the filmmakers have opened up this world in both plot and cast, adding to the payroll Emily Blunt, as the morally ambiguous sister of Theron's evil queen, and Jessica Chastain as the huntsman's spouse, who aptly resembles a huntswoman and who, barring a divorce, likely won't quite survive this installment, given her absence in the sequel (ditto for Blunt's character). On the plus side, Blunt, Theron, and Chastain have a lot of action film credibility between them, having memorably gone off to respective wars in Edge of Tomorrow, Mad Max: Fury Road, and Zero Dark Thirty. Even so, it's hard to know how receptive audiences will be to this particular spin-off, and I'm reminded - in spirit, anyway - of London Has Fallen, which was also a follow-up to a surprise hit whose sequelizable value turned out to be very questionable.

Hemsworth has a movie star aura, but he's most recently headlined Blackhat and In the Heart of the Sea, two underrated (especially the latter) entries in somewhat outmoded genres, and two films that made nary a mark at the box office. Still, other studios seemed scared enough of the Huntsman not to schedule any other films for wide release on the 22nd, but surrounding empty space doesn't automatically amount to a strong opening.

Opening weekend: $29 million / Total gross: $81 million

3. The Boss (April 8th)

The latest Melissa McCarthy star vehicle casts her as the title character, one of the richest people in the United States, in a perhaps-timely send-up of the billionaire life. No, McCarthy's Boss isn't running for political office - they're saving that for The Boss 2: Boss Harder - first, she must rebuild her empire after an apparent bout of insider trading and the incarceration that follows. The Boss is directed by McCarthy spouse Ben Falcone, who helmed her film Tammy and has appeared in almost all of her recent starring roles. Supporting actors like Kristen Bell, Peter Dinklage, and Kathy Bates are nice, but the marketing is zeroed in here on one perp: McCarthy, who will easily be counted among the five biggest comedy stars of the 2010s, and who is in possession of a name that's headlined everything from Identity Thief to The Heat and Spy to respectable or very strong numbers over and over again.

I'd argue that her box office has never disappointed, and even Tammy, her lowest-grossing film as a lead, finished with a solid $84 million. Anticipation for the McCarthy-led Ghostbusters is bubbling up, and if The Boss gets reviews that are the very least respectable, it could flirt with coming in above a hundred million dollars, especially since it has a good release date, roughly a few weeks away in either direction from anything resembling a big comedy.

Opening weekend: $27 million / Total gross: $73 million

4. Barbershop: The Next Cut (April 15th)

Squarely in the recent tradition of belated sequels comes this third Barbershop movie, which could even be called the fourth if you count Queen Latifah's spin-off Beauty Shop as a sequel (and I do. Why not?). That last film was all the way back in 2005, and the time spent since may have only made the heart grow fonder: the first two Barbershops got very solid reviews, and are, I suspect, remembered well by those who saw them. Nothing of consequence seems to have been changed from its predecessors in this go-around. The regulars in the cast are back - Ice Cube, Cedric the Entertainer, and Anthony Anderson are among the barbers or those in need of one - along with some new additions like Nicki Minaj and Common, the better to reflect the changing of the guard.

As with all of these belated sequels, one could be extremely skeptical of its prospects, but I think there's no question there's a loyal fan base here that's just ready to turn out and give this franchise another big gross (I don't even think $100 million is out of the question), especially considering the film plays to an underserved African-American demographic that probably does miss these characters. Ice Cube's box office draw is not to be underestimated, either, after spearheading Straight Outta Compton and the Ride Along films to some really quite staggering numbers. And for the future? When it comes to spin-offs and match-ups at the box office, I think a Barbershop v Madea would simply be unstoppable, even if Madea does set the shop alight.

Opening weekend: $33 million / Total gross: $71 million

5. God's Not Dead 2 (April 1st)

If anyone was wondering who was brave enough to challenge Batman v Superman's second weekend, the answer is right here: God's Not Dead 2 is almost the only wide release on its weekend, after the previously-scheduled Amityville: The Awakening refused to compete with the almighty and moved to next year, while Meet the Blacks is enjoying only a more modest bow (and speaking of the latter film: yes, that title means exactly what you think it means...). The first God's Not Dead was a real surprise hit two years ago, opening with $9 million and finishing with $60 million, and still stands as an apex of Christian films made outside the studio system, one of the biggest earners of the bunch. It's safe to assume the target audience enjoyed it, so much so that when it comes to sequel naming conventions, God's Not Dead 2 has chosen the easy way out (no God's Still Not Dead or God's Not Dead, Either here).

The film has been directed by the memorably named Harold Cronk, who also helmed the original, and much of the production team is the same, though there is a change in casting: the stars this time are Melissa Joan Hart and Jesse Metcalfe, mostly unseen on the silver screen lately but still remembered for their TV roles (Sabrina, the Teenage Witch and Desperate Housewives, two shows with more than a whiff of the ungodly, in one way and another). The story - about a lawsuit that leads to religious disenfranchisement (to word the situation in an extremely diplomatic manner) - is meant as catnip to the faithful, and gives the film a courtroom setting for its unabashedly melodramatic battle between the religious and the militantly secular. It's often tough to predict films in this genre, but the trailer is cornball and plays to its base all the way, and given the numbers on the first film, that's clearly a winning strategy.

Opening weekend: $15 million / Total gross: $48 million

6. Mother's Day (April 29th)

Director Garry Marshall and his cast seek to redeem the movie title "Mother's Day," which was previously carried by a notorious 1980 slasher film that received no more (and no less) than a zero star review from Roger Ebert, a tidbit I share in case you needed any further encouragement to see it. That film was remade under-the-radar in 2010, and this new take on the holiday borrows the title but none of the inspiration - no homicidal mother living with her crazed sons in the backwoods, no teenagers falling under the villains' blade, and no higher a body count than is absolutely necessary. No, much like Valentine's Day (2010) and New Year's Eve (2011) before it, Mother's Day 2016 replaces the slasher films of the 1980s with a highly-ensembled series of occasionally interlocking romantic comedy vignettes.

Valentine's Day took in $110 million and New Year's Eve pulled in $54 million, and the laws of diminishing returns almost certainly will be applied to this third outing. There's not as much of an ensemble this time around, either: I count 15 movie stars pictured on the poster of Valentine's Day and 18 on New Year's Eve's, while the comparatively modest poster for this one has, thus far, just four (Jennifer Aniston, Kate Hudson, Julia Roberts, and Jason Sudeikis, who therefore finds himself in good company). Roberts, who also stars in Money Monster in May (alliteration here is unintentional), still looks like a draw in romantic comedies, and adding fellow genre veterans like Aniston and Hudson is a doubling- and tripling-down on that idea. But this type of film does have a decidedly unspectacular reputation at this point, even if the release strategy is sound enough - they get a free weekend in late April, and then there'll be an uptick when the holiday itself hits on May 8th, even as they're up against the first weekend onslaught of Captain America 3, a film that may scorch all in its path.

Opening weekend: $12 million / Total gross: $43 million

7. Criminal (April 15th)

This crime thriller with a vaguely science fictional tint (about the memories of one CIA agent implanted into the other's) is helmed by Ariel Vromen, who most recently delivered The Iceman, a crime saga with some good reviews, and is headlined by a cast that's definitely on the impressive side, led by Kevin Costner, Tommy Lee Jones, Gary Oldman, and Wonder Woman Gal Gadot, in her third film in as many a month (she's taking May off). Ryan Reynolds, the definitive movie star of the first third of 2016, is also around, but he's not the main draw here. The star is definitely Costner, who has quietly built up a sterling record of headlining these pretty good little movies to respectable numbers (his 3 Days to Kill, Draft Day, and MacFarland, USA, were all well-made smaller films lost in the shuffle). Criminal may follow suit, with its inscrutable title, twisty crime plot, and strong cast, reminding me also much too much of Gadot's first film this year, Triple 9, which mostly passed by unnoticed a few weeks ago, and which may meet Criminal in the cinematic next life much too soon for comfort.

Opening weekend: $10 million / Total gross: $28 million

8. Hardcore Henry (April 8th)

Those shaky-cam horror movies like Cloverfield and the Blair Witch have vaguely prepared us for this, an action film shot completely in first-person shooter style, and really the first big theatrical movie to go that route (films like Doom [2005] have dabbled in such moments here and there, perhaps unwisely, and Hollywood first tried a full first-person movie with 1947's Lady in the Lake, but in the modern era it's surprisingly not been done). While clearly inspired by video games, Hardcore Henry is not based on one per se, though the story will sound eerily familiar for gamers: the lead character, whose title nickname I am not able to explain (is it pornographic in nature? perhaps), traipses around Moscow, and in the video game tradition, engages in R-rated action scenes described by the MPAA as containing "non-stop bloody brutal violence and mayhem."

H. H. is played mostly by stuntmen, whose faces likely won't be seen except for the occasional self-referential reflection shot. Henry is assisted by a tech genius played by Sharlto Copley, who's wheezed in and out of some major films in the last seven years, in particular ones involving science and action. Whether the concept has much appeal is a pointed question, though reviews are overwhelmingly positive. I might be lowballing this one quite a bit, but setting the film around an identifiable video game could have given it more of a ready-made audience.
Opening weekend: $10 million / Total gross: $28 million

9. Keanu (April 29th)

Television's Keegan-Michael Key and Jordan Peele star in their first big leading film role, a movie whose very familiar Hawaiian-language title will likely confuse potential viewers as to its star for a time long, long after it's released. The film finds the duo in a search for their missing cat, who has either simply vanished or been forcefully taken, likely in order to enable his masters to participate in a series of comedic sketches and action scenes leading up to his successful retrieval. Early reviews are somewhat positive, and there are amusing parody posters out there substituting the title cat for various recent film stars ("Bring him home", in a parody of The Martian, is one I liked). The duo has some fans from their television pursuits, documented in their series Key & Peele from 2012 to 2015, and Key in particular was hard to miss at the movies last summer, but it's difficult to think that the film will paw away at much litter in its box (if that makes any sense) beyond those already pledged to see it.

Opening weekend: $8 million / Total gross: $22 million

10. Ratchet & Clank (April 29th)

Speaking of video games, this CGI film is based on quite a few of them, released for Sony Playstation in almost annual succession since 2002. It's about a fox-like alien and his robot friend as they engage in galactic misadventures (none seeming to involve a missing cat) and interact with space creatures who sound uncannily like John Goodman, Paul Giamatti, and Sylvester Stallone, to name a few cast members whose voices will be hard to miss. Strictly speaking, Ratchet & Clank is the only animated film of the month, although The Jungle Book sticks closely enough to the format as to make that statement irrelevant. And for a film starring a small, gun-toting animal in a sci-fi setting (Bradley Cooper's Rocket Raccoon gonna sue somebody), this one plays things on the serious side, with little apparent comedy and not as strong an appeal to pre-teen audiences as a movie with this premise might require. Films released on April's last weekend tend to be the sort that may need to free up screens very quickly in the weeks after, and barring good reviews or a memorable marketing campaign, this one looks like a prime candidate.

Opening weekend: $6 million / Total gross: $15 million

The month is littered with a lot of independent films with potential to be launched into wide release sooner or later. The most likely of which to accomplish this feat is Richard Linklater's Every Body Wants Some!! (a spiritual sequel to Dazed and Confused, and the exclamation marks in the title are neither a typo nor my idea), followed by Demolition, a Jake Gyllenhaal drama with an interesting trailer that opened the Toronto Film Festival last year, and Sing Street, an Irish-set musical which was one of the bigger breakouts at this year's Sundance, and which I thus assume is getting a decent push. And finally, there are no fewer than three biopics about brilliant if irascible musicians, the latter two brazen enough to open on the same day: Miles Davis, Nina Simone, and Elvis Presley are all getting the biographical treatment, although Elvis has to share the marquee space since his movie is called Elvis & Nixon or maybe even Elvis v Nixon. Spoiler alert: Nixon wins.