Weekend Wrap-Up
Batman v Superman: Dawn of a Troubled Franchise
By John Hamann
March 27, 2016
BoxOfficeProphets.com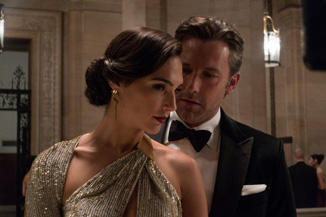 ---
Critics warned us about Batman v Superman, but like that need to look at a car accident as you drive by, we went anyway.

Yes, with Batman v Superman: Dawn of Justice, moviegoers decided to ignore the critics and attend the blockbuster regardless of the drubbing it is receiving. We showed up in droves, setting records along the way. It's a hit, so Warner Bros should be happy, right? The box office is strong both domestically and abroad; investors will probably recover their investment, so the hurdle is cleared, right? With Batman v Superman, the battle has likely been won financially (is a tie as good as a win?), but the WB/DC war against Disney/Marvel takes a serious hit, as the DC world (Universe is still a bit of a stretch) has failed to give us an Iron Man, Avengers, or even an X-Men level of good-movie yet, and that is going to bite them in the ass pretty soon.

Eight days before Man of Steel opened in June 2013, and four days before its review embargo lifted, the $225 million Zach Snyder blockbuster was tracking at a $100 million opening weekend. When reviews for Man of Steel hit the streets, they were mixed, some of the harsh variety, and it was at the 57% fresh mark over the opening frame. RottenTomatoes has their "Top Critics" - those who would have written reviews prior to or at opening, are split at 50%, a number that isn't good enough for a financially risky $225 million franchise starter. In the end, though, Man of Steel beat the tracking estimate because moviegoers ignored reviews, allowing it to debut at $116 million. This scenario repeated itself this weekend, as Batman v Superman beat tracking estimates and reviews to break some records, but as stated above, this performance doesn't put the franchise in a winning position.

Batman v Superman: Dawn of Justice got started on Thursday night in a very big way, as it earned a simply massive $27.7 million from Thursday previews, a number likely driven even higher than usual by advanced ticket sales. That number edges out Avengers: Age of Ultron's Thursday at $27.6 million and shows that DC is ready to play with the big boys; however, the Good Friday holiday on Friday likely influenced the Thursday to the upside. The Friday number came in a powerful $82 million, the fourth biggest opening day of all time, edging out Jurassic World's first day at $81.95 million (it earned $18.5 million from previews). That means that Dawn of Justice had a "true" Friday of $54.3 million, whereas Jurassic World had a "true" Friday of $63.5 million. Similarly, the Avengers had a "true" Friday of $62.1 million, following $18.7 million from previews.

Furious 7, last year's Easter record breaker, earned $15.8 million from previews and had a combined first Friday of $67.4 million, for a "true" Friday of $51.6 million, only about 5% less than Dawn of Justice. This tell me that the further we get into the weekend, the less those advance ticket sales come in to play, and the significance of those questionable reviews (and presumed lack of repeat visits) increases. Batman v Superman was a full balloon on Thursday night, but has a pinhole leak called "it isn't very good."

When Furious 7 opened, its Saturday gross failed to match its "true" Friday figure, losing $46.6 million to $51.6 million. The Saturday number for Dawn of Justice came in at $50.9 million, also below its true Friday of $54.3 million. The Sunday was down at $37.2 million, and really, if your film is targeted at those over the age of 12, Easter doesn't have much effect. The weekend comes in at $170.1 million, sixth all time, behind Iron Man 3's $174.1 million, but ahead of Harry Potter and the Deathly Hallows Part 2 at $169.2 million, as well as The Dark Knight Rises at $160.9 million, and The Dark Knight at $158.4 million. It is the biggest opener ever for March, as well as biggest opener outside of the summer or Christmas corridor, as it spanks The Hunger Games at $152 million and Furious 7 at $147.2 million.

While the opening weekend is stellar, there are many signs of weakness hidden in the result - the "true" Friday softness, the dip from the real Friday to Saturday - these are all results of weak word-of-mouth and danger for the franchise.
Reviews were really bad, but that's not the worst part for Batman v Superman. At RottenTomatoes, Dawn of Justice is currently 30% fresh, with 100 more bad reviews than good. I'm a broken record, but with this much on the line, who thought a film that is reviewing at 30% was good enough to greenlight at script or story board stage? This is a $250 million film with one of the biggest, most expensive marketing campaigns in history, and this is the opening volley on what could be worth BILLIONS more from future films? Not good enough. The rest of the top openers of all time have it figured out - they are all good films.

Audiences are agreeing with critics. The Cinemascore came in at a B, a dramatically low score due to the fact that fanboys are there opening night - those who bought their tickets in advance - and obviously, some didn't like what they saw. Like Allegiant last weekend, now you have pissed off some of the core audience you want seeing this twice and killed any momentum gained from what was a wonderful marketing campaign.

The reviews said that a good film got trapped in a dark, nightmarish place and couldn't recover. From the outset, rule number one was broken, as superhero franchises are like sex - it's way better with the lights on. Marvel has been smart. They have released their slate as if their films were seen through the eyes of a child - kind of cartoony and bright, with a real patriotic glean that serves them well (Captain America 2 was pushing it, though). Batman v Superman is the opposite of that. Yes, Zach Snyder had a great result from 300 and its darkness, but that was rated R and was rightfully embraced by adults.

If Batman v Superman is for adults, then they Snyder should have made it with a Deadpool budget and not try and serve two masters - financial and artistic. This grab bag of superheroes also ends up feeling like it's a "manufactured franchise," similar to what Lionsgate attempted with The Divergent Series. Like Twilight, these are franchises that aren't built organically from one really good (and presumably successful) film. Iron Man gave birth to the Marvel Cinematic Universe because it was that really good film (and it seriously holds up). What does this "Universe" have? When this one finishes with less than $400 million domestic, all Warner Bros. will have is hope for the Wonder Woman film with a different director. Audiences will be much more wary of Justice League than they were 10 days ago, and I will be surprised if it opens to the amount Dawn of Justice found this weekend.

Man of Steel 2 got the greenlight prior to the theatrical release of Man of Steel, with director Zach Snyder and writer David Goyer attached, and that of course became Batman v Superman. It likely seemed like a good idea over opening weekend, but after Man of Steel finished with $291 million domestic, and an opening-to-total multiplier just short of 2.5, I have to wonder what people were thinking. The worldwide box office was $668 million, and the film carried a budget of $225 million. Long-time readers of this column will know that a film with that budget needs to gross $675 million (three times its budget) to find theatrical profit. The worldwide gross for Dawn of Justice stands at $424.1 million, against a budget of $250 million. Reports have indicated that Batman v Superman will need a billion worldwide to find a profit, a number this one won't reach, and if of the same quality, the next one isn't going to come close to.

Finishing second, about $150 million back of the leader, is the now four-weekend-old Zootopia. After a Friday at $9.5 million that was down less than 1 percent versus last Friday, Zootopia unfortunately ran into Easter, which slowed it down somewhat. The weekend take came in at $23.1 million, still in the top 15 best fourth weekends ever, as it fell 37% compared to the previous frame - and that's all from Sunday. Zootopia has lifted its domestic gross now to $240.5 million, and overseas numbers are sitting at $456 million. Zootopia should reach $300 million at the domestic box office.

Third spot goes to the big (and successful) counter-programming entry this weekend, My Big Fat Greek Wedding 2. The original remains the biggest film ever to never hit number one over any weekend of its run ($241 .4 million domestic, 29 weekends in the top 12). The original's biggest weekend was a second place $11 million frame (its 20th weekend), so a big opening weekend likely wasn't in the cards. Tracking at one point was only looking for $10 million, so the producers and Universal will be quite happy with an opening frame at $18.1 million from 3,133 venues (the original played on more than 2,000 screens for only two weekends of its 52 weekend run). I don't think lightning is going to strike twice with the legs here, given the 25% fresh rating and A- Cinemascore. It was made for $18 million versus the original's budget of $5 million, so producing partners (and couple) Tom Hanks and Rita Wilson should make out fine.

Tied for Fourth is Miracles from Heaven, the faith-based film with Jennifer Garner. Thanks to the Easter holiday, the TriStar production was able to catch up to the much bigger budgeted Allegiant, which simply couldn't retain audience at all. The Friday to Friday drop for Miracles was only 20%, setting up a decent weekend. Miracles earned another $9.5 million over the weekend, dropping only 36%. The $13 million release has now earned $34.1 million.

Our other fourth place finisher is Allegiant, as the wheels come further off this wreck as it finishes its second weekend. From Friday-to-Friday, Allegiant was off a laughable 69.4%, and the news remained bad over the rest of the weekend as it earned $9.5 million for the weekend, dropping 67%. The $110 million threequel has earned $46.6 million, and every weekend will remind Lionsgate of the looming disaster that will be the fourth film. Coming soon from Lionsgate! Failure!

Sixth is 10 Cloverfield Lane, and like Miracles, is another lower budget film finding success. This weekend, its third, the $15 million film earned another $6 million, and fell 52% compared to last weekend. With that small budget, this one got to profitability quite quickly, as it has a gross to date of $56 million.

Deadpool is seventh as it enjoys its seventh weekend in the top ten. The Ryan Reynolds flick earned another $5 million and dropped 38%. Deadpool has now earned $349.5 million domestically, and 12.75 times its production budget worldwide. If Batman v Superman earned 12.75 times its budget, it would gross $3.2 billion.

London Has Fallen is eighth, as it earned $2.9 million to bring its domestic total up to $55.6 million. Sally Field's Hello, My Name is Doris provides excellent counter-programming, as it finishes in ninth with $1.7 million. The small film from Roadside Attractions has earned $3.3 million since opening, against a budget of $1 million. Finally, another limited release film finishes in 10th. Eye in the Sky, a thriller featuring Helen Mirren and the late Alan Rickman, earned $1 million and increases 137% from the previous frame. So far, the Bleecker Street production has earned $1.7 million.

Overall, Batman v Superman alone earned more than any top 12 ever has on this weekend, ever. This weekend, the top 12 films earned a massive $248.8 million, benefiting from an extremely strong top 12. The previous biggest March weekend came when The Hunger Games opened in 2012. That frame pulled in $203.8 million, a ways off from this weekend's. Next weekend, the only opener is God's Not Dead 2, but after reading the reviews for Dawn of Justice, I have to wonder.