Friday Box Office Analysis
By David Mumpower and Kim Hollis
March 26, 2016
BoxOfficeProphets.com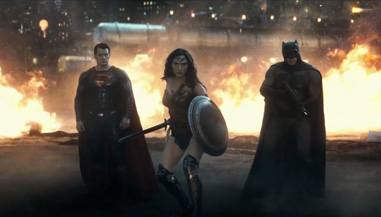 ---
The long-standing battle between art and commerce took on a strange form this weekend with the release of Batman v Superman: Dawn of Justice. Even Zack Snyder and Ben Affleck are not under the illusion that they've created a good movie. Still, a tireless marketing campaign from Warner Bros. over the past two years in combination with the Batman name virtually guaranteed a solid opening weekend. The question has always been what happens with the film after that. Warner Bros. is ostensibly trying to launch a franchise, which is hard to do when seven out of every 10 critics hate the first movie. Counterpoint: Transformers.

Thanks to Tim Briody's exceptional forecast yesterday, you already know the lay of the land. The question, then, is how Batman v Superman performed on Friday. The answer is unsurprising to anyone who has been paying attention to Fandango pre-sales over the past few months. With record-setting advance purchases, the film's first 72 hours were always guaranteed to be triumphant. Specifically, its Thursday night sneaks managed an Age of Ultron-like $27.7 million, and BvS's Friday estimate is a massive haul of $82 million (which includes that Thursday number).

That's a spectacular debut that indicates Warner Bros. was successful in making their film review-proof, which is important, since not many people liked the movie. To wit, Batman v Superman has a B Cinemascore. For perspective, Man of Steel, a terrifically lousy film, enjoys an A- Cinemascore. In other words, the people most likely to give their ardent support have openly spat at Batman v Superman, which again, is supposed to be building toward an Avengers-type film. Mission not accomplished.

On the box office front, the early news is wildly positive. While Easter will be a negative factor on that day's earnings, here are the numbers that support the fact that BvS's three-day total will be epic. The obvious analog here is Furious 7, which earned $67.4 million on its first Friday on the way to an opening Easter weekend of $147.2 million. Once we take out the $15.8 Furious 7 earned from its Thursday previews, its true Friday-to-Sunday internal multiplier was 2.54. If Dawn of Justice performs similarly - and we predict it will fall just a bit short - we're talking about an opening weekend of $165.6 million.

Here's what we believe will happen: We think that Batman vs. Superman is going to make about $162 million this weekend, but we expect the estimate to come in somewhere between $170 and $175 million, and we doubt that the studio changes it after the fact. The good news for BvS is that international audiences rarely seem to care about the underlying quality of films. They just go see whatever is popular with Americans - and sometimes stuff that isn't. It has already earned $115.3 million overseas, $20 million of which comes from the lucrative Chinese market.

Reports have indicated that Warner Bros. believes that Batman v Superman needs at least $1 billion to justify a sequel. Those reports are a strange combination of optimistic and pessimistic. They're optimistic because if Warner Bros. wants to make a sequel to this movie, they will, and let's be honest about the fact that neither the Batman nor the Superman franchise is going away, no matter how much harm Zack Snyder continues to inflict upon the brand.

So, what we're talking about is the Allegiant scenario, and that's where the pessimism comes into play. An insignificant number of people are watching Batman v Superman and saying, "Wow, I'd like more of this." The only exclusion to that is Wonder Woman, and the Wonder Woman movie was the one thing the studio was never going to move away from anyway. That's a long way to go to say that even with an amazing opening weekend, Dawn of Justice is likely to follow the same trajectory as Man of Steel. It's going to die quickly and provide little if any domestic revenue after exhibitors take their cut. Meanwhile, it will earn enough overseas to justify sequels, even without fan support for them.

Batman v Superman wasn't the only film that debuted this weekend. Once upon a time, there was a limited release film that earned $1.1 million on its opening weekend - on its way to $240 million. To this day, no one knows exactly how or why that happened. The good news is that My Big Fat Greek Wedding 2, the sequel to that 2002 release, has crushed the opening weekend of its predecessor. The bad news is that this film isn't going to do $240 million, but that's okay. We're talking about a "franchise" that once had a television series that lasted seven episodes.

So, the fact that Universal was able to create enough fondness for the original to muster a $7.2 million opening Friday is an impressive feat. The marketing cleverly emphasized that the movie is a generational celebration of family, and fans of the original responded. We expect an estimate of $20 million, and since this audience is older and female, there's a chance that it surprises even further. To a larger point, we learned in 2002 never to have preconceived notions about a big fat Greek wedding.