Weekend Wrap-Up
Allegiant Franchise Crumbling; Zootopia Remains Strong
By John Hamann
March 20, 2016
BoxOfficeProphets.com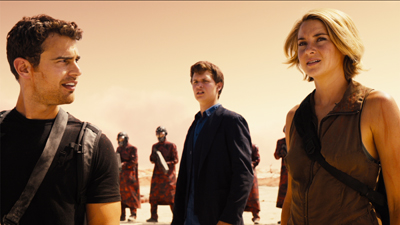 ---
The Jenga puzzle that is the Divergent franchise is missing a few key pieces this weekend - about $20 million worth.

Welcome to the pre-Batman v Superman weekend at the box office, as Warner Bros. hopes all films shrivel and die so that their superhero battle flick can slide into the vacuum and break some records in the next frame. Lambs to the slaughter this weekend include the latest in the Divergent Series, Allegiant, the third film in a four film franchise that is either losing money or barely breaking even - so far. Also opening this weekend, with relatively better success, is the much smaller Miracles from Heaven. Miracles is the third faith-based wide release this year, following Risen and The Young Messiah, two films that struggled at the box office. Lastly, Sony Classics throws a charity release at The Bronze, the dark gymnastics comedy with Big Bang Theory's Melissa Rauch. The story of the weekend - again - is Zootopia, Disney's extremely leggy animated feature.

Had Allegiant opened in the same $50 million ballpark as the other Divergent films, it would be number one this weekend, but as this column predicted last weekend, the third film in the series is a bit of a mess (despite having Part 2 already in pre-production). Allegiant's failure opens the door for the third weekend at number one for Zootopia from Walt Disney Pictures, a film that is becoming a box office story for the ages. The critically adored toon got its weekend started with $9.6 million on Friday, a drop of only 20% from its previous Friday. The LEGO Movie, a film that opened similarly to Zootopia, fell 43% Friday-to-Friday in its third weekend, Big Hero 6 fell 44%, and Finding Nemo 31%. Zootopia even beat Frozen's third Friday-to-Friday hold, which came in at 24%. After setting records for opening, I thought Zootopia might settle quickly, but we are seeing the complete opposite, and it still has a month to play without any direct competition.

Over the weekend, Zootopia kept its pace up and finished the weekend with $38 million from 3,959 venues. It's the biggest third weekend ever for an animated film, beating Shrek 2's $37.9 million, and is now playing at similar levels as some of the biggest films ever. Zootopia crossed the $200 million mark on Sunday, its 17th day of release, and now has a domestic take of $201.8 million. $300 million is now a given, but it will be interesting to see what kind of squeeze Batman v Superman puts on it, if any.

Worldwide, Zootopia is turning its run into World War Z. The overseas gross has now reached an awesome $389.9 million, as it cracked the $500 million worldwide mark on Friday. It hit a few more international markets this weekend, and next weekend opens in the UK and Hong Kong. Zootopia needed every cent, as the NY Times reports it cost an estimated $150 million to make, which means a worldwide profit of about $450 million would be needed for profitability. The worldwide gross has now hit $591.7 million, so the dollars remaining are gravy for Disney, and they still have Moana to come in November. Moana is from the team that brought us The Little Mermaid and Aladdin and stars The Rock, and is another animated feature that could make big waves at the box office.

Finishing second this weekend is Allegiant, part 3.5 of The Divergent Series. The latest piece of hurt for Lionsgate got started on Thursday, earning a weaker-than-expected $2.35 million from Thursday previews. Things got worse on Friday, as the combined Thursday/Friday came in at only $11.9 million, almost 50% behind the opening days of the first two films: $22.8 million for Divergent and $21.1 million for Insurgent. This is an ugly result for Lionsgate, as this one cost $110 million to make, which means it likely needs $330 million worldwide for Lionsgate shareholders to benefit. Additionally, having the stench of failure on Allegiant does not bode well for the next film, Somethingant, and weakens the overall franchise as well.

Over Friday-to-Sunday, Allegiant earned an unhealthy $29.05 million - off about 40% from the last two Divergent films, which opened in the area of $50 million. As David Mumpower and Kim Hollis pointed out in BOP's Friday Box Office Analysis, Allegiant is in big trouble now, as this kind of opening portends a $75 million domestic finish. That would pressure the international box office to pull in $250 million, where the original Divergent earned a distant $136 million outside of the US and Canada, and Insurgent pulled in $167 million internationally. Reviews are terrible at 10% fresh, and the Cinemascore is middling at a B, which means fans of the books didn't like the movie. Usually, those fans are the easiest to impress (two of the Twilight sequels earned As).

I have been critical of Lionsgate's handling and decision making on The Divergent Series since day one. Lionsgate's plan has always been to "manufacture franchises" and this series is a good example. Lionsgate inherited it from Summit Entertainment, which had created a "product" - a demographic sweep of all things YA, as put together in the Veronica Roth book series. The original cost $85 million to make (expensive for its type), and opened to $54.6 million in March 2014. Divergent finished with a meh $151 million domestic and $289 million worldwide - likely just slightly enough to be profitable theatrically for the company.

The second film cost $110 million, but opened to $2 million less at $52.3 million, earning $20 million less domestically at $130 million. It did perform better than the original overseas, finishing with $297 million worldwide, this time a definite loss for the studio. Despite that, the next film in the series was greenlit, and the same thing is going to happen again, despite diminishing returns. Allegiant will be lucky to earn $200 million worldwide for a loss of $100 million plus, so why would they even film Part 2 of the finale? Lionsgate is in freefall after the disaster of the $140 million Gods of Egypt only a few weekends ago. They also offended society (but likely made money) with Dirty Grandpa and Norm of the North and lost money on a Nicolas Sparks title - a first for that franchise. The future doesn't look so hot for Lionsgate either, with Now You See Me 2 the only recognizable title on their schedule until 2017.

Miracles from Heaven counters the box office darkness delivered by Allegiant. This small, faith-based film opened on Wednesday and has been impressing ever since. On its opening Wednesday, the Jennifer Garner film earned $1.9 million, a solid start for a film that will likely have its biggest day on Sunday. Thursday came in at $1.7 million, indicating that this one was likely going to play well all weekend. On Friday, Miracles from Heaven earned a stellar $4.2 million, more than doubling its opening day. Over the Friday-to-Sunday portion of the weekend, it earned $15.0 million, and had a five-day take of $18.6 million.

This is a heavenly result for this small film with a $13 million budget, and while it didn't match the $22 million that Heaven is for Real earned in April 2014, Miracles has the opportunity to earn even more than Heaven's $91.4 million domestic. The reviews are decent at 53% fresh, but the Cinemascore is very strong at A+, and better in both departments than Heaven is for Real. Both films are released by TriStar and are produced with Joe Roth and the Reverend T.D. Jakes.

Fourth goes to last weekend's opener 10 Cloverfield Lane, as the thriller looks to survive against an $85 million top three. The JJ Abrams produced film earned $12.5 million in its second weekend, off an expected 49% from its $24.7 million debut. While it's a slightly higher drop that Paramount may want, remember that the studio paid only $15 million to get this one produced. The domestic gross has now hit $45.18 million, which means its hit the "three times the budget equals profit" already, and still has lots of play in it - both domestically and abroad.

Fifth is my man Deadpool, as this dude just keeps on going. This weekend, Deadpool's sixth, the R-rated flick earned another $8.0 million, dropping only 27%. I'm still thinking the Fox release doesn't make it to The Passion's top-for-R $371 million, but every weekend it looks closer (however, it will likely get hammered next weekend). So far, Deadpool has turned in $340.9 million domestically, and has more than $380 million overseas.

Sixth is London Has Fallen, Deadpool's opposite. The $60 million film from Focus earned $6.9 million in its third weekend as it fell 36% compared to last weekend. The action flick has a domestic total to date of $50.1 million, so it will need some significant help overseas to get to profit.

The box office abyss begins in seventh, as that's where Whiskey Tango Foxtrot sits with only $2.81 million. It drops a hurtful 40% and has a domestic total of $19.3 million against a $35 million budget. Eighth is The Perfect Match, last weekend's sad release from Lionsgate. It earned only $1.9 million, declined 56%, and brings its domestic total up to $7.3 million.

Ninth is The Brothers Grimsby, as the Sony product struggles to get to $10 million total. It likely won't now, as it earned only $1.5 million this weekend. It fell 54%, but keep in mind it opened to only $3.3 million last weekend. The total is now at $6.0 million against a $35 million budget.

Tenth is The Revenant, and normally I would say its spending its last weekend in the top 10, but against these really bad bottom feeders, it might still be around for a while. This weekend, it earned $1.2 million and dropped 40%. It has a domestic total of $181.2 million, and a worldwide cumulative total of $445 million.

We have another record for ineptitude at the box office this weekend as well, as The Bronze earns only $421,434 despite being out to 1,167 venues. Other than 2011's Creature, which earned $327,000 on 1,507 venues, The Bronze is the worst opening ever on more than 1,100 screens.

Overall, the top 12 films at the box office were saved by Zootopia for the third weekend in a row. The top 12 films earned $119.17 million this weekend, which is in the same ballpark as last year, when Insurgent led the top 12 to $121.1 million. Next weekend finally brings Batman v Superman: Dawn of Justice, as the DC Property takes flight on more than 4,100 venues. Estimates are still tough at this point, but I think $150 million is the low end simply due to hype and the position the box office is in. The weakness of Allegiant has pushed my estimate from $140 million to $150 million. Good reviews will push it $165 million, and very good reviews to $175 million. Check back next weekend to see how it turns out.