Friday Box Office Analysis
By Kim Hollis and David Mumpower
March 19, 2016
BoxOfficeProphets.com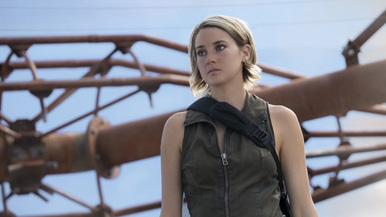 ---
Sometimes sticking with the plan is a bad idea, even if the plan has worked before.

Over the past decade, Lionsgate has excelled in making tween lit cinematic adaptations that keep fans hooked enough to keep coming back. Whether you believe Twilight or The Hunger Games was the most successful of these, both franchises took three books and turned them into four movies. Today, that same strategy is coming back to haunt the studio.

Last year, Lionsgate released The Divergent Series: Insurgent, the second film in the Divergent franchise. With a 29% score at Rotten Tomatoes, the film had a decline in quality from the already-substandard 40% that the original movie scored. Fans responded by rewarding the film with a slightly lower opening weekend than the original, as Insurgent earned $52.3 million compared to Divergent's $54.6 million. The news never improved for the sequel, either. It came in with a domestic total of $130.2 million versus the $150.9 million that Divergent earned. Somehow, the studio convinced themselves that even with the domestic decline, the slight uptick in worldwide earnings was enough to justify not only carrying on with an adaptation of the third book, but to split that third book into two films.

While this move worked for films in the Twilight series, Harry Potter and to a lesser degree The Hunger Games (it showed some significant attrition from Catching Fire to Mockingjay Part 1 and then even more to Mockingjay Part 2), there was nothing in the performance of Insurgent that should have convinced Lionsgate that this is a franchise worth carrying on. That second film in the series had a $110 million budget, which means that if the studio did make money from the production, it was an insignificant amount at best. The decline from the first film to the second should have been a serious warning sign that it was time to wrap things up, because unpredictable teen audiences clearly weren't maintaining the ardor that they had shown for past fantasy series.

At this point, it should be no surprise that the newest film in the Divergent franchise, Allegiant, debuted with only $11.9 million yesterday, and that number includes $2.35 million from Thursday night previews (down significantly from Insurgent's $4.1 million). That means that the "true" Friday number was only $9.55 million - a sub-$10 million performance. Allegiant was down a whopping 44% from Insurgent's opening Friday (and nearly 50% from Divergent's first day). Let's explore all the ways in which Allegiant's debut yesterday spells disaster for Lionsgate, which is pot committed to yet another film in 2017.

Remember when we mentioned Insurgent's miserable 29% score at Rotten Tomatoes? Well, that's the kind of review score the Allegiant could only dream of attaining. It currently sits at just 10% fresh at Rotten Tomatoes - 0% from Top Critics. Where audiences rewarded the first two films with Cinemascores of A and A-, respectively, Allegiant could only scrabble its way up to a B, which is generally a terrible sign for a movie with fanboy appeal.

And oh, by the way, Allegiant's budget was the same as Insurgent's. Even with international revenue factored in, there is no way Allegiant is going to show a profit. Let's first of all go ahead and get the weekend extrapolation out of the way. Divergent had a 2.39 multiplier (opening weekend divided by Friday revenue), while Insurgent had a 2.47. Even if we allow for a slightly better one due to the fact that we're playing with lower numbers (we'll call it a 2.5), we're looking at a probable estimated opening weekend of $30 million - and that's probably being generous. That's a horrific decline from the debut weekends of the first two films, and portends poorly for the long-term box office prospects of Allegiant. It's not even going to make $100 million domestically. In fact, if it's somehow "lucky" enough to match the 2.5 opening-to-total box office multiplier of Insurgent, it might earn $75 million. Yikes.

And yet the hits are going to keep coming, because Lionsgate still has Ascendant on the box office schedule for June of 2017. Last month, Robert Schwentke, who had directed both Insurgent and Allegiant, decided to leave the production of the final film in the series. So, now Ascendant is a film with no director and will be coming off a predecessor that will be considered a bomb in pretty much every sense of the word. Currently, shooting for the film is scheduled to begin this summer, and Lionsgate is going to be looking at financing a movie that may only open in the mid-teens after the dark cloud that hangs over Allegiant finishes with its tempestuous storm. We all know that splitting books into two films is a brazen money grab, but this might be the first time where using the strategy actually results in a true loss. The production team behind the Chronicles of Narnia films really doesn't get enough credit for knowing when it was time to quit.

There were a couple of other new releases this weekend. The first of these is the latest faith-based film, Miracles from Heaven. Featuring Jennifer Garner and Queen Latifah in the story of a little girl who begins to show signs of recovery from an incurable disorder after a "visit" to heaven, the film earned a decent $4.2 million yesterday after taking in $3.6 million over Wednesday and Thursday. Its weekend total should be right at $12 million. Considering that the budget from this TriStar production was just $13 million, the people behind Miracles from Heaven will be perfectly content with this debut.

Our last opener appears on only 1,167 screens, but even those were way, way, way too many. The Bronze, which features The Big Bang Theory's Melissa Rauch as both screenwriter and star, opened yesterday with just $130,000. You read that right. It might pull off $350,000 for the weekend if it's lucky. Let us never speak of it again.

What all this means is that Zootopia will spend a third (and final) weekend at the top of the box office charts. It was down just 20% from last Friday's already strong $12.1 million, meaning that have a weekend of about $41 million.