Top Chef California Recap: Finale Part 1
By Jason Lee
March 16, 2016
BoxOfficeProphets.com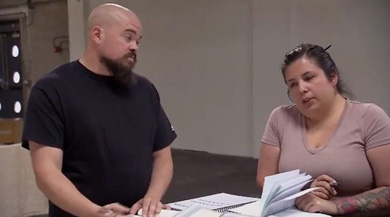 ---
It's the Top Chef Finale (Part 1) in Vegas, baby! And you know what they say... what happens in Vegas, will propel one chef to culinary superstardom.

Jeremy arrives basking in his newfound momentum. After a hot start, setting him up to be the type of cheftestant who remains a threat from beginning to end, Jeremy overcame his blunders (Taco Dude, anyone?) and comes to the finale on a two-challenge win streak.

Marjorie, protégée of Mike Isabella, knows that she's had some ups and downs in this competition (understatement of the episode so far). In the last challenge, she says she wanted to crawl under a rock and hide. Ultimately, though, she believes that her run on Top Chef has given her a new sense of confidence.

Isaac of the Big Easy comes to Vegas with only one win under his belt. He's fine with that. In his mind, he's been an underdog and will always be an underdog. He's ready to show just how much he's been underestimated.

The chefs arrive at the MGM Grand in the Garden Arena, where Tom and Padma (who appears to be wearing lingerie) are waiting for them. The arena has hosted a slew of legendary fights, and now Top Chef will hope to join the club.

But wait, there's one more participant. The winner of Last Chance Kitchen is... AMAR. Wow, I'm surprised. Amar always leaned hard on his French culinary techniques during this season, but he never struck me as a threat to take home the title until recently. It says something that he bested both Jason and Carl to make it back into the competition.

And this time, it's a two-parter. The first challenge will take place immediately, with the winner going straight to the finale. The second challenge will have the last finale spot up for grabs, and will take place tomorrow.

But first things first. Today's challenge, in Vegas fashion, will allocate advantages and disadvantages based on luck. Padma deals out a single card to each of the four cheftestants-each person gets assigned a suit. Marjorie gets spades, which used to represent royalty. As such, she has her own cart of ingredients that royalty would have had access to in medieval Europe. She can also poach any ingredients she wants from any of the other chefs.

Isaac gets hearts, which used to represent the clergy. He thus gets the clergy cart and can also take any ingredients from any other chef except Marjorie. Jeremy gets diamonds-the merchant class-and can use ingredients in his cart and any from Amar's cart. Amar is left with clubs-the peasants-and can only make a dish using ingredients that the lowly peasants would have enjoyed.

The chefs will have three hours to serve dishes to 150 people, and needing some help, Top Chef has brought them some help in the form of the last four eliminated chefs. Selecting in order of their respective classes, Marjorie takes Karen, Isaac goes with Carl, Jeremy pairs with Kwame, and poor peasant Amar gets stuck with Phillip.


Good luck with that.

Marjorie, ever her own worst enemy, immediately starts overthinking things, questioning whether she's making good enough use of her bounty, whether her dish is too complicated, etc. etc. She settles on a salmon dish that she would personally like to make and eat. I think that's a smart move.

Amar has gotten over his initial jealousy regarding his parsimonious cart of ingredients but is doing a take on liver and onions that harkens back to his days in the Dominican Republic.

Isaac owns a meatery but decides to cook a fish dish to order for his patrons. He's gonna lean on his comfort level with black cod.

Meanwhile, Jeremy is putting together a bizarre-sounding dish with chicken, pickled grapes, and zucchini. He thinks it's gonna stand out. I agree with him.

Before we know it, the diners and judges are here and rarin' to go. The judges (joined by Rick Moonen as guest judge) amble over to Amar's station and try his sautéed chicken livers with onions, root vegetable purée, crispy leeks, and honey gastrique. Tom notes that the peasants are eating pretty well, complimenting the flavor of the vegetables and liver. Rick finds the dish well balanced.

Over at Jeremy's station, they try out butter-poached chicken, zucchini purée, chicken cracklings, and pickled sweet and sour grapes. Rick adores the crunch brought on by the cracklings, and Gail calls the use of the grapes Jeremy's "eureka moment," and declares that she'll think about that component for a long time.

At this point, I conclude that Jeremy's won this round.

But formalities must be maintained. Isaac is next with a seared black cod with caramelized fennel, olives, eggplant, and red wine vinegar. Rick finds that his use of olives helps to cut through the fattiness of the fish. Tom loves the flavors, but Gail isn't crazy about his use of toasted bread, which breaks apart quite easily.

Finally, we have Marjorie's seared salmon with vadouvan beurre monté, shaved vegetable salad, and meyer lemon purée. Rick compliments the cooking of the fish, Padma appreciates the brightness in the vegetables, and Gail loved the purée but wanted more of it.

Those comments do not change for one second my belief that Jeremy is going to take the first spot in the finale. Sometimes, a single ingredient can win you a whole challenge. For example, I'm firmly convinced that Stephanie won Top Chef Season 4 simply based on her innovative use of braised pistachios.

And I'm right. Although Amar proved that you can make a great dish out of humble ingredients, Marjorie made a purée fit for a king or queen, and Isaac had a beautiful sauce, Jeremy's innovative use of grapes wins him the day.

Sigh. This means Taco Dude will head to the finale on a three-challenge win streak. He's got momentum and he knows it.

The remaining three chefs will have to duke it out for the last spot in the finale. In tomorrow's challenge, the chefs will have to take a page out of David Copperfield's playbook, with the magician himself serving as guest judge. Each chef will have to create a "magical" dish that surprises the judges in some way. To give them a little inspiration, Padma gives them each a ticket to David's show.

The next morning, while Amar, Marjorie, and Isaac head back to the Garden Arena at the MGM Grand, Jeremy preps to hang out by the pool. The working chefs will have two hours and a fully stocked pantry to create a dish that they'll serve tableside.

Getting straight to business, Marjorie begins prepping her take on a duck l'orange. It's inspired by a trip she took to France, and her "trick" will be to show how she can take an ordinary-looking plate of food and make it extraordinary. Part of her magic will come through the use of liquid nitrogen to freeze her orange sauce. Trying it out, she immediately burns her tongue on the liquid nitrogen. She can't taste anything. This is a recipe for disaster.

Isaac is gambling on a take on chicken fried steak, putting chicken skin on a steak to make it extra crispy.

As for Amar, he's playing down the pomp and show, and focusing instead on his culinary techniques. He's doing a fried potato in the form of an onion ring, using what looks like a sweet whipped meringue but incorporating savory flavors, etc. etc. Those ingredients, he believes, will incorporate an element of surprise.

It's showtime and Marjorie is up first. She brings out her dish to the judges and puts it down on their table, insisting that the judges don't touch them yet. Then, all of a sudden, Marjorie grabs the plates back and takes them up to the cooking station on the stage, saying that she's going to show how, with a little smoke and mirrors, you can take something ordinary and make it extraordinary.

She puts some orange segments in a bowl and pours over liquid nitrogen. "I've never used liquid nitrogen before and I'm a bit nervous," she admits. "I'm nervous, too," comments Padma. In a mixture of nerves and anxiety, Marjorie has made another misstep - she's put too many oranges in the bowl and now they're fused together. She frantically starts trying to pull apart (and then smash apart) the pieces of orange.

"Are you burning your hand?" asks guest judge Julian Serrano.

"Yes," Marjorie admits, "but just a little."

Marjorie serves her dish to the judges once more, plated on a mirror. The judges appreciate it but don't appear blown away. Gail finds it beautifully presented and compliments her on how well she interacted with the judges despite having to prep her dish at the same time. Julian finds the endive "wonderful." And though Tom enjoyed the dish, he wanted more orange flavor.

Isaac comes out with his play on chicken fried steak with a yuzu hollandaise. He distracts the judges with a magic trick just long enough to set up the hollandaise in an upside down shot glass. Julian finds the dish "fantastic," and Padma finds his use of the skin to be great. Tom and Gail, however, aren't thrilled with the texture of the purée, which is "grainy."

Amar is last and makes no attempt at putting on a show. He cooks in near silence as the judges wait. Finally, he offers up a squab with a white chocolate ganache, whipped balsamic, a frozen mole sauce, and a potato "onion" ring. What he lacked in performance, he's made up for in cleverness on the plate. Tom finds the flavors "interesting," with "a lot going on, but they all make sense." Gail finds that there's tons to explore on the dish, and that despite the use of multiple techniques, they were employed in support of flavor.

At Judges Table, the judges all express gratitude at how well the dinner came out - there was not a clunker amongst them. Marjorie had a great story and a terrific dish, even though it lacked a bit in orange flavor. Amar had little to no showmanship, but the dish itself was peppered with surprising elements. Isaac brought a different set of flavors to this dish than he had earlier in the competition-a risk that paid off.

This all leaves the judges with a tough decision. As a whole, the judges agree that Marjorie did the best in terms of performance, staying engaged with the judges and telling a story while finishing off her dish. In terms of food, though, Amar was tops, with a dish that was equal parts interesting, surprising, and impressive in terms of technique.

Calling the chefs back, Tom notes that each of them is incredibly talented in their own right. They each had to dig deep, and they each delivered. That said, one dish stood out amongst the rest...

...and it's AMAR who'll be joining Jeremy in the finale. While his onstage silence was anything but golden, food speaks louder than words (or his lack thereof). Marjorie and Isaac each thank the judges for the opportunity to be on the show. Marjorie is appreciative for how much more confidence she's become as a result of the show, and Isaac is thankful for having learned how to take risks and try new things, win or lose.

But it's Amar who'll get to put his experiences and lessons to the test when he faces off against Jeremy, who's been on a tear. Stay tuned.