Weekend Wrap-Up
Cloverfield Hits, Grimsby Flops, Zootopia Rules
By John Hamann
March 13, 2016
BoxOfficeProphets.com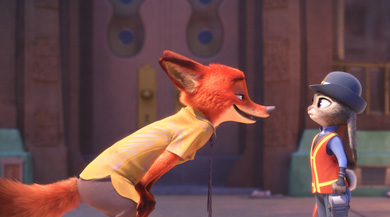 ---
If it weren't for furry rabbits and a maybe-rabid John Goodman, the box office would be going down in some serious flames.

It is a Jekyll and Hyde session at the box office this weekend, as four new openers contain more losers than winners. All four get to tangle with record breaker Zootopia, which found $75.1 million over three days in the previous frame. Openers stayed wisely away from the kid demo, and include The Brothers Grimsby, Sacha Baron Cohen's latest; The Young Messiah, the latest faith-based film; The Perfect Match, an urban rom-com; and the JJ Abrams-produced 10 Cloverfield Lane, a spiritual sequel to the 2008 found footage monster movie Cloverfield. This batch of films has the pedigree to do quite well; however, three out these four films failed to earn $5 million. Who's the beneficiary of all that flopping around? Batman v Superman, despite being a couple of weekends away.

Our number one film at the box office is Disney's Zootopia, as it dominates for the second straight frame. After absolutely slaying it last weekend to the tune of $75.1 million, Zootopia used its A Cinemascore to hold better than the already healthy projections indicated. On its second Friday, Zootopia earned $12 million, off only 38% from its opening day. This is a remarkable hold, as Zootopia's first Friday also contained $1.7 million from Thursday previews. That makes the true Friday comparison equal to a tiny drop of only 32.5%. Comparatively, The Lorax, which opened to $70.2 million, dropped 45% between first and second Fridays. Ice Age 2, another March opener, dropped 65% between Fridays.

The Friday hold could indicate very good news for Zootopia. It could mean that it's crossing over somewhat to adults, and making the later Friday screenings more popular. The Friday is the reason for the strong weekend hold, as Zootopia earned another $50 million over the weekend, dropping only 33% compared to that massive opening weekend. Examples of second weekend drops from animated blockbusters include Inside Out falling 42% after opening to $90 million; Despicable Me 2 falling 47% after opening to $83.5 million; The Incredibles falling 29% after opening to $70.5 million; The Lego Movie 28% after $69.1 million; and finally Up, which held at 35% after opening to $68.1 million. You can see that Zootopia compares best with The Incredibles, The Lego Movie and Up, three films that enjoyed that crossover business to adults.

Pulling these three films out and looking at their opening weekend to total domestic gross multiplier, we see Up at 4.3, The Incredibles at 3.7 and The Lego Movie at 3.73, for an average of 3.91. Should Zootopia match that average, it would mean a $293 million domestic finish for the Disney flick. It is definitely on its way to the top end of that average, as it crossed the $100 million mark on its seventh day, and now sits with a domestic total of $142.6 million. Overseas, Zootopia brought its total up to $288.7 million, making it the third true blockbuster we've seen so far this year.

Second is 10 Cloverfield Lane, as at least one of the four openers represents this weekend. The spiritual sequel to the 2008 monster movie got started on Thursday, earning a strong $1.8 million from previews. The preview amount caught me off-guard. I was expecting less, so the decent Thursday night showing pumped my expectations for its weekend. However, the Friday came in at a muted $9 million, and without those previews, only $7.2 million. While not meeting my expectations due to the preview amount, the Friday number did put Cloverfield Lane on target to meet tracking expectations. Over the weekend, the JJ Abrams produced film took in $25.2 million, which is right in line where people predicted it to finish but signals no breakout. Given the interesting marketing campaign, there was definitely upside, but it failed to materialize.

That interesting marketing campaign started about a month ago, when Paramount and Bad Robot announced that this was a spiritual sequel to Cloverfield as they dropped an interesting trailer. All of a sudden, this small film with John Goodman, Mary Elizabeth Winstead and John Gallagher Jr. was being watched closely. Then, the amazing reviews came, leaving 10 Cloverfield Lane at 91% fresh. Why this didn't open better than it did is a bit of a mystery to me, but given the small cast and the tiny $15 million budget, this start is exactly what a film like this one needed. The Paramount release sees a little overseas play this weekend, with a further rollout in the weekends to come. Should the overseas result match the domestic, Paramount and Bad Robot will have a significant hit on their hands.

Third goes to Deadpool, as our favorite R-rated hero holds the same position in the top ten as it had in the previous frame, despite four new releases out this weekend. Now an amazing five weekends old, Deadpool was up to his usual tricks again, minting another $10.8 million. The Fox release fell 35% and brought its domestic gross up to $328.1 million, easily cruising past such serious box office performers as Iron Man ($318.4 million) and Harry Potter and the Sorcerer's Stone ($317.6 million). The next big pass will be Guardians of the Galaxy, which earned $333.2 million. Deadpool remains the third biggest R-rated film ever, and should get past American Sniper's $350.1 million. It will still struggle to get to Passion of the Christ's $370 million. Deadpool has racked up $380 million overseas, so its worldwide total is now more than 12 times that of its $58 million production budget.

Fourth goes to London Has Fallen, and well, yes it has. After opening to a decent $21.6 million last weekend, London falls this weekend, earning only $10.7 million in its second frame. That gives it a drop of 51%, slightly better than Olympus Has Fallen, which dropped 53% in its second weekend. London carries a budget of $60 million, a number this could reach with a better hold next weekend, but it will instead have to rely on overseas box office to get to perceived profitability. It got started in a handful of markets overseas last weekend, earning between $13 and $15 million. Suffice to say that it's going to need a lot more than that to find success.

The plunge comes as we hit the five spot, as no other film earned more than $5 million this weekend. Fifth goes to Whiskey Tango Foxtrot. The Tina Fey comedy was floppish last weekend with an opening frame at $7.5 million, and things didn't get a lot better this weekend. WTF earned only $4.6 million in its second frame, dropping 38%. The good news for Paramount is that this one cost $35 million to make, and it might get some play overseas as it has a slow rollout internationally over the next few months. The domestic total to date is $14.6 million.

The Perfect Match is a newbie that seemed to get run over by a large truck this weekend. Released by Lionsgate, The Perfect Match is one of those urban rom-coms like The Best Man or Jumping the Broom. Problem is, The Perfect Match finished the weekend with only $4.2 million, a fraction of what those other films earned on opening weekend. Lionsgate chose to release it to only 976 venues, too small for the genre, and this is the result (a similar thing happened with Chris Rock's Top Five, opening on 979 screens to $6.8 million). No budget data has been released, but once has to assume the cost here is $10 million or less, which will be tough to recoup with this kind of opening.

Seventh goes newcomer The Young Messiah, but with the grouping of films, all of these movies hanging around the $4 million mark could switch positions when actual box office numbers are released. The faith-based Young Messiah earned only $3.4 million this weekend, but these estimates are always tough due to a potentially big turnout on Sunday. The Young Messiah was made by a number of companies, including Chris Columbus's 1492 Productions. This one is a little different than your usual faith film, as reviews were on the good side of mixed with a Rotten Tomatoes score of 61% fresh, and it also earned an A- Cinemascore. With Easter coming and a possibility of small-scale overseas success, it might have a chance at recouping its $18.5 million budget.

The Brothers Grimsby bellyflops into a horrid eighth this weekend, as the Sasha Baron Cohen flick craters at both the domestic and overseas box office. Ugly is not the word, as Grimsby earns only $3.2 million from 2,235 venues for Sony. Tracking had Grimsby opening to twice this score, but it bottomed out despite the efforts of Cohen to create awareness through the Oscars and via that "audience reacting to the trailer" video. Awareness was high for Grimsby, and may have worked had it been a better film. The 38% fresh rating at Rotten Tomatoes killed Grimsby, as did the lame trailer and TV campaign.

The result for The Brothers Grimsby puts it in the top 50 worst opening weekend of all-time list. The box office has seen an interesting trend over the last 12 months, with more and more films not just performing poorly, they are setting records for ineptitude. Other star-driven bottom dwellers of late have included Our Brand Is Crisis ($3.2 million, 2,202 venues), Victor Frankenstein ($2.5 million, 2,797 venues), and Rock the Kasbah ($1.5 million, 2,012 venues). If your film blows, people find out fast now. It's harder to fool the movie-going public these days.

Ninth is another flop in Gods of Egypt. It earned only $2.5 million and declined 52%. The Lionsgate flop has earned only $27.3 million against that $140 million budget. Tenth is Risen, the other faith-based film in the top ten. It earned $2.3 million and fell 42%. It has pulled in $32.4 million domestic.

The overall box office has to be extra thankful for its top two this weekend, or things would be dire indeed thanks to the disastrous bottom seven. The top 12 films this weekend earned $120.4 million, basically on par with last year, when Cinderella hosted the ball and the top 12 totaled $121.2 million. Next weekend, the films entering the Batman v Superman meat grinder are The Divergent Series: Allegiant (I'll take Zootopia to win next weekend), and the latest and greatest faith-based film, Miracles from Heaven.