Weekend Forecast for March 11-13, 2016
By Reagen Sulewski
March 11, 2016
BoxOfficeProphets.com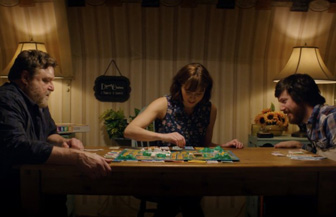 ---
It's a relatively busy March weekend but with only one of the four new films showing any real life, and likely not enough to top the weekend box office. Welcome to the consequences of tentpole films moving to March.

Earlier this year, the Internet was set ablaze by the release of a trailer for what appeared to be at the time a secret Cloverfield sequel. In much the same way that the original Cloverfield trailer appeared with no advance buzz and no record of it appearing in upcoming lists, 10 Cloverfield Lane announced a bold looking film set in that universe of monsters. That's since proven to be something of a fib, as the film actually started existence as an unrelated film called The Cellar, and even producer J.J. Abrams has since stated that it's only a "spiritual sequel."

The setting: what appears to be some sort of bomb shelter as two men and one woman, two with some form of minor injury, wile away the time. Slowly, we start to see that things are not all as they seem with some sideways glances, bursts of temper and the appearance of restraints. Suddenly, there is an act of violence and an escape attempt, followed by a chase and a frantic call of "you'll kill us all!!!!" - and we have our perceptions twisted about five times in the span of 15 seconds. Is it the truth, or simply a clever ruse – or is it something even more complicated than that?

Essentially a high-budgeted, double length Twilight Zone episode, it certainly at least promises something rarely seen of late in theaters, the adult-oriented, twisty thriller with some feints towards horror and sci-fi. That sort of genre jumble generally ends badly for films, but with Cloverfield's combo of horror, action and romantic comedy, the precedent is there, with some careful pump priming by the marketing department.

A cast of John Goodman, Mary Elizabeth Winstead (and some change) isn't blockbusting, but known enough to allow for people to justify it as an A picture. What helps a lot more are the excellent reviews, some of the best of the year. This, combined with the hype-o-riffic ad campaign, does present some good chances for a breakout performance. Comparable films are difficult to come by, since there's really been not too much like it in the marketplace for awhile, except for perhaps some of the M. Night Shyamalan movies that aren't embarrassing (as I said, it's been a while). Even putting it beside the original Cloverfield movie doesn't make all that much sense given the dramatic differences, but if people really do consider it to be a quasi-sequel, it might approach the $40 million of that film's opening weekend. That's a bit ambitious, though, and I expect a weekend more in the realm of $28 million.

Seemingly following the Mike Meyers career path, only in a more profane fashion, Sacha Baron Cohen returns with The Brothers Grimsby, wherein he plays a soccer hooligan (with a curiously out of date Mod hairstyle) pressed into service to help out his master-spy brother (Mark Strong), for reasons. Cue hilariously inappropriate and awkward "humor" surrounding genitals, bodily functions and brick-to-head stupidity.

While Cohen has managed a nice career in films where he's not the reason to see it – including appearing in two Best Picture nominated films – his comedy career in America consists basically of the legacy of Borat, and not much else. Bruno staggered to a deeply uncomfortable $60 million in box office following Borat's surprise success, while 2012's The Dictator offered a solid 40 minutes of humor and earned just slightly less. The Brothers Grimsby (released elsewhere simply as Grimsby, apparently in the notion that we in North America care more about films with familial ties in the title) seems a punishing ordeal, and hasn't even performed all that well in his native Britain. Most notorious recently for a gag about Donald Trump catching AIDS (I'm more offended by the lazy comedy than anything else), it's basically a dead film walking, and it has received basically no promotion on its release here. I'd look for just $8 million this weekend.

Another religious film arrives this week, as studios are seemingly in a contest to set a film across the entire chronological span of Jesus' existence. The Young Messiah (adapted from a book by Anne Rice!) follows Jesus as a seven-year-old boy on a journey from Egypt to Nazareth, in which he learns about his importance. A bit more straightforward religious parable than last month's Risen, it's likely to arrive with even less of an impact thanks to less studio support, many fewer screens and no real recognizable names. While a lush looking film, it's literally preaching to the choir and should find just $7 million this weekend.

Lastly, we have The Perfect Match, a film that I can barely believe is going into (semi) wide release. A romantic comedy/lifestyle porn film, it follows a young music agent who sleeps his way through a pile of models until his friends and family essentially dare him to find anyone he can be around for more than two dates. When he does, uh oh, it turns out the woman he chooses wants to hit it and quit it too. How the wheels of irony turn! Porn quality acting ensues, and lessons are learned by all in soft focus. I'd expect this to be good for about $2 million this weekend.

This leaves Zootopia to win the weekend once again, following its dominating $75 million from last weekend. Disney's formulaic and yet at the same time kind of radical animated comedy about animals stepping in for human society captured not just the tyke market but also a bit of the grown-up market too with its bright animation and hints of mature humor. A decent holdover of $47 million is due here.

London Has Fallen was a pale imitation of its predecessor, Olympus Has Fallen, with just $21 million, about two-thirds of that film's start. The xenophobic and just plain ugly action film should deteriorate quickly, falling to about $9 million this frame.

Deadpool, while not exactly leggy, continues to rack up impressive box office amounts, and crossed the $300 million plateau last weekend. It seems on pace now for about $360 million, and should hit $9 million this weekend.