Weekend Wrap-Up
Talking Animals Trample London
By David Mumpower and Kim Hollis
March 6, 2016
BoxOfficeProphets.com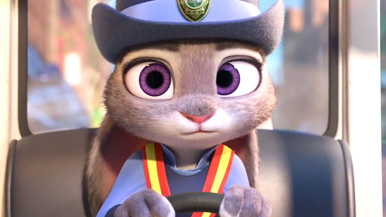 ---
Three new movies debuted in North American theaters this weekend. In descending order of intellect, they featured Tina Fey, talking animals, and Gerard Butler. Suffice to say that the talking animals crushed the competition, earning more than twice as much as the other two films combined. Monument porn and Tina Fey's wit are no match for the Disney marketing arm, especially not when they have an instant animated classic to sell to children.

In 2005, DreamWorks Animation was riding the high of Shrek 2, their most popular movie production ever. They had an idea for a new franchise in which Central Park Zoo animals would escape from captivity. Once released in the wild, these domesticated beasts would fare harshly in the precarious African landscape of Madagascar. Fights for survival are a moment-by-moment occurrence in the wild, which means it's no place for kings of the asphalt jungles of New York City. Four films and $2.25 billion later, the popularity of this concept is irrefutable.

This past weekend, Disney released an inverted version of this premise. Rather than take animals in our society and place them out in the wild, Walt Disney Animation Studios took mankind out of the equation. Instead, they offered a story with anthropomorphic mammals all inhabiting the same city. Whereas Madagascar takes animals out of the city and places them in the wild, Zootopia turns the city into the wild. It's where the entire animal society exists, which makes it half Madagascar and half Animal Farm. Whether George Orwell would feel flattered or offended is up for debate. What's undeniable, though, is that kids loooooove the premise.

Zootopia has opened to $73.7 million this weekend. That's a record-setting debut for an original Disney animated movie (non-Pixar division), which means that it has bested recent blockbusters such as Tangled, Frozen, and Wreck-It Ralph. That's not to say Zootopia will surpass Frozen's historic run to $400 million – it won't – but it does reflect that consumers continue to trust Disney to deliver heartwarming family entertainment, just as the company has done going all the way back to the debut of Snow White and the Seven Dwarfs in 1937. Almost 80 years later, consumers revere the Disney animation brand every bit as much now as they did then.

Plenty of signs hinted at this spectacular debut. Disney has promoted the movie for over a year now, and the teaser showing a sloth as the ultimate example of bureaucracy gone awry instantly sold the concept to many potential movie-goers. In recent days, glowing reviews have alerted Disney fans that Zootopia is an instant classic. It's 98 percent fresh on Rotten Tomatoes, with the site noting it's the best reviewed film of 2016. Yes, we're talking about a small sample size after the first week in March, but its grade would also make it one of the five best reviewed films of 2015 as well.

For perspective, consider that Pixar's Inside Out received 299 thumbs ups from 304 critics (98.36 percent) with an audience score approval rating of 89 percent. Zootopia earned a fresh grade from 129 out of 131 critics thus far (98.47 percent) with an audience score of 95 percent. Both films also claimed A Cinemascores. Keep in mind that a film's grades ordinarily decline over time since it benefits from opening weekend enthusiasm. At this point, Zootopia is slightly ahead of Inside Out, but it should fall just short overall. Still, the fact that we're discussing them in equal terms speaks volumes about the underlying quality of Disney's latest instant classic.

Zootopia got off to a terrific start, grossing $19.5 million on Friday, $1.7 million of which came from Thursday sneaks. On Saturday, it spiked 62 percent to $31.6 million. That's a significant number since it is better than Frozen's best day, $26.8 million, and you should keep in mind that Frozen benefitted from Thanksgiving box office inflation. Zootopia debuted on a random weekend in early March. There's cause to believe that the film is, if anything, underestimated this weekend. Disney is currently projecting $22.6 million on Sunday. Whatever the total is, it'll wind up comfortably ahead of Frozen's $67.4 million debut. Internationally, the news is equally sunny for Zootopia. It grossed another $158.8 million abroad, bringing its opening weekend global take to $232.5 million.

Back in March of 2013, Olympus Has Fallen became the first of two "White House Under Attack" films to be released that year. Featuring Gerard Butler, Aaron Eckhart and Morgan Freeman, the film debuted with $30.4 million and went on to make just short of $100 million domestically. With an additional $62.1 million from overseas venues, it managed to cross the $150 million worldwide plateau versus its $70 million budget, a total that is apparently good enough to merit a sequel.

At that time, FilmDistrict was responsible for Olympus Has Fallen's release, but that studio is now defunct and rolled up into Focus Features. That means Focus took on the release of the newest film in the series, London Has Fallen, which brings back Butler, Eckhart and Freeman and apparently expands the terror to a global scale. It is our second place finisher this week, coming in well short of the $30 million the original film earned during its debut weekend.

After starting with a muted $7.6 million on Friday, London Has Fallen finished the weekend with a total of $21.7 million. That's 29 percent off the opening weekend for Olympus Has Fallen, and a sure indicator that it will be in for a significantly lower overall domestic gross as well. Word-of-mouth is mixed at best, with reviews at Rotten Tomatoes coming in at just 26 percent (27 out of 105 critics gave the film a positive review). The news is better on the Cinemascore front, as London Has Fallen received an A- from opening night viewers. Unfortunately, with direct demographic competition in films like 10 Cloverfield Lane and Batman v Superman coming up, London Has Fallen doesn't have a lot of hope for the long haul. The budget was just $60 million, so it may at least break even despite the somewhat disappointing result.

Third place, then, goes to Deadpool, which finally slides out of the top spot after three dominant weekends. With a weekend take of $16.4 million, the R-rated superhero film declined 47 percent from the previous frame. The big news for the weekend is that Deadpool crossed the $300 million mark with $311.2 million, moving it into 48th place on the all-time domestic box office list, ahead of such films as Pirates of the Caribbean: The Curse of the Black Pearl, The Hobbit: An Unexpected Journey, Harry Potter and the Half-Blood Prince and The Twilight Saga: Eclipse. It remains in the number three spot for all-time domestic gross for R-rated films. Deadpool's international take is slightly outpacing its domestic total, meaning that its worldwide take sits close to $650 million.

Tina Fey's Whiskey Tango Foxtrot is a bit of a disappointment this weekend as it wound up with a three-day total of only $7.6 million. The marketing around the project was confusing – was it a war comedy? A serious film with funny elements? Audiences just couldn't tell, and as a result they simply chose to stay away. Reviews were mostly positive – Whiskey Tango Foxtrot is currently 60% fresh at Rotten Tomatoes – but opening night audiences were not enthusiastic, giving the film a B Cinemascore. Fortunately for distributor Paramount Pictures, the budget was just $35 million, so the damage from this one won't be as fierce as it could have been.

Rounding out the top five is last weekend's utter disaster of a film, Gods of Egypt. Although Gerard Butler can claim two films in the top five, he shouldn't really be particularly proud of either one. Gods of Egypt was presumably Lionsgate's latest attempt at a franchise starter (although one wonders who ever really believed that to be the case), but instead it has repulsed audiences. This weekend, Gods of Egypt fell a whopping 65 percent from its already terrible opening weekend total of $14.1 million, giving it a second frame of $5 million. So far, the Alex Proyas-directed film has a domestic total of $22.8 million against its gaudy $140 million budget. It seems unlikely that even the best international performance could bail it out.

Sixth and seventh place go to a faith-based film and a January holdover. Risen, the procedural (?) surrounding the death of Jesus Christ, wound up in sixth as it fell 43 percent from last weekend to $3.9 million. Thus far, the $20 million-budgeted film from Sony/Columbia has earned $28.7 million domestically. It will be most profitable once it reaches home video. Seventh was Kung Fu Panda 3, which obviously suffered from direct competition from Zootopia. It fell 60 percent to $3.5 million for the weekend. With a $133.8 million domestic total, KFP3 is looking to its international grosses for profitability. It has already earned over $180 million overseas and has yet to open in a number of locations.

We close out the top 10 with an Oscar contender/winner, a fairly generic sports flick, and an inscrutable horror title. Eight place goes to The Revenant, which was one of the favorites to win Best Picture at the Academy Awards this past weekend but lost to Spotlight. Still, with a Best Actor Oscar for Leonardo DiCaprio, the film was able to stay in audience's sights for another weekend, allowing it to decline just 16 percent to $3.3 million. The Revenant has now earned $176 million domestically and another $238 million from international venues.

Eddie the Eagle takes ninth place as it falls 49 percent from its debut last weekend to $3.1 million. It increases its domestic take to $10.9 million and will fade from North American theaters quickly. Tenth is The Witch, a horror film that has received stellar critical reviews but somewhat less excitement from audiences. With a weekend total of $2.5 million, it falls 50 percent, but brings its overall total to $20.9 million. Not bad for a Sundance product with a $3.5 million budget.

The Oscars didn't have much of an impact on the box office this weekend, although Best Picture winner Spotlight did see a 149 percent increase weekend-over-weekend. Its $1.8 million take probably could have been higher had the film not already been released on home video. Its domestic total is $41.6 million, pretty similar to last year's Best Picture winner Birdman, which took in $42.3 million.

Overall, the top 12 films at the box office destroyed the same weekend in 2015. This year's $145 million is almost double last year's top 12 take of $78.3 million. Zootopia is obviously worth a lot more than new releases like 2015's Chappie, The Second Best Exotic Marigold Hotel and Unfinished Business. Next weekend should see Zootopia continue its winning ways, although it will have some competition in the form of 10 Cloverfield Lane, Sacha Baron Cohen's The Brothers Grimsby, the faith-based The Young Messiah, and the smaller-scale release The Perfect Match.