The Amazing Race Season 28 Recap - Episode 3
Bros Being Jocks
By Kim Hollis and David Mumpower
March 1, 2016
BoxOfficeProphets.com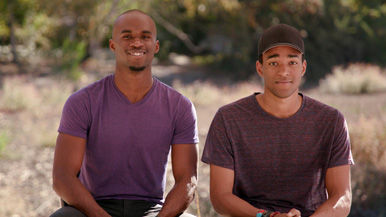 ---
Previously on The Amazing Race, teams rushed to Columbia. After some airport shenanigans (wherein we learned that Darius & Cameron don't have a sense of urgency), teams went mud diving in a volcano and either built a pop-up party location or cooked some chicken. In the end, Marty & Hagen just weren't able to overcome the also lagging Darius & Cameron, and the flight attendant and her daughter were eliminated from the Race.

We're back in Cartagena, Columbia, where Tyler & Korey will be first to depart at 10:05 a.m. Their clue directs them to make their way on foot to Plaza San Diego for yet another clue. The guys take a moment to emphasize that they are nothing more than friends, although apparently Tyler did have a crush on Korey at one point. Korey makes a joke that Tyler's attraction to him ended when he got to know more of his personality, to which Tyler says, "Your words." These guys are easily the most fun team on the Race. We laugh nearly every time they're on screen – and we don't mean that sarcastically!

Brodie & Kurt are about 10 minutes behind them (and we wonder what Tyler thinks of their personalities!), while Burnie & Ashley are third to depart (just six minutes behind the Frisbee dudes) All three teams are now headed to the plaza, where the next clue instructs them to head on to Castillo San Felipe de Barajas, a fortress with claustrophobic catacombs. Teams will need to search the location for yet another clue.

There is a bit of separation from third to fourth place, as Dana & Matt are a half hour behind team Rooster Teeth, and Dana hasn't stopped telling Matt all the things he's doing wrong. During the previous episode, she mentioned that she's been waiting for him to propose to her… for a while. If this is what their day-to-day looks like, his hesitation is understandable.

Tyler & Korey easily make it to the fortress and find their clue quickly. They'll now participate in a Detour. For their first option, they'll board a local bus and play the role of conductor, using all their charm and persuasive ability to collect 20,000 pesos. Given the fact that all of these people are at least minor celebrities, this task promises to be entertaining and perhaps not at all difficult.

The other choice is Tejo, a game that combines a metal disc, gunpowder and a clay target. Basically, you throw the discs at the target, where they explode with noise thanks to the gunpowder contained in the target. Tyler & Korey choose this option (although we think they'd have effortlessly collected 20,000 pesos on the bus challenge), as do Brodie & Kurt. Tyler realizes that the Frisbee dudes basically make a living by throwing things at targets, and worry that they might fall behind as a result.

It gets worse, because Tyler & Korey's cab driver is taking them the wrong way, allowing the Frisbee dudes to arrive at the Tejo center first. Sadly, there are no women to appreciate their amazing manliness. They hit their three noisy targets and receive their next clue before Tyler & Korey can even arrive on the scene. Their next clue directs them to Calle San Juan de Dios, where they'll search for a purse vendor marked with the colors of The Amazing Race.

All of the other teams have gotten under way, with the last team to leave being Darius & Cameron, who are a hefty two and a half hours behind Tyler & Korey (meaning they're two hours behind the second/third place teams). This… does not seem to bode well for the brothers, we're afraid, particularly as they haven't seemed to have a lot of get up and go in their game.

Although they allowed Brodie & Kurt to jump ahead of them, Tyler & Korey still manage to complete the Tejo task before any other teams arrive. Burnie & Ashley do show up soon afterwards and get started on exploding things.

One of the Clevvr girls, Erin, has serious claustrophobia, so the clue in the catacombs is kind of a problem for them. Fortunately, the clue isn't terribly hard to find, so the panic is only temporary.

It's at this point that we realize we really haven't seen much of Sheri & Cole, but we figure it's safe to assume they cried during the cab ride to the fortress at the very least. Not for any reason, mind you. It's just what they do.

Burnie & Ashley have finished the Tejo challenge, while Dana & Matt have just arrived. She's reminding us of Logan from the previous season of the Race, as when Matt tries to help her with technique, she snipes at him to not tell her what to do.

Zach & Rachel have chosen the bus challenge, and Erin & Joslyn and Scott & Blair join them. Brittany & Jessica and Cole & Sheri choose Tejo.

Brodie & Kurt have finally found the purse vendor and rip into their next clue. It's a Road Block that asks the question, "Who's left holding the bag?" Based on the fact that Latin Americans have been crafting beautiful mochila bags for centuries, one team member has to choose a mochila bag and then search the old city area to find two more from the same designer. Kurt takes the challenge for his team and immediately regrets it when he walks up to the second bag vendor. There are a lot of mochila bags.

Dana stops yelling at Matt long enough for them to finish their Tejo game and retrieve their next clue. Darius & Cameron have only just arrived at the fortress and seem to be firmly in last place with no hope of survival other than a non-elimination leg.

We're back at the mochila bag vendor, where Tyler is taking on the task for his team. Zach & Rachel find themselves in rush hour traffic over at the bus challenge, which is making it difficult to score riders. Eventually, a gentleman says, "You're the guy from YouTube, right?" and they finally are off to the races. Their new friend takes a selfie with Zach (Rachel complained a little earlier in the episode about always being in the background) and they have some confidence restored.

Blair takes a completely different approach, as she leans out the bus screaming, "Kisses for pesos!" To the shock of no one, a gentleman takes advantage right away. From that point, her enthusiasm easily fills the bus. Amusingly, no one really even asks her for the kiss. She does say she blew kisses to a lot of people. "That's as far as that needed to go," says protective daddy Scott.

Burnie & Ashley and Matt & Dana both have found the mochila bag vendor, and Ashley and Dana will take on the challenge for their teams. Although Ashley initially has some confusion, she quickly realizes the bags don't have to be exact matches but rather that the designer has to match. (Generally, similar bags do seem to have similar designers, though.) Tyler struggles a little as he finds a bag that looks like the one he's carrying; however, the designers are not the same. At least he has read the clue to understand that, because this seems like a challenge that could trip someone up.

Kurt has found his third bag (after announcing that the challenge is hard work), and Tyler is right behind him. When Kurt gets the next clue, he and his Frisbee hawking bro are headed to the Pit Stop at Baluarte de Santiago. They check in as the first team to arrive, which means that they win a trip to Mikonos in Greece.

It's moments before Tyler & Korey arrive, and Korey points out that every time Tyler has done the Road Block, they've finished second, while every time Korey has done it they've won the leg. Tyler says, "Surely I've won something." Korey answers, "You won America's heart."

Darius & Cameron are playing Tejo, and at this point, we realize we're just halfway through the show. We guess we're in for some intrigue? Either that or it's about to be a very silly half hour of television. And with the brothers finishing up their game, they've actually managed to move into seventh place. Score one for intrigue!

The bus challenge might be slow, but the teams that chose this task universally seem to believe that it's one of the best experiences they've had in their entire life. The Clevver girls and Blair & Scott finish pretty nearly at the same time. Zach & Rachel believe they're finish and run for a taxi, but in the car they realize that Rachel has counted wrong. They'll have to go back and get more money. "And you're the CFO of our company," says Zach. Sheesh.

Ashley finishes the bag challenge while Dana stomps all over some vendor's merchandise. Needless to say, the woman isn't impressed with the dancer. When Matt tries to encourage Dana by telling her that Ashley only just found hers, she tells him not to talk to her. How dare he try to be uplifting!

Burnie & Ashley check in as team number three, while Rachel finally discovers her final bag – and without any sort of Godzilla impression! This allows the dancers to come in as team number four, where they dance with the locals. Matt talks about how they need to communicate better and be on the same page, but the expression on Dana's face clearly says that she views him as the problem.

Jessica and Cole collect bags for their two teams, working together to ensure they stay ahead of the other groups. Jessica notes that yes, it's a competition, but if you know you're not going to finish in last place, it behooves you to be nice to other people. She's absolutely right, too. Cole does eventually send her ahead, but he finds his last bag soon after.

Brittany & Jessica bond with the woman standing with Phil at the Pit Stop, as she tells them that she is Miss Cartagena. They excitedly tell her that they are Miss Florida and Miss Iowa, woo! They'll be fifth place, while Cole & Sheri are sixth.

Now at the Roadblock, the Clevver girls and the brothers are the only two teams in the old city looking for bags. They note that they haven't really seen any other teams all day, and wonder about the whereabouts of Blair & Scott and Zach & Rachel. Eventually, the father/daughter team does arrive, but Scott is struggling with the challenge. Details are not his friend. He's trying to take a bag from an unmarked vendor (the ones they're supposed to visit have an Amazing Race flag overhead). Obviously, the vendor doesn't take kindly to this.

Zach & Rachel are stuck in traffic and worrying that it's starting to get dark.

Scott and Erin try to team together, and Zach & Rachel are absolutely right that the darkness makes the challenge more difficult. With all remaining teams now at the final challenge, it's quite tense. Darius has found his two bags, and now is looking for the designer. Hm. We don't remember any of the other teams doing this.

And in fact, right at that moment Erin delivers her bags to the woman who is sitting where the challenge began. Hopefully Darius doesn't lose a lot of time looking for a phantom designer. He returns to Cameron and tells him that they need to find the vendor, and since we're at the point where we're fighting not to be in last place, none of the other teams tell him about his error.

We're not sure exactly how much time he wastes here, but we do know that Erin & Joslyn and Blair & Scott are able to finish the challenge and check in at the Pit Stop. Zach finds his final bag and is off to pick up Rachel. The only question now is whether Darius figures out his mistake.

Rachel tells Zach that if Darius gets his clue, they're in a foot race and she can't beat him. Cameron leans against a wall, demoralized. "I guess we're last," he says. He can't tell his brother what he's doing wrong, either.

But… there's hope for the brothers yet, as Zach had presumed that the Pit Stop would be in an area where he heard drumming. He presumed wrong. So, he and Rachel have to run to find the real final location of their check-in.

Darius finally figures out that he just needs to give his bags to the girl sitting 10 feet away from Cameron. It's a race to the finish, but Zach & Rachel manage to arrive just seconds ahead of the brothers. Darius & Cameron are eliminated from the race. They're incredibly likable and charismatic, but they've struggled a bit with urgency and details throughout the Race so far. Zach & Rachel hang on for another leg. There's some real separation between the top four and the remaining teams, though.