Weekend Wrap-Up
Deadpool Roughs Up the $140 million Gods of Egypt
By John Hamann
February 28, 2016
BoxOfficeProphets.com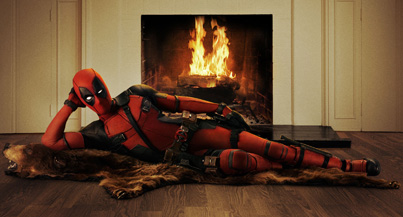 ---
What happens when you throw a $140 million sword and sandal epic at Deadpool? An epic beatdown, combined with numerous wisecracks from our three-peating, R-rated hero.

Deadpool, now in its third weekend of utter dominance, faced off against three newcomers this weekend, but none could hold a candle to the merc with a mouth. Openers this weekend include the aforementioned Gods of Egypt, the $140 million wannabe franchise starter from Lionsgate, Eddie the Eagle, an odd little film about a ski jumper from England who became a celebrity for his suckiness, and Triple 9, a crime thriller from John Hillcoat (The Road, Lawless), that stars Casey Affleck and Norman Reedus amongst many, many others. Eddie the Eagle and Triple 9 are the small, February-filler type of releases (3 Days to Kill and The Lazarus Effect are good examples); however, Gods of Egypt was looking to plant a flag for a franchise - and instead ran into a brutal funny man wearing a red and black outfit.

Our number one film for the third consecutive weekend is Deadpool, the $132 million starter that followed that up last weekend with a still strong $56.5 million. After only two weekends, the $58 million production had already earned a half billion worldwide, and this weekend, the studio was looking for an international gross that is 10 times that production budget (theatrical profitability usually hits at three times the budget worldwide). On its third Friday, Deadpool earned another $9 million, and was able to turn that Friday into a weekend take of $31.5 million. That's off 44% compared to last weekend, but really it's all gravy right now for Deadpool, as the domestic total has now reached an amazing $285.6 million on the domestic side.

Deadpool continues its rise against the biggest R-rated films of all time. The biggest ever is The Passion of the Christ, which took in $370 million domestically. Second is American Sniper, which dominated January 2015 and found $350 million at the domestic box office. Deadpool now sits in third place, as it got by The Hangover at $277 million this weekend, as well as The Matrix Reloaded, which earned $281 million. Can Deadpool catch The Passion of the Christ to become the number one R-rated earner? It remains a long shot, but it does appear that Deadpool does have a chance at $350 million domestic. Still, March will bring some much stiffer competition (Deadpool is over by March 25th, when Batman v Superman: Dawn of Justice opens). Overseas, Deadpool has now pulled in $266.5 million for a worldwide gross of $552.1 million, and should join the top 100 worldwide releases ever in weekend four.

In a distant second - and earning less than half of what Deadpool did in its third weekend - is the $140 million Gods of Egypt, with a budget two and a half times that of the Fox/Marvel title. Lionsgate is desperately trying to manufacture a franchise replacement for The Hunger Games, and thought they had found it in the effect-laden Gods of Egypt from Dark City director Alex Proyas. Lionsgate did not find what they were looking for. Gods got started with a Thursday preview that provided only $800,000 in sales, which means it was dead before it even got to a full day of business. The combined Thursday/Friday came in at an awful $4.8 million, an indication that it wasn't going to even touch $15 million on its first weekend – especially against the Oscars. In the end, Gods of Egypt earned a disappointing weekend total of $14 million from 3,117 venues. It had a sad venue average of $4,491, and is doomed because of its budget.

The film stars Gerard Butler (300), Brendon Thwaites (Maleficent) and Geoffrey Rush - a very white cast for a movie called Gods of Egypt, with a release weekend shared with the oh-so-white Oscars. Director Alex Proyas was accused of whitewashing, and the first nail was in the coffin on this one months before it opened. I believe this was more of an economic issue than a race issue, as Lionsgate filmed a movie called Gods of Egypt in Australia (which makes as much sense as white Egyptian gods). The studio chose to shoot in Australia so they could avail themselves of the significant production credit – too many decisions on this one were made for financial reasons despite trying to create a franchise.

The next nail came with the reviews, many of which were quite funny (see Variety's review for a laugh). At Rotten Tomatoes, only 10 reviewers out of a possible 75 found something to like, leaving the film with a fresh rating of only 13%. The Gods of Egypt page at RottenTomatoes is seriously funny as you get gems like this: "Watching Gods of Egypt is like willingly heating up a giant pot filled with diarrhea until it's as hot as liquid magma and then slowly dripping that stinky, scorching fecal juice into your eye sockets one drop at a time for two hours straight" (Examiner.com). The Cinemascore came in at a could-be-worse B-, but this one should still be gone from theaters very quickly. On the other hand, it will live on like the gods of bad movies.

Putting aside the whitewashing and shooting in Australia, Lionsgate did come up with a pretty good financial model for Gods of Egypt. Yes, the film cost $140 million to make, but Lionsgate significantly reduced their exposure by selling the foreign rights for Gods of Egypt, reducing their financial exposure to only what they say is only $10 million. I would think we need to at least add domestic marketing costs to that outlay, which would push their exposure to at least $50 million, but at least they are not holding the bag on $140 million PLUS marketing. Had the film worked, Lionsgate wouldn't have made much money, but it could have had a franchise starter, with a sequel poised to make them a bucketful of cash. I believe that for the most part, the Lionsgate model is sound, but the release strategy around Gods of Egypt definitely needs an internal review.

Kung Fu Panda 3 drops to third but holds nicely. The DreamWorks film distributed by Fox picked up another $9 million in its fifth weekend, and dropped a not bad 28%. The gross lifts the domestic take to $128.5 million, all against a budget of $145 million. Panda 3 will eventually match the production budget stateside, and it has already earned $180 million internationally from only four overseas markets. It crossed the $300 million worldwide plateau this weekend, and will open in some other international markets next weekend. It's going to take a while, but Kung Fu Panda 3 will see a win eventually. Distributor 20th Century Fox is having a massive first quarter what with this one and Deadpool – maybe Fox is the Universal of 2016.

Fourth is Sony's Risen, which got off to a decent start last weekend with $11.8 million – not bad for a small faith-based film with a $20 million budget. In its second weekend, Risen earned $7 million, off 41% compared to last weekend. Risen has now earned $22.7 million, eclipsing its production budget stateside, and gets to work overseas on March 17th, as it enters some bigger international markets like the United Kingdom.

New release Eddie the Eagle is fifth, as the marketing for this feel-gooder failed to make an impact on North American audiences. Despite the presence of Hugh Jackman, Eddie the Eagle could only manage $6.3 million, giving Jackman his lowest opening since Deception in 2008. Eddie the Eagle opened at only 2,042 venues, so if the A Cinemascore gets people talking, there is room for a film like this to expand. Made for $23 million, Eddie is going to have to do well in the UK to find a profit.

Triple 9, the new crime thriller from Open Road Films, finishes sixth. This one has a great cast (Chiwetel Ejiofor, Casey Affleck, Anthony Mackie, Woody Harrelson, Kate Winslet and Norman Reedus), but a dark, dense look to it, which may have put some off. Triple 9 had Thursday/Friday of $2.1 million and was able to turn that into a weekend gross of only $6.1 million. The production cost for the film was $20 million, an admirable amount considering the weight of the cast. At Rotten Tomatoes, 110 critics saw the film, and 60 found something to like, leaving Triple 9 with a 55% fresh rating. The Cinemascore is a troubling C+, which means this one is going to have to work hard to earn its money back.

How To Be Single lands in seventh. The rom-com earned another $5.2 million, dropping 37%. The Warner Bros. comedy has now had three weekends in release and has earned $39.6 million domestically. It cost $38 million to make, and will likely find $50 million at the domestic box office. It has also earned $35 million overseas thus far, so it could finish as a win for the studio.

Eighth goes to The Witch, which opened in fourth last weekend. After earning a C- Cinemascore, I thought the result would be worse this weekend, but the small A24 release found $5 million and fell 43%. The Witch was a $1 million pick up for A24 (plus marketing of course), so a gross to date of $16.6 million has to be good news for this upstart studio.

Race, the biopic about Jesse Owens, finishes ninth. The Focus release earned only $4.3 million in its second weekend, dropping 42%. The gross to date has reached $13.9 million, and you can expect to see it on Netflix in no time.

The Revenant, our only Best Picture nominee in the top 10, earned $3.8 million over Oscar weekend. The Leonardo DiCaprio starrer dropped an almost nonresistant 2% and brings its powerful domestic gross up to $170.5 million. The Revenant cost $135 million to make, and the $217 million plus overseas gross will push it to profitability. I predict The Revenant to clear the table at the Oscars tonight – it will be interesting to see the impact of that on its box office next weekend.

Star Wars: The Force Awakens spends its first weekend outside of the top 10 after 10 weekends of record-breaking release. The gross this time around is $3 million, which gives it a decline of 22%. The total for the biggest domestic earner ever is now $926 million, about $165 million ahead of the second place Avatar.

Overall, the box office remains in the same ballpark as last year but is slipping as Deadpool ages. This weekend, the top 12 films earned $97.5 million, just ahead of last year's top 12 take of $93.4 million, when Will Smith's Focus led the box office with $18 million. The Gods of Egypt miss opens the door for next weekend, as we have three big releases. Opening in the next frame are London Has Fallen, the sequel to the 2013 film that opened to $30 million; Zootopia, the new Disney release that is already lighting it up overseas; and Whiskey Tango Foxtrot, the new comedy with Tina Fey and Margot Robbie.