Weekend Wrap-Up
Deadpool's Second Frame Matches First Weekend Expectations
By John Hamann
February 21, 2016
BoxOfficeProphets.com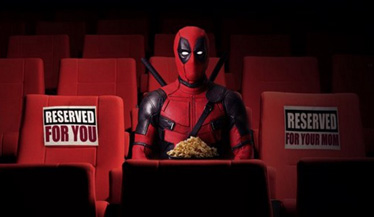 ---
It's a good thing Deadpool blew up the box office last weekend. Without our hero, the box office would be a fiasco this frame.

For the last three years, the post-President's/Valentine weekend has not been strong. Over those years, holdovers have ruled each weekend. In 2013, Identity Thief spent its third weekend in release at the top of the box office, as The Rock's Snitch opened to only $13.2 million. In 2014, The LEGO Movie spent its third weekend on top as well, with Costner's 3 Days To Kill as the top opener with $13.2 million. In 2015, 50 Shades of Grey repeated, and Costner again had the top opener with McFarland USA, which earned $11 million. This year is no different. The top new release can barely get to double digits, as Deadpool dominates the box office for the second consecutive weekend.

Following Deadpool into the box office fray this weekend are three of these smaller releases that are similar to what we've seen over the last few years. These openers use smaller budgets (and smaller first weekends) to survive. McFarland USA cost $17 million to make and earned $44 million in North America. While McFarland was no financial windfall, the production cost was recovered, and it will likely earn the rest of its money back through home video. Another low budget 2015 release was The DUFF, which cost $8.5 million and earned $34 million stateside and another $10 million overseas, likely making a theatrical profit. Trying to do the same this weekend are Risen, a $20 million faith-based film which is a little early for Easter, Race, the Jesse Owens biopic where Focus picked up domestic rights for $5 million, and The Witch, the gothic horror flick distributed by A24, who paid only $1 million for domestic rights. While none were made to open at number one, each has a strong chance to make money for the distributor. Let's see how they did.

Our number one film of the weekend was never in doubt, as Deadpool easily bested all-comers in its second weekend. After a sizzling $132.4 million over three days and $152.2 million over four days last weekend, Deadpool was bound to come plummeting back to earth. On Friday, Deadpool earned $16.2 million, which was off a serious 66%; however, when compared with last weekend and removing Thursday preview numbers, that drop is more like 54%. Remember that last weekend was ridiculous with Valentine's Day landing in the sweet spot on Sunday, powering three huge days of box office. That's important to remember when digesting the results this weekend. Deadpool managed $55 million this weekend and dropped an expected 59%.

This frame's result was what some folks were expecting Deadpool to open to last weekend. Instead, Deadpool's second weekend gross is equal to one of the top seven opening weekends in the month of February. After 10 days of release, Deadpool's domestic gross has neared X-Men: Days of Future Past, which earned $233.9 million stateside, and it will be in the top 100 domestic earners of all-time by Tuesday night. For an R-rated film, Deadpool is already the sixth biggest domestic grosser ever and will be in top five by the end of next weekend. Does the Ryan Reynolds flick earn the $370 million that Passion of the Christ, the top R-rated earner ever, pulled in? I would say no at this point, but that could change on a weekend-to-weekend basis. For now, Deadpool has earned $235.4 million at the domestic box office and has a worldwide tally of nearly $500 million, all against a $58 million budget.

It was a close race for second as opener Risen faced off against holdover Kung Fu Panda 3. In the end, second spot went to Kung Fu Panda 3, as it works to survive following the long weekend. After a tiny 7% drop last weekend and a $19.8 million frame, the mighty panda was set to fall. The Jack Black threequel earned $12.5 million in its fourth frame, and as expected, drops a hurtful 37%. Still, the DreamWorks flick has brought its domestic total up to $117.1 million and its overseas total had reached $162.6 million prior to the start of the weekend, and has earned that from only four overseas markets (including China). It needs to earn about $435 million to succeed globally, and should easily reach that mark when it opens in the rest of the planet in March.

Risen, the new faith-based release from Sony and Columbia Pictures, finished in third place. The Joseph Fiennes starrer earned $4 million on Friday (a few hundred thousand came from a Thursday preview), a decent first day, but still $12.2 million behind Deadpool's second Friday. Risen was able to turn that Friday into a $11.8 million weekend. Sony put Risen out to 2,915 venues, and it earned an average of $4,048. I'm not sure why Sony decided to release this one here and not closer to Easter. Batman vs Superman opens on Easter weekend, but this could have played as counter-programming, had Miracles from Heaven, the upcoming bible thumper with Jennifer Garner, not chosen the weekend before Easter to debut. The weekend before Miracles opens, The Young Messiah has its first weekend, so the faith-based crowd is going to be busy in the lead up to Easter.

Risen is reported to have cost $20 million to make, so this kind of opening is a decent start. If it can find $40 million or more stateside, it will need to earn another $20 million overseas to work financially. The problem with this model is that overseas audiences don't embrace these films like North Americans do. War Room earned $67 million stateside and only a few million overseas. Heaven is for Real earned $91 million stateside and only $9 million from international venues. Risen may work better, as it is more of a historical re-telling than some of its compatriots. Critically, Risen was mixed, with only 67 reviews counted, delivering a 39 fresh/28 rotten split for a 58% rating. The Cinemascore was a solid A-, which puts that $40 million domestic take in play.

The Witch, upstart distributor A24's inexpensive pickup, finishes in fourth. The Witch, a film that looks European but is actually an American/Canadian production, caused a commotion last year at the Sundance Film Festival, and some have been anticipating a more general release. That release finally hit this weekend, and The Witch is a mini-hit. Out to only 2,046 venues, The Witch still managed to pull in $8.7 million for the weekend. That gives A24 a venue average of $4,245 and is already a good investment on their $1 million dollar pickup fee. Of course, P&A comes after the $1 million investment, which means the company likely put at least $5 million into this one. These kinds of numbers should make The Witch somewhat profitable, depending on what it does next weekend.

Reviews for The Witch were excellent, with the RottenTomatoes score coming at 87% fresh. It had 115 reviews to the positive and only 17 to the negative. While reviews were fabulous, they didn't translate into audience reaction. The horror flick earned a Cinemascore of a shocking C-, a score that's even low for horror (The Blair Witch Project earned a C+). A24 would rather The Witch not drop too heavily next weekend, but the Cinemascore might be its undoing. A24 got its first big success last year with Ex Machina, which had a domestic take of $25.4 million, a number The Witch could challenge by the end of its run.

That puts How To Be Single into fifth place, and it gets hammered as it is coming off of Valentine's Day. Last weekend, the Rebel Wilson starrer had its biggest day of last weekend on Sunday (up 12% over Saturday, where this weekend Sunday will be its lowest. After pulling in $17.9 million over three days in the last frame, Single earned $8.2 million this weekend, giving it a deflating drop of 54%. The Warner Bros. film, which cost $38 million to make, now has a solid domestic total of $31.8 million. It earned $8.1 million overseas last weekend, putting it in a good position to be profitable, if it can hit $50 million both domestically and overseas.

Our last opener, Race, the biopic about Jesse Owens, opens in a disappointing sixth. Race earned only $7.3 million from 2,369 theaters. This result is in-line with expectations, and given the 61% fresh rating, I shouldn't be too surprised at the weekend result. Focus Features picked up Race for a rumored $5 million, a film that once had The Force Awakens' John Boyega attached to star. If the rumor is true, Race should be a good investment given the A Cinemascore it received and its opening weekend figure.

From Focus Features, Race appears to be Oscar bait at first glance. It's a biopic about a famed minority athlete who faced off against Hitler and won. When we look closer, the film is directed by Stephen Hopkins, an acclaimed TV Director (House of Cards, The Life and Death of Peter Sellers), but as a film director, has had more than a few films go sideways (Predator 2, Lost in Space, The Ghost and the Darkness). Race's biggest star is Jason Sudeikis in a supporting role, as the film is carried by newcomer Stephan James. Given the reviews, it didn't have enough for Oscar, but people like it, and this genre can often see heavy legs following release.

Zoolander 2 is seventh following a slower-than-expected start last weekend. Following its $13.8 million debut, the Ben Stiller sequel fell 60% in weekend two, earning $5.5 million. The $50 million production is already in serious trouble, as the domestic result is not going to match its production budget, which puts huge pressure on the overseas result. So far, Zoolander 2 has picked up $23.7 million domestically, and took $10 million from about 20 overseas markets last weekend.

Star Wars: The Force Awakens dips all the way down to eighth, as it is now playing on only 1,618 screens. Following a $6.2 million President's Day frame, The Force falls 38% this weekend, earning $3.8 million. Its total now stands at $921.6 million, and it looks to leave the top ten next weekend as three new films debut.

The Revenant is ninth. The Leonardo DiCaprio film earned another $3.8 million, dropping 42% from its President's Day gross. The Oscar hopeful now has a domestic gross of $165.1 million and has earned over $200 million overseas.

Hail, Caesar! is tenth, as the Coen Brothers release makes a quick entry and exit. The $22 million film pulled in $2.6 million (off 59%), which brings its domestic total up to $26.2 million. Caesar is going to have to do impressive business overseas if Universal doesn't want a black eye from this one.

Overall, the top 12 films grossed $123.3 million, a solid score considering that several of the last few years had top 12s that failed to reach $100 million. Last year's top 12 came in at $107.3 million but featured an impressive six films that earned more than $10 million. Next weekend, things will heat up again at the box office as openers include Gods of Egypt, the gods versus gods flick starring Gerard Butler and Geoffrey Rush, Eddie The Eagle with Hugh Jackman, and Triple Nine, the John Hillcoat thriller with Casey Affleck, Woody Harrelson, Anthony Mackie and The Walking Dead's Norman Reedus.