The Amazing Race Season 28 Recap - Episode 2
You Look Like Gollum
By Kim Hollis and David Mumpower
February 22, 2016
BoxOfficeProphets.com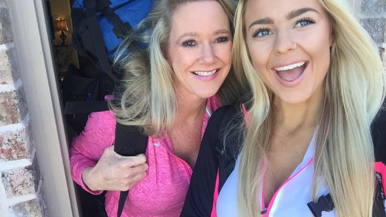 ---
Previously on the very first episode of The Amazing Race, there was a non-elimination leg. We are full of rage. If the show doesn't send people home, it's a glorified vacation video.

To be fair, CBS has justification for this decision. It's a gimmick cast season, featuring internet celebrities from Vine, Instagram and YouTube. Most of the teams have fans, which makes this the closest thing we've had to an Amazing Race competition with famous people. Well, we suppose we could count the All-Star seasons, but not really.

Anyway, eliminating someone in the first episode would alienate many of the viewers the network is trying to entice into watching. They just went with the opportunity cost of alienating long-standing viewers of the Race instead. The good news is that the show has dialed back non-elimination legs in recent seasons, which means we may already be done with them for Season 28. Of course we know that isn't true, but please don't squash our dreams.

The one thing a non-elimination leg cannot change is order of placement. Assuming there's not bunching later, the teams who finished strongly in the first leg should have a decent lead. First away are Dana & Matt, who leave at 1:42 p.m. as they're directed to Cartagena, Columbia.

So, probably there's going to be bunching. But the thing about bunching is that you have to use that opportunity to get your plane tickets. The earliest flight arrives in Cartagena at 8:59 a.m., while the second one gets in at 9:37, another one at 10, and the last one is 10:30. Darius & Cameron are one of the first teams to arrive at the airport. We don't know exactly what they do. We know what they don't do - which is get their tickets. A nice moment occurs when they sign autographs for a little boy.

Meanwhile, the following teams get on the earliest flight: Dana & Matt, Tyler & Korey, Burnie & Ashley, and Brodie & Kurt. The brutal part is that we can see the brothers standing in the background of some of the shots. Do they at least get on the next flight? No.

The teams that book the 9:37 arrival are Zach & Rachel, Erin & Jocelyn, Sheri & Cole, and Brittany & Jessica. As the brothers continue to lollygag, another funny incident occurs. Flight attendant Marty brags that her experience will help them in their travels. Then, she promptly gets in the wrong line, which provides an opening for the previously last-place Scott & Blair, who take the 9:37 slot just ahead of them.

This leaves Marty & Hagan on the 10 a.m. flight. Do Darius & Cameron join them? No. Their flight arrives at 10:30. They have just ceded every other team somewhere between a half hour and a 90 minute lead due to their lackadaisical pursuit of airplane tickets. If this doesn't set them, it's going to be a wonderful learning experience. Unfortunately, we figure it's going to set them.



The Amazing Race has never been to Columbia, and the first destination is Totumo. Cartagena is just as beautiful as you've heard. At Totumo, the Road Block asks, "Who is a hot mess?" They'll have to climb stairs that lead to the top of a volcano. That volcano contains… a lot of mud. They'll have to dive in that mud and search for an emerald.

Hey, ladies! It's the moment you dreamed of! One of the Ultimate Frisbee guys is shirtless and covered in mud! You're welcome, America!

One Direction is still broken up, though.

Anyway, Brodie finds his diamond before Dana can even make it up the stairs. He delivers the emerald to some ladies standing on the shore, and they direct him out to a clue box in the middle of the water. When he arrives back, he's extremely winded, which leads us to believe you don't have to be in peak physical condition for Ultimate Frisbee. The clue directs them to go to Manzanillo del Mar.

Dana fails on her first effort, picking out a pink gem instead of an emerald. Ashley finds a blue one. Korey finds an emerald, but he drops it on the way down the stairs. So, he's wandering around trying to locate it. This allows both Dana and Ashley to locate emeralds ahead of him, because he has to go back into the mud.

There's some good news for Darius & Cameron, because the third flight containing Marty & Hagen was delayed. The women are frustrated because their cab driver is so slow that we think power walkers could pass them. Let's see who arrives first.

Over at Manzanillo del Mar, Brodie & Kurt are choosing between Pop-Up and Parilla for the Detour. For Pop-Up, they have to build a shelter using items from the beach. Once complete, they'll call in the locals, who will then get a party going. For Parilla, teams will cook some barbecue to the proper specifications and serve it up. The first four teams - the frisbee guys, the dancers, Tyler & Korey and Burnie & Ashley - are all doing Pop-Up.

We visit the teams at the mud volcano, and Blair is trying to find a way she can dive without wearing a thong. Apparently this was the only thing she thought to bring with her for swimming and other underwater activities, but now she's all self-confident and doesn't want to wear it in front of her dad. Fortunately, one of the Clevver Girls loans her some spandex. Or something.

Here is some actual dialogue from the Pop-Up challenge: "It's gotta be deep! Put it in! Deeper, deeper, deeper! A little bit deeper!" Frisbee fangirls are now out of the contest.

We return to the volcano, where Blair finds an emerald, followed by Rachel (after a missed first effort). A short while later, the other teams at the location have finished, which means only...

Darius & Cameron and Marty & Hagen are still in their cabs.

Pop-Up mostly seems to be moving along smoothly. Ashley in particular seems to have great attention to detail, and she and Burnie are working well together. On the other hand, Dana & Matt are… not. She screams at him for his lack of communication and also apparently her lack of height. Because of their lack of attention to the details, their pop-up is not approved. That's okay, because the Frisbee dudes aren't right, either.

Tyler & Korey complete the challenge first, and by the way, they're an awful lot of fun. We'll consider subscribing to their channel (or at least Kim will). Now that the party has begun, they're directed to go to the Pitstop at Plaza Bolivar.

Although Marty & Hagen arrive at the volcano first, the brothers finish the task ahead of them and are off to complete their Detour. Hagen isn't handling the pressure well, particularly when she comes up with a pink gemstone.

We'd forgotten that Scott & Blair need to complete a Speed Bump due to their non-elimination, and it's happening right ahead of the Detour. We guess now is as good a time as any to bring up the fact that Scott is a Dr. Lawyer in David's hometown. After last week's performance, he worried for the women in that location (Dr. Lawyer is an OB/GYN). Let's see if he can restore our faith.

We finally have some teams that selects Parilla as their Detour challenge - and it's Erin & Joselyn and Brittany & Jessica. Everyone else seems to be at Pop-Up, except for Scott & Blair, who must help some local fishermen pull in an enormous net and grab the catch of the day. It's not a terribly complicated challenge, but it is certainly physical.

Teams are building their party shelters when newlywed Rachel notices that theirs isn't adjacent to a truck. She asks Zach if it should be, and he says he doesn't think so. (Of course it should.) They get the "you messed up!" sound effect.

Although Dana has figured out their mistake on their shelter, Matt is determined to fix it in the most awkward way possible. This gives Burnie & Ashley a chance to complete the task and move on.

We join Phil at the Pitstop mat, where Tyler & Korey are first to check in. They win a trip for two to St. Thomas, which looks lovely and will probably allow for some entertaining video segments.

Scott & Blair wrap up their Speed Bump (after being bitten by some angry Catches of the Day), and they join Brittany & Jessica and Erin & Joselyn at the Parilla challenge, primarily because they're already right there.

Even though Darius & Cameron have a decent lead on the mother/daughter team, they drive right past the next clue (mainly because they can't see the clue box. There's not one. Some guys playing dominos have them).

Brodie & Kurt are checked in as team number two, and they acknowledge that Tyler & Korey are a tough, competitive team. We think the frisbee dudes assumed this leg would be a breeze to first place, but now they realize that other teams are good, too. Burnie & Ashley join them on the mat, bringing them even further down to earth.

At last, Darius & Cameron arrive at the Pop-Up beach, but they quickly realize no clue box will be found here, either. The other teams send them in the right direction, and they choose to do Parilla.

Finally, Dana & Matt finish their task and will move on to the Pitstop. They fight a little more on the mat, but it's clear that Matt is still enthusiastic about the Race.

Marty & Hagan have gained some time, and they will be doing Parilla. Scott & Blair serve their fish, but it's no good. Brittany & Jessica do serve some successful fish, followed by the noisier female team of Erin & Joselyn.

At this point, the teams have all finished their various challenges with the exception of Darius & Cameron and Marty & Hagen. Assuming we don't have a non-elimination, one of these two teams will be going home - and it might be one of our favorites so far. Darius & Cam have the advantage that they asked their cab to remain there for them, while the mother/daughter team sent theirs away.

Marty & Hagan do in fact finish the Detour first, but they have to run a significant distance to their cab. This gives the brothers a chance to complete the fish challenge, and they are climbing in their taxi and headed on their way to the Pitstop. They pass Marty & Hagan as they're running the long way to where their driver is parked.

That gives Darius & Cameron the chance to finish 10th, and they vow not to make the same mistakes moving forward than they did in this leg. Marty & Hagan, then, are eliminated. That's right! Eliminated! They seem like nice enough people, but they're probably the pair that CBS is happiest went first. Anyway, the brothers live for one more day. We're glad.