They Shoot Oscar Prognosticators, Don't They?
The Supporting Acting and Directing Races
By J. Don Birnam
February 18, 2016
BoxOfficeProphets.com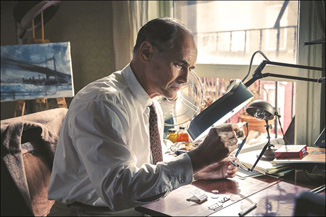 ---
The end is near folks. We look today to the harder of the main Oscar races—those for Directing and Supporting Actor and Supporting Actress.

So far we've looked at the technical categories, here and here, at the shorts here, at foreign, animated, and documentary, here, and we have looked at Leonardo DiCaprio and Brie Larson's impending wins, as well as the writing races, here.

Supporting Actress: Dramatic to Triumph in the Year of Subtly.

The big questions in this category this year were whether Rooney Mara in Carol and Alicia Vikander in The Danish Girl would end up in this category or, as they rightly belonged, in lead. Alas, this year category fraud prevailed and they ended up in supporting. Joining them are Kate Winslet for Steve Jobs, Jennifer Jason Leigh for The Hateful Eight, and Rachel McAdams for Spotlight.

There are many reasons why Vikander is your safest best: she won the SAG; when Winslet has won (Globes and BAFTA) Vikander was in the lead category; Vikander is the lead of the movie, and leads tend to win when they're in supporting (Patricia Arquette is but one example); she had a career year, with great turns in Ex Machina as well as Testament of Youth; Winslet has won already.

But the real reason to pick Vikander is that she gives the most obvious performance of the bunch. In a year in which subtle performances dominated movies, it is interesting to see the dominos aligning for the showier turns.

Don't get me wrong, I thought Vikander's performance in The Danish Girl was very moving and emotionally on point. But it is, in the end, a performance that relies a lot on crying, sobbing, gasping, and even screaming. There is nothing subtle or hidden about it, it is on the surface for one to see.

Rooney Mara, by contrast, turns in a fantastic, subtle and touching performance that really ought to win or could have in any other year. Her character Therese's crying occurs spontaneously and quietly; it is not for show, but out of realism, as Therese's heart is broken by the developments with Carol. The beauty in Rooney's performance lies in what she conveys quietly, with her eyes and lips, with that look she gives Carol across the room at various points, and in the innocence she conveys along the way.

The same could be said of the much-maligned performance by Rachel McAdams in Spotlight. Having refocused on it during my third viewing of the film, it became clear that McAdams turned in a pretty solid performance characterized by a no-nonsense subtlety and tenor. She listens intently, moves efficiently, and reacts appropriately. Again, because we are so used to bombastic, over the top turns, it was easy to dismiss her as the weak link in Spotlight. She's really not.

Still, this Oscar is Vikander's to lose. In a way, what is happening in this race is reminiscent of the Best Actress contest. In that race, Brie Larson gives the showiest of the performances. She screams and cries when she escapes the Room, she visibly screams at her kid in exasperation in the Room, and she screams at her mother in frustration when she's home.

Not so, for example, the heart-breaking and subtle turns by Charlotte Rampling, Cate Blanchett, and Saoirse Ronan in that category. The first leads the entire movie with her expressions - of pain, confusion, love and adoration, and regret. Blanchett is second only to Mara in conveying the silent pains and anguishes that the gay women must have experienced in the repressive society they lived in. Ronan shines in demonstrating subtly how she is torn between two world, between the life she had and the life she wants to have.

For whatever reason then, the more "obvious" performances are winning over the subdued but touching ones. Go figure.

Here are the best supporting actress power rankings from a few days ago.

Will win: Alicia Vikander, The Danish Girl
Could win: Kate Winslet, Steve Jobs

Best Supporting Actor: Career Oscar for Sly?.

Can we apply the same theory to Best Supporting Actor? Here, too, the race is somewhat up in the air. Nominated are Sylvester Stallone for Creed, Mark Rylance for Bridge of Spies, Christian Bale for The Big Short, Mark Ruffalo for Spotlight, and Tom Hardy for The Revenant.

The obvious news story out of this race was the snub of Idris Elba, who had receive a Globe, SAG, and BAFTA nod only to miss out at the Oscars. Was it #OscarsSoWhite? Was it the unforeseen surge of The Revenant that helped Hardy through? Was it the difficulty in getting voters to like the Netflix-based Beasts of No Nation? Whatever the reason, his absence seems to pay the way for Sylvester Stallone to win a so-called career Oscar. Or does it?

I personally do not and will not buy the Sylvester Stallone narrative. The Academy can be very snobby and they tend to stay away from giving an award to people whose reputation as a performer isn't exactly stellar. Pundits that were fans of Eddie Murphy or Mickey Rourke or Bill Murray all tried to will into existence wins for those three, but all three of them lost to more respected, established actors. Heck, Rourke lost to someone who had already won (Sean Penn).

The problem this year is that here is no clear alternative to Stallone, because Elba won SAG. But Rylance did win BAFTA, which makes him the obvious alternative. Then again, Rylance gives the more subtle performance of the bunch - his turn as the Soviet spy engenders sympathy from the get go. It is a truly immersive role.

On the other hand, a surge for The Revenant (and the fact that he had a great year with Mad Max and Legend also to his credit) could propel Hardy, or rewarding the most "obvious" performance, like in other races, could help Christian Bale.

When I'm confused about an acting race, I normally just predict what I think is the objective best performance. That is how I got Tilda Swinton right and Alan Arkin right and Marion Cotillard right. This year, I think the best performance here belongs unequivocally to Mark Rylance, so I'm predicting him.

Caveat emptor: it is probably safer in your ballots to pick Sly.

Best Supporting Actor power rankings are here .

Will win: Mark Rylance, Bridge of Spies
Could win: Sylvester Stallone, Creed

Directing: Iñárritu To Double Dip?

The directing race was shaping up to be a very difficult call on Oscar night, but it has since congealed somewhat. The nominees are Alejandro González Iñárritu for The Revenant, George Miller for Mad Max, Adam McKay for The Big Short, Tom McCarthy for Spotlight, and, surprisingly, Lenny Abrahamson for Room. The big miss, of course, was Ridley Scott for The Martian, who people thought could get a career award. And, if you ask me, Todd Haynes should have also been here for Carol.

In any case, the race began with people wondering whether the Academy would reward Iñárritu two years in a row. That has only happened twice in Oscar history and the last time was in the 1950s. So... a while ago. Meanwhile, both McKay and McCarthy made solid movies, but neither appears a strong directorial achievement. Pundits thus fell back on George Miller as the "auteur" of a visionary type movie. But, this was critics and pundits talking themselves into what they wanted to happen, not what would happen. Despite having won there just last year, Iñárritu won DGA, becoming the first person to do that in back-to-back years. He won BAFTA next (and he also won The Globe, as I predicted). As we have discussed, winning the DGA guarantees you a Best Director Oscar every time in the last 13 years, except the year of Chicago. To pick against that stat seems suicidal.

Could the Academy seek to bolster a potential Best Picture win by Spotlight or The Big Short? Yes. Could they think that Miller deserves some recognition despite the lack of "snob appeal" factor over Mad Max? Yes. But could they just look to The Revenant's narrative that it was made under brutal conditions, that Iñárritu had to basically torture his cast and crew to put together a project of the scale in which he envisioned it? Absolutely. And will they stop themselves simply because he got one last year, in particular given that he has come back and made a movie of even greater scale? I don't buy that.

You can certainly discount the BAFTA and Globes Director wins by Iñárritu to the fact that he did not win last year there, and they wanted to make it up to him. But the DGA win cannot be so easily explained. It's not a lock by any means, but this race appears to be increasingly over…

Updated Best Director rankings are here.

Will win: Alejandro González Iñárritu, The Revenant
Could win: George Miller, Mad Max

Best Picture is next.