Weekend Wrap-Up
Deadpool - An Unlikely Hero Saves the Box Office
By John Hamann
February 14, 2016
BoxOfficeProphets.com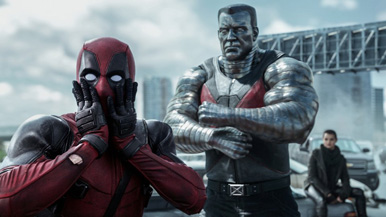 ---
If the character Deadpool was here right now, as it relates to the box office, I believe he would say, "What the f*&k just happened?" I know that's what I'm saying.

What happened at the box office this weekend was a Deadpool-style slaughter - an unexpected box office ambush by a fan-favorite superhero with an attitude. Everyone knew Deadpool, the "Merc with a mouth," was going to be big, but no one expected records to fall. Fox hit the big three box office checkboxes with Deadpool: it had one of the best calendar configurations ever, featured one of the better marketing campaigns of the last decade, and sported the perfect actor/character combination.

It is a very good weekend to release a film. With Valentine's Day on Sunday and President's Day on Monday, this February Frame becomes a weekend on super steroids, as Sunday is good for couples thanks to Valentine's Day and good for kids who have a day off from school on Monday. The result is like having an extra day added to the weekend. Internal weekend multipliers move from being in the high 2s and 3s to being in the high 3s and 4s. Besides Deadpool, other openers trying to take advantage are Zoolander 2 and How To Be Single. These two could have been big, but they ran into a surprisingly unstoppable force, an R-rated superhero film who delivers what may be the most surprising, out-of-nowhere box office weekend in history.

Our number one film of the weekend is Deadpool, as Ryan Reynolds tries desperately to rid himself of The Green Lantern tag but still stay in the superhero business. Mission accomplished. The Thursday preview gross alone removed all memories of the Green Failure and its massive write-down for Warner Bros. Deadpool - from out of nowhere - roused $12.2 million in Thursday business alone. That's more than Guardians of the Galaxy, a similar, non-sequel, Marvel project, accumulated from its Thursday preview ($11.2 million), and that was in August. If Guardians could get to a weekend gross of $94 million via lower previews, where was Deadpool going to reach? Pre-Thursday estimates for the masked mouthpiece were in the $50 to $60 million range, and those were now blown out of the water.

The combined Thursday/Friday amount came in at a hot $47.5 million, which beat the Fox estimate for the entire weekend, and was on the low side of the full weekend estimates for most analysts. The opening day ranks as the 24th biggest day ever, beating behemoths like Minions ($46 million), The Hunger Games: Mockingjay Part 2 ($45.6 million) and Man of Steel ($44 million). Deadpool's opening day was the second biggest non-summer, non-Thanksgiving or Christmas opening day, behind only Furious 7 and The Hunger Games, which debuted to $67.3 million on its way to a $152 million opening frame. Deadpool had a huge opening day - a record for an R-rated film - and was about to be followed by a pre-Valentine's Day Saturday, Valentine's Day Sunday, and then President's Day on Monday. As long as Deadpool wasn't too front-loaded, a top 30 weekend of all-time could be in store.

In an odd twist of normal box office behavior, the Sunday was set up to be the bigger day of the weekend, leaving Saturday as a bit of an enigma. The last time the calendar configured in this way was in 2010, and Valentine's Day, The Wolfman, and the Percy Jackson sequel opened, and the two non-sequel films rose over each day of the weekend, scoring their biggest take on Sunday. For Deadpool, it would be seeking to match its "true Friday" amount (Friday gross less Thursday preview amount) on Saturday. The true Friday came in at $34.8 million, while the Saturday amount for Deadpool came in at an impressive $42.3 million, down from the combined Thursday/Friday, but up from the "true Friday." Sunday was estimated at $45 million, up from the Saturday take as expected.

That means that for Deadpool, the three-day weekend estimate comes in at an out-of-hand $135 million from 3,558 venues. Its venue average was an insane $37,957. Deadpool becomes the biggest February opener ever, easily taking down Fifty Shades of Grey, which debuted with $85.1 million, and also becomes the biggest R-rated opener in history. It embarrasses other super-hero products released in February like Ghost Rider ($45.3 million) and Daredevil ($40.3 million). Compared to all the other Marvel entities, it becomes the sixth biggest, beating Spider-Man's $114.8 million, and Iron Man 2's $128.1 million. Compared to box office history, Deadpool becomes the 17th biggest opening of all-time in February, and it still has a big Monday to come. Most analysts were expecting Deadpool to earn HALF of what it did this weekend, making the result even more impressive.

The release strategy was perfect, and in some ways similar to The Force Awakens, as Fox could not have picked a better weekend to open Deadpool. Star Wars used the best Christmas calendar configuration to leap forward, as both Christmas Day and New Year's Day landed on Fridays and their respective "eves" were Thursdays (Avatar had the same configuration). The Valentine's Day configuration was supplemented by the marketing for Deadpool (which was ingenious), and they made the best use of a weekend that many of us questioned originally, since releasing a superhero movie on Valentine's Day weekend seems counterintuitive.

Like The Force Awakens, Deadpool got started for real at last year's Comic Con. The producers showed the trailer to a packed house. The house not only loved it, they chanted "one more time" after it ended, and they played it again. This story made news all over the world, but the studio didn't release the trailer to the internet in the moments afterward. The story became legend, only increasing Deadpool's want-to-see status. Following a marketing campaign that will be taught in the years ahead, Fox hosted fan screenings about a month ago, with the stars, producers and even Deadpool creator Rob Liefeld in attendance. Word out of those screenings was electric, that Deadpool is what most adult comic book fans are seeking - less of a PG-13 superhero story where no punches are pulled.

Critics like Deadpool just about as much as fans do. Of the 185 reviews counted at RottenTomatoes, a sizzling 156 reviews were positive, giving Deadpool a fresh rating of 84%. The Cinemascore was a glowing A, which is higher than I expected given the violence that might have surprised some. The box office, reviews and reaction from audiences are all great news for Fox, but the money is the key. Deadpool cost a comparatively tiny $58 million to make -about $125 million LESS than your average $100 million plus opening superhero movie. With the weekend, Fox has already earned their production cost back, and will now work on those marketing costs. I often say that a movie needs to make three times its production cost back at the box office to make money. Deadpool is going to earn that in less than a week.

Second is Kung Fu Panda 3, which has to be thankful for a weekend like this, as it stops the bleeding, at least for a weekend. After dropping a higher than expected 49% last weekend, it holds completely this weekend. In its third frame, the Jack Black starrer earned $19.7 million, off a scant 7% compared to last weekend. This one cost $145 million to make, so it needs to approach $450 million worldwide to see a profit. After this weekend, Kung Fu Panda 3 has a domestic gross of $93.9 million, as it will cross the century mark tomorrow. It should get to $150 million at least on the domestic side. Overseas, prior to the start of the weekend it had earned $131.5 million, but has done that from only four territories, including China.

Third place is a bit of a surprise, as How To Be Single opens higher than Zoolander 2. The non-rom-com did well enough this weekend, but one has to wonder how it would have done without the Deadpool dominance. How To Be Single got started on Thursday night, with previews earning less than a million, and settled for an opening day figure of $5.25 million. On any other weekend, that's going to be a "meh" opening, but with Valentine's on Sunday, its multiplier was sure to soar. How To Be Single finished the weekend with $18.8 million, a decent start for a film that cost $38 million to bring to the screen.

How To Be Single earned decent but not spectacular reviews. It was 49% fresh at the time of this writing, those that disliked it called it a microwaved Sex in the City, and those that did pointed to the often funny Rebel Wilson. The Cinemascore came in at a B, only an okay score given that the much-hated Valentine's Day earned the same score. The good news is that Single has the place to itself until March 4th, when Tina Fey and Margot Robbie open Whiskey Tango Foxtrot, which hopefully has more to offer than a funny title.

Fourth spot goes to Zoolander 2, as critical hatred likely sinks this one more today that it did the original 15 years ago, due to the onslaught of instant media that has multiplied in the time elapsed. Zoolander 2 could only muster $15.7 million at the box office this weekend, which is much too close to the original's $15.5 million debut way back in 2001. The original cost $28 million to make all those years ago, and earned $45 million domestic. The sequel cost $50 million, and will likely finish with less at the domestic box office. On the plus side, it will almost certainly earn more overseas than the $15 million of the original. Critics weren't kind with a 23% fresh rating, and audiences didn't like it much more, as it earned a C+ Cinemascore (but the original did as well). Zoolander 2 is going to fail domestically, but it still might surprise overseas.

The Revenant is fifth this weekend, and also benefits highly from the calendar configuration. The Revenant earned $6.9 million in its sixth weekend of wide release. It drops less than 1% compared to last weekend and brings its domestic total up to $159.2 million. The worldwide total had crossed $340 million, but it still needs another $75 million or so to get to profitability, as it cost $135 million to produce.


Sixth goes to Hail, Caesar!, but there is nothing to hail this weekend. After opening last weekend to $11.4 million, the Clooney/Coen feature did the opposite of the other films in the top ten this weekend - it fell significantly. Caesar earned only $6.6 million this weekend, and despite Valentine's and the long weekend, it still fell 42%. The C- Cinemascore is killing this one, and the $22 million Universal release isn't going to make much more than its current take of $21.4 million. It has yet to open overseas, but will need at least $40 million from international venues in order to find a profit.

Star Wars: The Force Awakens makes hay on the long weekend as it holds nicely. The Force Awakens pulled in another $6.2 million and fell only 11% in the process. The domestic total is up to $914.8 million, but a re-release will still be needed to push it into second all-time on the worldwide list.

Nicolas Sparks' The Choice tries to use Valentine's Day to get the leg up, but only finds mixed results. After opening to only $6 million last weekend, The Choice finds $5.3 million in weekend two, declining 13%. Lionsgate picked this up for $10 million, so with a gross so far of $13.2 million, it doesn't look bad on paper; however, you need to add another $20 million in for advertising. Suddenly, that paper doesn't look so good.

Ride Along 2 and The Boy take the lowest rungs on the box office ladder this weekend. Ride Along 2 picks up $4.1 million and falls only 9%. It has $82.7 million in sales against a budget of $40 million. The Boy earned $2.9 million and dropped 29%. It has earned $30.8 million since opening, and is working out as a nice performer for STX, as the budget for the horror film was just $10 million.

Overall, Deadpool saves the box office, as without it, things would be dire at best. The top 12 films this weekend earn a stellar $234.2 million, ahead of last year's three-day Presidential Weekend haul of $200.7 million. Next weekend brings three more films. Openers include Race, the Focus Features biopic about Jesse Owens, Risen, about the resurrection of Jesus Christ as told by a Roman soldier, and The Witch, the very well-reviewed horror flick from A24.