Weekend Forecast for February 12-14, 2016
By Reagen Sulewski
February 12, 2016
BoxOfficeProphets.com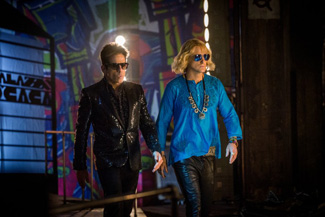 ---
The weekend of February 12-14, 2016 shall henceforth be known as "Ultimate Nerd Weekend" thanks to its slate of films. "But wait," you say. "Didn't we just have Star Wars not that long ago?" Oh, yes we did. This weekend brings us something even more niche and even more long-awaited.

With all the comic characters brought to the big screen in the past decade and a half, one has remained the great white whale of adaptations – long thought impossible to match to an appropriate actor, or to bring to screen with any justice due to its extreme content – Deadpool. A mutated, indestructible assassin with potty-mouth and few if any personal boundaries, it's not a product that fits with any "nice" notions of what comic blockbusters have been thought of as. Cut to a few years ago, when a tech demo appeared, featuring the voice of Ryan Reynolds as the titular character, showing what an action scene in a theoretical Deadpool movie might look like – fiendishly irreverant, fourth-wall breaking and ghoulishly bloody. People, and specifically the Internet, ate it up, and the response caused Fox to greenlight the stand-alone movie, which leads us to today.

Of course, this is not the first time that Deadpool has appeared on screen, nor even the first time that he's been played by Reynolds, having had a small part in the first stand-alone Wolverine movie. That came at the cost of taking away every single thing that was interesting about him, including turning him into a wordless assassin, which is a bit like having a Batman film where he's just a rich playboy orphan that never fights crime. The thing is that Deadpool, being a comic book character who knows he's a comic book character, is aware of this previous foray into film. Not just that, but he also knows about Reynolds' other venture into the superhero world in The Green Lantern. So we've got a devilishly clever and funny comic book movie that is self-referential and spectacularly inventive in its bloody and gruesome action scenes. What's not to like?

The biggest challenge here is the "just shy of NC-17" content, but in theory everyone knows what they're getting themselves into, and the ads have gone out of their way to make this rather explicitly clear. In a nice case of one hand washing the other, that just goes to reinforce to true fans that they've actually handled the character correctly this time, and just makes them more excited about the project.

Crossing over a little with the X-Men world, Russian metal mutant Colossus makes an appearance on Deadpool's side, maybe, along with a relatively new introduction, Negasonic Teenage Warhead, a possible ally who is also described in terms of her angry Tweeting ability. And how do you not appreciate the insanity of that? The film's ad campaign has been top notch, tweaking the nose of traditional marketing, including ads that wildly mis-sell it as a romance (with Morena Baccarin) for Valentine's Day. In terms of introducing characters to audiences, it's up there with the original Iron-Man and Guardians of the Galaxy, in celebrating everything that's fun about them. Only the R rating is going to hold this back, and that will likely be a significant factor in it opening to about $75 million this weekend.

In the file of "sequels we didn't know we wanted, but, yeah, okay", Zoolander 2 ranks pretty strongly. Not a tremendous hit on its original release (it was one of the films impacted by the 9/11 attacks), Zoolander has since grown in stature as one of the great dumb comedies. Ben Stiller and Owen Wilson, both a bit past their prettiest, return as Derek and Hansel, male models who find themselves in the middle of a conspiracy with only their very limited abilities to solve it. It helps that the man behind the plot to kill the world's most beautiful people is once again Mugatu, played by (the now comedy superstar) Will Ferrell. Penelope Cruz also joins the cast as a gorgeous Interpol agent assigned to harness their unique inabilities.

The angle of making fun of the relative uselessness of the fashion industry is a bit worn at this point, so it seems to be tackling the broader issue of celebrity culture, which has only gone deeper into the rabbit hole in the age of social media. And then, of course, there are the jokes about being dumb, which truthfully make up the lion's share of the film. Reviews are surprisingly bad, although that may not have much of an impact, as comedy sequels largely live on the reputation of the previous film. That's still strong, so there should be a decent opening weekend of about $22 million.

Lastly, we have How To Be Single, the "real" Valentine's Day movie of the bunch, but which is also pitching away from that couples market and going for packs of single females. It stars Dakota Johnson (late of 50 Shades), Rebel Wilson, Alison Brie and Leslie Mann as a group of four friends at varying stages of life and struggling with modern romance. While there's a germ of an idea there, and every era does deserve to have its own notion of romance reflected back on it, How To Be Single seems to engage in the laziest stereotypes of any other rom-com and digs to the lowest common denominator for its jokes. Reviews are mediocre, and the ads have a vein of desperation that doesn't sell well. For that reason, and with a cast that, while made up of funny people, doesn't have a great track record in opening movies on their own terms, I'd look for about $12 million this weekend.

Kung Fu Panda 3 then, gives up its top spot at the box office with an only okay-ish $70 million so far. The odds of KFP 4 seem slim even with strong international box office, and it should earn about $12 million this weekend. The Coens' Hail, Caesar! took in a modest $11 million last weekend, not a tremendous amount for a George Clooney-led film, but middle of the pack for the Coens, and especially one of their quirky films. It should grab about $6 million this weekend, as their movies aren't particularly leggy. We also say goodbye to a couple of long term mainstays, as Star Wars and The Revenant both drop below $5 million and prepare to wrap up their runs (barring a Best Picture Oscar for Revenant).