Weekend Wrap-Up
Movies Sacked (and Sucked) as Super Bowl Dominates Weekend
By John Hamann
February 7, 2016
BoxOfficeProphets.com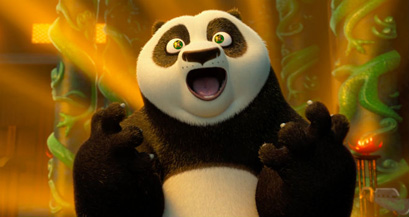 ---
New releases felt as genuine as Cam Newton this weekend, and we end up with our worst box office weekend in two months.

Yes, it is Super Bowl weekend, but that's not why the box office blew chunks. Save for Ride Along 2 and Kung Fu Panda 3, new releases in January have provided 10 loser films and we get a couple more head-shakers this weekend. Star Wars and The Revenant have kept the box office pulse going through January but at some point, the lack of new quality films was going to catch up to us. The hammer falls as we have the worst frame since the one-two punch of Krampus and In the Heart of the Sea over the December 4th and 11th weekends. So, instead of blaming some random event, Hollywood needs to stand up and say this is on us, because this weekend's new releases are not cutting it. I have to hope that's by design..

Openers include the Joel and Ethan Coen flick Hail, Caesar!, a movie that is more Intolerable Cruelty than No Country For Old Men. The Coen Brothers have never really torched the box office save for True Grit ($24.8 million opening), but that one had a prime December release date and a 96% fresh rating. Also up for release this weekend is Pride and Prejudice and Zombies, a mashup I had high hopes for, but that didn't carry the sizzle or style needed to break through to the youth culture (also, PG-13 zombie films should be banned). Our final new release is high drama for some and comic relief for others, as another Nicolas Sparks film rolls off the assembly line. This lineup almost guaranteed a repeat victory for Kung Fu Panda 3, as holdovers rule again this weekend.

Our number one film is Kung Fu Panda 3, the Jack Black sequel that got started last weekend with $41.3 million. I expected Kung Fu Panda to hold this weekend – it's a good movie and its only competition has already earned $900 million at the domestic box office. However, for some reason, it didn't hold. In its second weekend, Kung Fu Panda 3 pulled in a decent but not at all spectacular $21 million as it falls 49%. Many will point to Kung Fu Panda 2's 50% drop, but that one was coming off an opening on Memorial Day weekend, and I have stated repeatedly in this column over the last decade that openers on long weekends are destined to drop due to having two Saturdays over a longer frame.

Given the five-year break between the second and third Kung Fu Panda movies, audience apathy from too much of a good thing (yes, I'm looking at you Hunger Games) shouldn't be there. I have to guess that this drop is indicating that these films have a specific audience – we are not seeing what we see from a Pixar film, where more than just kids are attending. The DreamWorks production also may not be breaking through to girls (as much as the marketing has tried), given the fighting nature of these films. Kung Fu Panda 3 was made for $145 million, and has a domestic gross to date of $69 million and a domestic finish likely around $120 million - $25 million less than its production budget.

Normally, a domestic performance like this would spell serious trouble not only for the film itself, but also for the franchise; however, this is Kung Fu Panda. Made for an international audience, Panda 3 made more in China over three days ($57.8 million) than it did in the US over seven days ($53.3 million). This is good news for Fox and DreamWorks, as if they have an $120 million market in US, and a $165 million plus market in China, other markets around the world only need to bring in $150 million, which will be accomplished easily in this case. This weekend, Kung Fu Panda 3 earned another $53 million overseas, as it marches toward sure profitability and potentially more films in the franchise. Its international total is currently $129, giving it a worldwide gross of $198 million so far.

Our first opener is second in the form of Hail, Caesar!, and if you know box office and the Coen Brothers, you know this is likely not a good result for overall box office. The Coen Brothers are not known for lighting up the box office. Yes, they have had hits like True Grit, which opened to $24.8 million and legged out a gross beyond $170 million, but normally, their films open low and show legs when they are good. Hail, Caesar! is not one of the brightest lights in Coen repertoire, and the result shows in the box office. Hail, Caesar! earned $11.4 million from a muted venue count of 2,232 screens, and earned an average of $5,125.

This result puts the Hollywood throwback in the middle tier of Coen Brothers releases, back with Intolerable Cruelty ($12.5 million opening) and The Ladykillers ($12.6 million opening). Reviews were decent at 79% fresh, but lower than the Coen Brothers norm. The real problem for Hail, Caesar! is a really bad Cinemascore. Somehow, the score came in at a C-, a score usually held for Jason Blum horror movies, or sword and sorcery films from Uwe Boll. It means that somehow audiences thought Fifty Shades of Black was better than Hail, Caesar! However, The Ladykillers earned a C, and Intolerable Cruelty earned a C+. Caesar is being distributed by Universal and cost $22 million to make. Given the cast, this is going to do fine overseas, and I would be surprised if it didn't finish as a profitable entry for the filmmakers and studio.

The Revenant is third this weekend, as the Oscar chaser continues its run with $7.1 million, a decline of 44%. The Revenant passed The Great Gatsby this weekend to become Leonardo DiCaprio's fifth biggest film, and should catch Django Unchained and Catch Me If You Can before it finishes its domestic run. The overseas total continues to grow as well, as the worldwide take has surpassed $300 million. The Revenant needs a worldwide gross of at least $400 million to find theatrical profitability.

Star Wars: The Force Awakens remains a top five film as it enjoys its eighth weekend in release. The behemoth drops another 300 screens after shedding 800 last weekend but still holds decently in this frame. The Force Awakens added another $6.9 million, dropping a not bad 38%. The big wins for the JJ Abrams film include hitting $900 million at the domestic box office and $2 billion at the worldwide box office. It's not going to reach the $2.2 billion earned by Titanic, but with a domestic gross at $906 million, who really cares?

New release The Choice is fifth, and marks a new low point for a Nicolas Sparks release. For the first time, a Nicolas Sparks entry failed to crack double digits, as his latest release earned only $6.1 million from 2,631 venues. This Sparks release is different, but the same – same in the fact that it earned a 6% fresh rating (0% from top critics) and got the same humorous comments from critics, like "the only Choice is to make sure the barf bag is nearby" or "endless love with the emphasis on endless."

The difference this time around is that Sparks himself put the funds together to get this one made. The Choice is a co-production between The Safran Company and Nicolas Sparks Productions. It cost $10 million to produce and could make money given that Valentine's Day is just around the corner. These films generally do well internationally, too. Distributed by Lionsgate, The Choice earned a B+, just shy of the A that The Longest Ride earned. That one cost $35 million to make, and finished with a losing $63 million worldwide. A similar trend should happen here, albeit with a much lower budget.

Our final new release is sixth in Pride and Prejudice and Zombies. The genre mashup failed, as mixing old English romance with zombie action didn't attract the fanboys or the date crowd. Pride and Prejudice and Zombies earned only $5.2 million this weekend from 2,931 venues for Screen Gems. Reviews were better than they could have been at 41% fresh, but the Cinemascore sagged at a B-. Made for $28 million, this experiment shouldn't end up being too costly for Sony and Screen Gems, and zombie fanboys can just go back to The Walking Dead.

The Finest Hours looks like a lone raft on the ocean right now, as it drops from $10.3 million to a sad sack $4.7 million. The Disney release cost $80 million to make, and will be lucky to get to $30 million domestic. The worse news is that it was able to pull only $1.8 million from about a dozen overseas sites last weekend, so there is no rescue boat coming to save it.

Ride Along 2 continues its bumpy ride at the box office. The Universal release earned another $4.5 million and drops 46% in the process. The $40 million film has now picked up $77.2 million domestically, so it still needs to push to get to profitability.

Co-openers Dirty Grandpa and The Boy are ninth and tenth this weekend, and really, they're only still around because options are limited. The Boy has found the greater success of the two. It earned $4.1 million, off 46%, and brings its total up to $26.9 million. It cost STX only $10 million to make, so it has a better chance of a profitable outcome. Dirty Grandpa earned another $4 million and fell 47%. The Lionsgate release has now picked up $29.4 million against a production cost estimated at $30 million.

Overall, the box office is down but is going to come back strong next weekend. The top 12 films could only muster $81.6 million, well back of last year when SpongeBob led the top 12 to $136.8 million. Next weekend could bring some power, given the President's Day weekend and Valentine's Day falling on a Sunday. Openers include the long-awaited Deadpool, which could reignite Ryan Reynolds career, Zoolander 2, which will be a fascinating box office story given the 15 year separation between little-seen original and much-hyped sequel, and an original film in How To Be Single, with Alison Brie, Rebel Wilson, Dakota Johnson and Leslie Mann. Looks like something for everyone to me.