Friday Box Office Analysis
By Kim Hollis
February 6, 2016
BoxOfficeProphets.com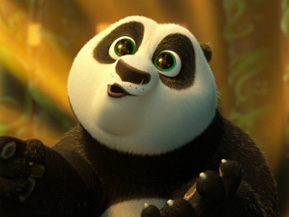 ---
With the Super Bowl looming on Sunday, film distributors just can't get bring themselves to throw any real support behind new releases, although Universal did debut one star-studded affair to a fairly niche audience. With no heavy hitters in the lineup, Kung Fu Panda 3 is free to reign for a second weekend at the top of the charts, even if its domestic earnings are pretty much secondary at this point.

Hail, Caesar!

Despite the presence of such star power as George Clooney, Scarlett Johansson, Channing Tatum and Jonah Hill, Hail, Caesar was never meant to be a heavy-duty box office hit. Directed and written by Joel and Ethan Coen, fans could sense by the fact that the film was receiving a February release rather than an awards season debut that the film was probably lesser Coens at best.

Hail, Caesar earned $4.3 million on Friday, and if you've been following along with this site over the years, you know that Super Bowl Sunday is an absolute box office black hole. It's doubly tough in the case of the Coen brothers film, as their fans are a niche bunch more likely to rush out and see the film on Friday in the first place. Look for a weekend multiplier around 2.2 and a weekend total of $9.5 million.

The Choice

Nicholas Sparks returns with his special brand of pabulum as the romance The Choice earns just $2.5 million on Friday. Starring Teresa Palmer (Warm Bodies) and Benjamin Walker (Abraham Lincoln: Vampire Hunter), this is easily the worst-reviewed film of the weekend at Rotten Tomatoes as it sits at only 6% fresh. The audience is more generous, with opening night crowds rating it a B+ at Cinemascore. Still, even chick flicks struggle on Super Bowl Sunday, and it's going to have a three-day total of just $6.5 million.

Pride and Prejudice and Zombies

Clearly, Jane Austen fans don't really cross over that much with zombie movie aficionados. The mashup film earned $2 million on Friday and looks to be headed for a weekend total of just $4.5 million. It'll be forgotten in a flash, marking a rare horror genre miss for Screen Gems.

Kung Fu Panda 3

After debuting last weekend with $41.3 million, Kung Fu Panda 3 drops pretty significantly from its first Friday as it falls 50% to $5.2 million. Since it's a family film (and one of the only options available to that demographic), KFP3 is going to recover a fair amount on Saturday before dropping heavily on Sunday. Its weekend total will be $21.3 million. We'll be watching its overseas totals closely, as its release has been timed to take advantage of the Chinese New Year holiday in that country, and is already off to a fantastic start.

The Finest Hours

Disney's The Finest Hours had a clunker of a debut last weekend, and its fortunes don't appear to be changing any here in its second frame. It earned $1.5 million yesterday, a 54% decline, and should wind up with around $5.1 million for Friday-to-Sunday.

Star Wars: The Force Awakens

With its Friday take of $1.8 million, Star Wars: The Force Awakens has now crossed the $900 million mark domestically. It also has become the third film ever to cross the $2 billion threshold for worldwide earnings. It really doesn't seem to have enough gas in the tank to overtake Titanic's worldwide total of $2.2 billion, but we'll certainly keep an eye on it.