Weekend Forecast for February 5-7, 2016
By Reagen Sulewski
February 5, 2016
BoxOfficeProphets.com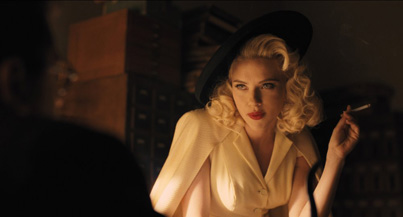 ---
It's kind of a head-scratching trio of films for the first weekend of February, each of which are theoretically wide-appealing, but with a odd aspect to them that inherently limits their audience. All of it leads to a fairly typical mid-winter weekend, with not a big reason to leave the house.

With star power to spare both in front of and behind the camera, Hail, Caesar! should, on paper, be a solid candidate for a strong opening weekend. The Coen Brothers direct George Clooney for the fourth time, placing him in the role of a somewhat clueless 1950s matinee idol kidnapped off the set of a studio's big epic picture (the title), sending a studio fixer (Josh Brolin) into emergency mode to get him back before the whole film falls apart.

We're clearly in "wacky" Coens territory, with rapid patter from the Hudsucker era mixing with their Hollywood satire of Barton Fink, which if you might notice, are two of the most alienating films of their entire catalog. It's also a difficult film to really sum up and explain in a coherent manner. Thus, its attractive supporting cast of Scarlett Johansson, Ralph Fiennes, Channing Tatum, Jonah Hill, Frances McDormand and Tilda Swinton won't make much of an impact. It actually reminds me a fair bit of the weird "middle period" of the Coens with The Ladykillers, Intolerable Cruelty and Burn After Reading, all of which fumbled their star power away into awkward comedy. They do at least appear to have something to say with this film beyond the zaniness on the surface, and reviews are strong, but the Coens can be a tough sell in this mode. It'll be mostly Coen fanatics this weekend, as it opens to about $13 million.

With a title that's simultaneously dull and off-putting, The Choice marks the ever diminishing empire of films based on (ugggghgghghhghgh) Nicholas Sparks movies. Having peaked long long ago with The Notebook, Sparks' novels have continued to come out at a fairly regular pace with the same tired formula, but less and less with notable actors in the starring roles. The Choice leads with Australian actress Teresa Palmer, chewing on a southern accent torn between the hunky doctor (Tom Welling) and the hunky free spirit (Benjamin Walker) who both love her and oh please kill me. These films are like the cinematic equivalent of wallpaper – nice to look at for a little bit until you ultimately forget they're there, and eventually just get annoyed that you ever put up with them in the first place. Previously hitting a bottom point with The Best of Me at a $10 million opening, The Choice could throw under that thanks to an unimpressive cast and the worst reviews yet for a Sparks movie. I expect about $8 million here.

The latest in the run of genre bending films based on novels, Pride & Prejudice & Zombies is a record scratch of a movie, mixing up the flowery prose of Jane Austen's novels with the grim and gore of zombie movies, with the operation of stitching them together appearing to be about as successful and desired as adding a third arm in the middle of one's chest – possible, one supposes, but why?


Lily James, late of the live action Cinderella, plays Elizabeth Bennet, in this iteration having grown up with the reality of a zombie plague (some variation on the Black Death) and as such, trained in all the deadly arts of the time, including how to separate a ghoul's head from its shoulders. Into this, an awkward romance with Mr. Darcy is inserted.

Digging into the subtext of Austen, pulling out the as-strong-as-it-could-be-for-the-time female empowerment message and making it an explicit "women can kick ass too!" text isn't a terrible idea on its face – but it's such a tonal shift between the old and the modern that it's hard to imagine any way that this can be enjoyed other than with an ironic smirk. It also faces an additional challenge that its the previous genre bender, Abraham Lincoln Vampire Hunter, didn't face – chewing up what is a beloved source material and shifting it to an audience that doesn't respect it in the first place. The Jane Austen connection will likely scare away horror audiences, and the overlap between Victorian novel fans and horror fans – while existent – is likely a pretty thin slice on the Venn Diagram. Ads are mostly met with befuddled stares or nervous laughter, which are never good signs, meaning that this is set to hit the Earth like a brick, opening to about $6 million.

Thus, Kentucky Fried Panda 3 gets to back its way into a second weekend atop the charts, after opening to an okay $41 million (hailed as the third-best January opening, as if DreamWorks was doing January a solid by plunking down here). That's still a bit of a fall-off from the $47 million of Kung Fu Panda 2, but which also had the typical sequel drop-off, and not the kid's film drop-off, meaning this should slide down to about $20 million this weekend.

Oscar front-runner The Revenant had a decent holdover, dropping just 20 percent to $12 million and halting its slide, and with a good chance of breaking the $150 million barrier this weekend. I continue to find this to be one of the more unusual blockbusters in some time, and if it can manage a Best Picture win, $200 million is not out of the question. Give it $8 million for this weekend.

Star Wars: The Force Awakens will hit the $900 million mark early on Friday, though that is likely its last big milestone unless we start cutting those finer and finer. With a release to digital markets in April, the finality of its box office run is coming closer, and we can start to see the end game in a much clearer way – with somewhere between $925 and $930 million looking to be the end number. It should see $7 million this weekend.

Disaster movie The Finest Hours debuted to a soggy $10 million, and should sit at $6 million after the end of this frame, with a probable final total of just $35 million or so. Ride Along 2 may grab a spot above $5 million for this weekend, but it'll be close, with the rest of the holdovers sliding below that mark.