Weekend Wrap-Up
Panda 3 Tops Box Office; Finest Hours Not Seaworthy
By John Hamann
January 31, 2016
BoxOfficeProphets.com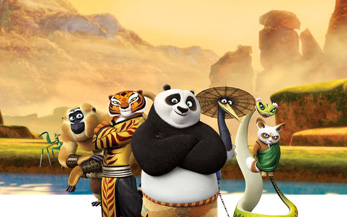 ---
Tip for Hollywood: If your movie is set on a boat, do not greenlight it. Only pain awaits.

Welcome to the post-Jonas weekend at the box office, where the box office is still behaving somewhat strangely after last weekend's brutal snowstorm in the east. Last weekend's crop of openers are playing like they are new for some, avoiding the ridiculous drops that they all deserve. Adding to that, we have one opener finding success, one that is sinking, and two that flopped outright. Overall, though, we stay ahead of last year, as we have 10 films this weekend earning more than $5 million, and the main attraction at the box office opens decently.

Openers this weekend include Kung Fu Panda 3, from a franchise I can't say I understand. The first two of the Panda films have been excellent, but neither truly broke out at the domestic box office. The third film was really made for the Chinese, which is a good financial model for these films, as they don't seem to find the support they should at home. Also debuting was The Finest Hours, which may not be similar story-wise to In the Heart of the Sea, but the opening weekends both look like a dingy that is taking on water fast. Also opening is Fifty Shades of Black, another Marlon Wayans parody flick, and Jane Got a Gun, the often pushed around former release from the struggling Relativity, sent out to die this weekend by The Weinstein Company on 1,200 screens or so.

Number one at the box office is Kung Fu Panda 3, which should not be a surprise to anyone after last weekend. Following previous release dates in summer for the last two movies (Kung Fu Panda 2 was released on Memorial Day), and formerly being released by Paramount and DreamWorks, everything has changed for this franchise. After having two summer launches, a late January release date is an odd choice, and now the production companies are DreamWorks and Oriental DreamWorks, making this the only the China/North American co-production of this kind. This time around, Fox handled distribution duties.

The January date was not chosen to entice North American filmgoers - it was chosen to ensure a high impact in China, which has Chinese New Year on the horizon. The choice of this date is akin to an American film being released the weekend before Thanksgiving - it has a big opening prior to the holiday and then holds dramatically in the follow-up weekend.

How did Kung Fu Panda 3 do in North America? Only okay. It got started on Friday (there were no Thursday previews), earning $10.5 million, which is about half what the original opened to on June 6, 2008, but only about $3 million less than Panda 2, a film that opened on a Thursday prior to Memorial Day weekend. For a cold, dark, January Friday, $10.5 million is not a bad score, as it more than doubles Paddington's first Friday from last year ($4.7 million), but it can't come close to a February release like The LEGO Movie ($17 million opening day). January is a strange time to be opening a film like this, so the result is hard to compare. Set side by side with the Memorial Day take of the second film ($47.7 million over three days), new distributor 20th Century Fox should be pleased with this result.

Over the current weekend, Kung Fu Panda 3 earned $41 million, a strong but not spectacular start to its run. It opened at 3,955 venues, similar to the second film but less than the first - that one opened on more than 4,100 screens. It had a venue average of $10,367. Kung Fu Panda 3's reviews were in the same ballpark as the first two films. The original was 87% fresh, the sequel 81% fresh, and the newest version currently sits at at 79% fresh. The Cinemascore was an expected A, matching the second film and improving on the original, which earned an A-. That should mean that solid legs are in store for Panda 3, but the first two didn't match the usual trends of Cinemascores and legs. Kung Fu Panda's opening-to-total multiplier was 3.6, and the sequel's was just shy of 3.5, less than the 5.0 earned by How to Train Your Dragon, and 3.6 earned by the dragon sequel. Panda 3 cost $145 million to make, a number it could see domestically, but would need to get to 3.6 plus to make it happen.

Overseas is where Kung Fu Panda 3 will make its money. The original earned $416 million from overseas grosses alone, with only $26 million of that coming from China. The sequel earned $500 million overseas, with China providing $92 million of that total. This time around, the film is being made in two versions for Chinese audiences, the North American version and version made in Mandarin, where the character's mouth movements match the Mandarin language. Chinese audiences could potentially double dip due to this factor, and we've seen that theory in action because it has earned $57.9 million in China already, easily outpacing its North American total. Given the budget, overseas audiences will once again make Po a powerful player at the worldwide box office, and a surefire winner.

Finishing in a distant, but still healthy second spot this weekend is The Revenant, as the Leo DiCaprio starrer recovers from last weekend, where the setting of the film matched the setting on the East Coast. After dropping 50% last weekend to $16 million, The Revenant recovered, earning $12.4 million and declining 23%. That's four frames with a gross over $10 million, and while The Martian had five weekends over $10 million, The Revenant is doing what it needs to keep it at front of the Oscar conversation. So far, The Revenant has earned $138.2 million domestically, and prior to the start of the frame, had picked up $110 million from overseas cinemas. The Revenant cost $145 million to make, so it will need a worldwide gross approaching $425 million to be profitable for Fox.

Star Wars: The Force Awakens continues its historic run in its seventh weekend in release. This time around, the JJ Abrams film gave up 809 venues, and the result was a gross of $10.8 million and a decline of 23% compared to last weekend. It's going to need another weekend to become the first film ever to cross the $900 million mark domestically, as it has a gross to date of $895.4 million. Overseas, the cumulative total has reached $1.087 billion, so the $2 billion worldwide mark should come down soon as well.

Fourth goes to our second opener, The Finest Hours, the old-fashioned rescue at sea story with Chris Pine and Casey Affleck. After seeing In the Heart of the Sea struggle so badly, Disney had to be concerned about how Hours would play out, and the two are remarkably similar. The Finest Hours opened to $10.3 million for Disney, whereas In the Heart of the Sea opened to $11.1 million about a month and a half ago.

If there is good news for Disney, it's that The Finest Hours cost $80 million to make, about $20 million less than the earlier Ron Howard feature. Still, it's going to be a long climb, so this will likely be a battle of write downs rather than box office supremacy. The good news is that Finest Hours did do better in the review department (59% fresh for Hours versus 43% fresh for Sea) and earned a better Cinemascore (A- versus B+), but at this point, nothing is really going to help. Overseas venues would need to generate at least $200 million, and with an expected $30 million finish in North America, that is just not going to happen.

Ride Along 2 manages to stay ahead of last weekend's pack, but not by much. After a nasty 65% drop last weekend, the sequel needed to recover this weekend, and it did somewhat. In its third frame, Ride Along 2 picked up another $8.3 million, and fell an improved 33%. After three weekends, the original Ride Along had picked up $92.7 million, whereas the sequel has found only $70.8 million over the same amount of time. Ride Along 2 cost $40 million to make, so it will need a worldwide gross of $120 million for a theatrical profit.

The Boy tucks in to sixth spot, and actually has an amazing hold for horror, but not because it's a good movie that everyone wants to see. Some couldn't get it to it last weekend, so in some markets, it's just like being new. As a result, it earned $7.9 million this weekend, falling 27% from the previous frame. Normally, a film like this would drop 55-60% in its second frame, but this one bucked the trend thanks to the weather. All of a sudden, this $10 million release from STX has a chance at being profitable, as it has a gross-to-date of $21.5 million.

A similar story is in place for Dirty Grandpa, as this should have been wiped off the face of the Earth but instead held up better than it had any right to. In its second frame, this truly awful film earned another $7.6 million, down 32%. Budget data for Grandpa hasn't been released, but a solid guess puts it between $30 and $40 million, likely to the lower end as it was filmed in Georgia and likely qualified for breaks on production costs. It will be lucky to match a $30 million budget figure, as it has $22.8 million so far, and is going to disappear quickly.

Of last weekend's opening films, The Fifth Wave performs the worst during this frame. The Chloë Grace Moretz film earned $7 million in its sophomore frame, dropping 32% compared to last weekend. This one has not caught on but has a $45 million gross to date from overseas theaters, which will lessen the impact on its $38 million budget. Domestically, The Fifth Wave earned only $20.2 million.

Opener Fifty Shades of Black does not come close to where Fifty Shades of Grey started, or even 10% of that film's $85 million plus debut. Instead, the Wayans parody flopped, earning only $6.2 million over its debut frame. It was supposed to open between $10 and $11 million, but it missed that target significantly. The good news for Open Road Films is that this dreck cost only $5 million to make, so if it can limp to $15 million stateside, the financial pain from this C Cinemascore earner shouldn't be too bad.

13 Hours: The Secret Story of Benghazi finishes 10th this but also sees an okay hold versus last weekend. The Michael Bay film earned $6 million in its third frame, and was off a not terrible 34% compared to last weekend. Will Bay eke out a victory on 13 Hours with its $50 million budget? No way - it has earned only $42.6 million since opening, but has yet to open overseas. Given its subject matter, it will likely struggle to succeed in international venues.

Finishing outside the top ten is Jane Got A Gun, which finally sees the light of day this weekend, albeit on only 1,210 screens. The Natalie Portman starrer, which saw at least a half-dozen stops and starts as numerous players and crafts people came in and out, earned only $803,000 this weekend, giving it a venue average of $664. It cost $25 million to make.

Overall, the box office was up compared to last year as 2016 is proving resilient versus last year's American Sniper start to the year. This weekend, the top 12 films earned $123.5 million, up from last year, when Sniper led the top 12 to $102 million as three openers flailed. Next weekend brings the Super Bowl, so our choices are a bit different. Openers include Hail Caesar, the new film from the Coen Brothers, a film from the Nicolas Sparks factory called The Choice, and the horror flick Pride and Prejudice and Zombies, which has more zombie action than sense and sensibility.