Monday Morning Quarterback
By BOP Staff
January 26, 2016
BoxOfficeProphets.com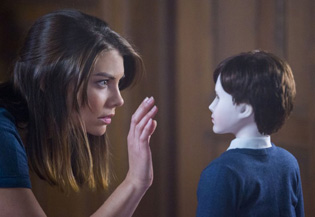 ---
Kim Hollis: Dirty Grandpa, the Robert De Niro/Zac Efron comedy, debuted with $11.1 million as it finished in fourth place. What do you think of this result?

Jason Barney: There are scant budgetary numbers on this one, but I can't imagine that it cost that much. So, on the budgetary front, it isn't a disaster. $11 million against a probably low- to mid-level budget isn't awful.

That is, however, the only neutral news for Dirty Grandpa. I think the concept is borderline offensive and find it sad that filmmakers and actors wanted to move forward with the project. I know there is a lot of humor that is always borderline, but Dirty Grandpa just seems over the top and unnecessary. I'm not surprised the RT rating is as low as 8%, and this product is going to drop like a stone.

Unfortunately, Netflix will probably pick it up before summer.

Ben Gruchow: I have approximately one hour left until my showtime for this one starts. In the meantime, I will observe the 8% Tomatometer reading, be an eternal optimist, and hold out a sense of hope until it can no longer be held out. I barely remember the trailer, and an $11 million opening isn't too bad considering that I last saw it only two weeks ago. Zac Efron hit a floor last summer as far as opening-weekend disappointment with We Are Your Friends, so I can't imagine he's going to view this as too much of a black mark on his career. I find it hard to believe that De Niro even cares one way or the other; this has the look of a movie that's going to roll off its cast's backs like water, good or bad.

Ryan Kyle: For a movie that has gotten universally slammed by critics with one of the harshest drubbings in memory, a $11.1 million opening isn't bad for an imaginably cheap production. Mother nature left some change on the table with most of the East coast being shut down with snow, so the second weekend drop might be less terrible-than-usual (although I hope the extra week gives some moviegoers time to reflect if it is really worth spending their money and time on what every critic labels as "dreck"). The opening is about $3 million more than Efron's January 2014 throw-away comedy That Awkward Moment, which is a fine comparison. If it follows that film's trajectory it will wind up with about $35 million, which is right in De Niro's average grossing range at the moment (i.e. Grudge Match, The Family, The Big Wedding, Killer Elite, etc.).

Kim Hollis: I guess I'm the only person who thought it would make a little bit more than it did. I'm not talking about a world-breaker or anything; still, I figured it could pull in $15 million or more. People often support De Niro in these types of roles, and it certainly received a ton of advertising. I think it's pretty clear that Zac Efron isn't a draw, but he'll recover fine from this with the Neighbors sequel in a few months.


David Mumpower: I fall between Kim and everyone else. I think that it has the type of concept that could sell tickets...if it were good. De Niro and Efron in a buddy picture is a fairly decent idea. Studios have had success in letting De Niro give the rub to younger actors like Ben Stiller and Bradley Cooper. What failed here is that they couldn't provide a trailer with any significant laughs in it. Had the movie been at least good enough to market effectively, it would have earned quite a bit more. So, people are right that given its quality, it's an acceptable performance. The opportunity cost loss is that the filmmakers failed in the most basic task. We live in an age where people sniff out garbage product far too quickly for exhibitors to overcome that obstacle.

Kim Hollis: The Boy, a horror film from upstart distributor STX, earned $10.8 million in its debut weekend. What do you think of this result?

Jason Barney: Even though cheep horror doesn't get a lot of credit at the box office, this is going to be a clear success pretty quickly. The Boy may only have a 29% rating at RT, have opened in fifth place in a relatively low earning weekend, and will be gone very quickly, but versus the budget this is a strong opening.

The film was produced and brought to theaters for a little more than $10 million, and this opening of $11 million is a strong start. It won't be around long, but STX probably will not lose money on this one.

Ben Gruchow: Not bad, considering it's only a million or so below The Forest while being approximately (according to Rotten Tomatoes) three times better. It's well under what William Brent Bell's last "big" feature, The Devil Inside, opened to...but that one had the benefit of both timing (it was the first major release of 2012) and a marketing campaign that promised a somewhat novel approach with the exorcism thriller/found-footage concept, this before the found-footage concept was totally played out. The Boy looked far more traditional, and it also looked faintly goofy. That last shot in the trailers of the painting coming to life never elicited anything but chuckling from the audience in the times it ran before a film. I agree with Jason that it's going to dissipate pretty quickly; although the movie was better than I expected, the expectations were really pretty low to begin with.

Ryan Kyle: I could pretty much cut-and-paste the analysis I used for Dirty Grandpa here and the same rules would apply. Bad reviews. Decent opening. Low budget. Money made. Movie forgotten about in two weeks.

Kim Hollis: I'm surprised it did this well. I barely even knew it existed, and that's only because I write for this website. For STX, it'll make money by the time home video is added in. Really, the movie release is effectively an extended commercial for that eventual future.

David Mumpower: The next commercial I see for this will be the first...and I've watched a ton of television during the snowstorms. The studio had zero faith in it, and the reviews bear out that evaluation. The fact that it opened to double digits is a minor miracle.

Kim Hollis: The 5th Wave, the latest YA dystopian adaptation, earned $10.3 million. What are your thoughts on this performance?

Jason Barney: At least as far as the three new openers are concerned, this is by far the worst of them. I don't have a problem with studios trying to adapt the next big thing, as book to movie stories have done quite well. How many franchises have made the successful leap over the last couple of years?

However, the budget numbers against the opening are just awful. Sony put $38 million into this project and with it opening in sixth place, it is in very poor shape. $10 million with bad word-of-mouth basically shows this film has little support and no chance of holding well.

Ben Gruchow: Not great, but it could be worse. This is Chloë Grace Moretz's lowest opening as a headliner since Let Me In in 2010. Foreign grosses are going to rescue the movie, though; it has already earned $28 million overseas to the $10.3 here, and with a production budget that's much more in line with lower-expectation YA first-book adaptations (it's more Maze Runner/The Host/Twilight, as opposed to Hunger Games/Divergent/Percy Jackson), it'll break even. I don't really see a "The 5th Wave: The Infinite Sea" happening, though. It's too bad; the Rick Yancey book this was based on was very positively reviewed, and based on the finished product in theaters I'm going to guess a lot of the more intriguing material ended up on the cutting room floor or just lost in translation.

Ryan Kyle: I agree with Jay that this is the biggest disappointment of the week. While it hit projected expectations at $10.3 million, judging by the trailer's saturation and how early they started teasing this film, they were expecting much more when this was given the go-ahead. Made economically for $38 million, it won't be a big loss and with overseas bailing this title out, but I wouldn't expect a sequel. I think a good comparison is 2013's The Host, which opened similarly and wrapped up with $26.6 million. I'm more curious to see where Moretz goes after this.

Kim Hollis: Meh. I think it's time for studios to stop trying to find the next big dystopian YA adaptation. Surely there's some other trend in literature that they can milk to death.

David Mumpower: The scary thought here is that everybody tried. Unlike the two movies above, this one had maximum studio support. So, its humbling outcome in the face of ostensibly inferior competition is just...well, people should get fired over this one. I think movie producers need to do a better job of identifying how well a story transfers to the big screen. That's where the culling transpires. This is the savviest generation of teens ever, and a lot of these products openly insult them.