Top Chef California Recap
By Jason Lee
January 25, 2016
BoxOfficeProphets.com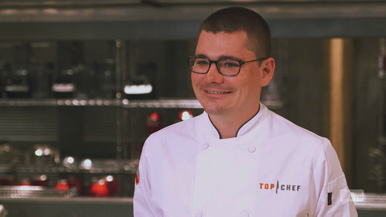 ---
We check back in with the cheftestants as they head back to Los Angeles, prompting my husband to comment irritably, "eight episodes in and they haven't even made it to NorCal."

So true. Instead of some glorious, foggy, windy, and cold San Francisco weather, the cheftestants arrive back at the Top Chef kitchen met by Padma and perennial Top chef bridesmaid Antonia Lofaso. As the guest judge for this episode's Quickfire, she confides to Padma that she threw up before most Quickfires in which she participated.

Welcoming the chefs back to Los Angeles, Padma informs the chefs that she and the producers would like to see what the 10 remaining chefs are able to do with the exact same 10 ingredients. Each chef will have 20 seconds in which to pick a single ingredient. The 10 selected ingredients will be the only ingredients available to the chefs - this mind-bogglingly includes salt, pepper, and oil. When they say 10, the producers really mean ten.

The question then becomes, which chefs will take one for the team and get ingredients that all chefs will need? Unsurprisingly, Philip is not one of them. As the first person up, he grabs NY strip steak. Apparently not a beef enthusiast, Isaac chooses a whole chicken, leading Marjorie to roll her eyes. "We already have a protein," she points out. Down the aisle we go: Chad grabs a jalapeño pepper, Jeremy grabs salt, Marjorie gets rice vinegar, Karen snags olive oil, Kwame gets garlic, Isaac picks out mushrooms, Carl (saying he wants a vegetable) grabs a box of tomatoes (which are fruits, for the record), and Jason picks up some celery. Karen frowns. She wanted some fresh herbs available for use.

The chefs get to work for a quick 20 minutes and offer up their dishes to Padma and Antonia, who are surprisingly spare on comments, apart from pointing out when a chef did or did not incorporate the ingredient he or she selected. Pleased with the variety of dishes created out of the same ten ingredients, Antonia selects Isaac's seared beef Carpaccio with shaved jalapeño (visually unappealing and overall underwhelming) and Karen's grilled steak salad with jalapeño vinaigrette (great flavors but lack of focus) as her least favorites.

Faring better are Jeremy and Amar - Jeremy's shaved beef Carpaccio with crispy garlic vinaigrette was a great spin on a classic, and Amar's wood-roasted chicken breast with a roasted tomato vinaigrette showed wonderful finesse and technique. Jeremy takes the crown and immunity to boot. At this point, it certainly seems like he's destined for a finale showdown with Kwame.

If the cheftestants thought it was tough working with ten ingredients, Padma warns, it'll be even tougher in the Elimination Challenge, which tasks the cheftestants with thinking about where they were 10 years ago. As Top Chef aired its first episodes 10 years ago (Has it really been 10 years? Where on earth has the time gone?), the cheftestants will be asked to create a dish that conveys where they were 10 years ago. Antonia wishes them the best in this challenge, noting that some of her best performances came in challenges that resonated personally with her.

For most of the cheftestants, the trip down memory lane is a fond one. Marjorie thinks about when she graduated from culinary school and met Mike Isabella, Jeremy reminisces about helping his mom (an adoptee) find her birth parent, Isaac remembers cooking big pots of gumbo for Cajuns displaced by Hurricane Katrina, and Carl thinks about the time he walked into Craigie on Main in Cambridge (a fantastic restaurant if I do say so myself) and convinced the owner to let him have a job.

For other chefs, however, it's a distinctly bittersweet affair. Kwame, for example, was dealing with significant strain coming into his relationship with his father - a fracture that has yet to repair itself. In fact, he hasn't spoken with his father in eight years. Similarly, Jason can't help but think about when he took on his first management position 10 years ago and was a ferociously perfectionist boss. Apparently, there was a lot of yelling at his subordinates.

While the cheftestants cook away, Tom and ultimate badass chef, Michael Voltaggio (winner of Top Chef: Las Vegas) walk into the kitchen. They approach Philip, who's making a ceviche inspired by the dish his then-girlfriend's grandmother taught him. "What have you learned since then?" Michael wants to know.

"I initially thought I'd come in and cook my food," he says, "but I've learned that I have to cook the food that makes the judges happy." Tom gives him a pointedly perplexed look and Marjorie opines to us that sometimes Philip needs to just shut up. I agree.

"Learning the judges' palates and navigating that, that's what I've learned the most," Philip continues. Michael responds that when he won his season, he just focused on cooking good food, and Tom backs that up, saying that the judges are simply looking for good dishes.

Unsurprisingly, this is all lost on Philip. Maybe his man-bun is tied a little too tightly.

Tom and Michael wander over to Amar and pick his brain about his dish. Amar notes that 10 years ago, he was cooking for Chef Gerry Hayden, who passed away in September of last year after battling ALS for some time. Amar wants to show that he still remembers this dish - a dish that Chef Hayden made sure all his sous chefs knew how to cook - which will hopefully signify how much he appreciates everything that Chef Hayden did for him. Tom and Amar both share a few memories of Chef Hayden. It's clearly a very emotional moment for both of them.

Meanwhile, Kwame is still dealing with his personal demons. He's put together a dish inspired by the jerk chicken shack where he and his father used to eat, but the experience is dredging up a number of unpleasant memories as well - memories that appear to be hindering his cooking process. Using a mandolin while a bit lost in thought, Kwame slices his thumb badly.

AUAAAAAUUUUGGGGHHHHHH. Madolins scare me. They seriously scare me because I know how seriously they can injure the user. Anytime I see a person using it on a cooking show, I half-cover my eyes in case an accident were to take place. And now one is taking place in front of me. Omg, this is my worst fear come to life.

Thankfully, the cameras cut over to the dining table, where a number of very well-respected Los Angeles chefs sit down. This includes not only Antonia and Michael Voltaggio, but last year's winner, Mei Lin! It's so great to see her back.

As the judges share a toast, Gail expresses disbelief that it's been 10 years since her first episode with Tom. Padma is noticeably silent. That's not unexpected - Top Chef Season 1 featured Katie Lee as a host. Katie was thankfully jettisoned for Season 2,

The 10 chefs will be serving their dishes in pairs, and first up are Marjorie and Chad. Marjorie, noting that she was a newbie chef 10 years ago, serves seared halibut with grilled vegetables and green curry, in recognition of how "green" she was when she first started out. A diner asks Marjorie what went into her curry paste and Marjorie confesses that she wasn't able to incorporate lemongrass, as Whole Foods was apparently out of it. Instead, she substituted grilled lemon. Michael Voltaggio says that she made all the right decisions, declaring the dish delicious. Richard compliments the veggies, saying they're so good that the dish scarcely needs the halibut.

Chad has a shrimp ceviche with tomato concasse, a shrimp cracker, pickled serrano peppers, and capers. This dish is inspired by his departure from the military 10 years ago in San Felipe, where he enjoyed amazing seafood. Mei Lin loves the sharpness of the radish he incorporated, and Gail compliments the maturity of the dish.

Isaac and Jason are next. Isaac has his gumbo, which harkens back to his days cooking pots of gumbo for displaced Cajuns in New Orleans. Mei Lin finds the casings of his sausage a big tough but Tom calls the dish "really, really good."

Jason, as usual, has a strange sounding dish: poached trout with toasted beets, a spring veggie salad, and a goat milk vinaigrette. Ten years ago, his restaurant served a poached trout dish, and any errors in the dish would result in scathing admonishments by Jason. He has since, Jason says, become a calmer person. Tom finds the dish under-seasoned and Richard finds that it doesn't deliver on the promise of the concept. Prompted by Tom, Jason admits that if one of his chefs had under-seasoned the dish, he would have yelled at him or her.

Karen and Amar are next. Karen has an orecchiette pasta with pork ragu and broccoli rabe, which is inspired by her line-cook days when she spent the majority of her time making pasta 10 years ago. Tom loves the pairing of the fennel with the bitter elements in the dish.

Amar has the ode to Chef Hayden - a butter-poached lobster, sautéed bok choy, tapioca coconut curry, and tempura onion rings. Michael remembers Chef Hayden as a chef who pushed boundaries, putting flavors together that didn't make sense. This dish, Michael notes, is spot on. Richard calls the decision to make lobster tail "bold," and finds that it was done perfectly.

Carl and Philip are up. Carl has a fricassee of California vegetables, with burgundy snails and a fried egg. Ten years ago, he graduated from culinary school, traveled through France, and feel in love with snails. Antonia finds everything cooked and seasoned very well, calling the purée "beautiful." Gail says that she can't stop staring at the dish and thinking about it. Wow.

Philip follows up with a ceviche mixto with tiger shrimp, halibut, razor claims, and squid. Ten years ago, he says, he was dating a Peruvian girl, and her grandmother taught him how to make ceviche. Michael finds that pieces of seafood leave him with a "not-so-fresh fish taste." Philip assures him that he tasted every single fish that went into the dish, but "thank you very much." Antonia says that it was only when she mixed all the ingredients together did she find the right balance of seasoning of acid. Philip tells us that he's getting frustrated - he loves acid and can't seem to do anything right for the judges. "Thank you for the feedback," he says almost sarcastically.

Meanwhile, Kwame is having a very hard time plating his dish. His sliced thumb aside, the bad memories that keep encroaching on his thoughts just seem to be appearing on his dish.

Jeremy, armed with immunity, offers the judges a lobster ravioli with shellfish sauce and king salmon. His mother had been adopted as a young girl, and 10 years ago, Jeremy had helped his mother find her birth parent - an Italian grandmother who taught them how to make pasta. Tom questions why salmon was paired with lobster. "I think lobster on its own may have made sense," he says, but not alongside salmon. Antonia agrees. Padma comments, "good thing you have immunity."

Kwame closes things out with jerk broccoli with corn bread pudding and smoky blue cheese. Ten years ago, he intones, his relationship with his father crumbled and they haven't spoken since. His last happy memories of the two of them involve their eating together at a jerk chicken shack. Digging in, Tom says that the dish "is just confusing the hell out of me." Antonia compares the corn pudding to "mush oatmeal." Kwame admits that maybe this was "not [his] best work." Michael quite correctly concludes that maybe Kwame put too much of his emotional baggage into this dish.

As the chefs come before Judges' Table, Tom states that today's challenge maybe "got in peoples' heads." Usually, at this point in the season, with 10 chefs left, "people go home for making good dishes. Today, someone is going home for making a bad dish." Oh boy.

Marjorie, Chad, and Carl are announced as the judges' favorites. Padma loved the flavors in Chad's ceviche, which was deliciously seasoned and fresh. Marjorie's dish was in recognition of how "green" she was as a chef ten years ago, but aside from the color, Tom declares that there was nothing "green" about the dish. Finally, Gail really appreciated how Carl's dish allowed the judges to enjoy "classic, timeless French cooking."

Michael says that the winner today is the person who embraced the challenge the best and, quite simply, cooked the best plate of food. While that leads me to think Carl will take home the honors, it's Marjorie who gets her second Elimination win of the season. Can you say "dark horse"?

Kwame, Philip, and Jason are called up as the judges' least favorites - leading me to wonder whether Jeremy got a pass simply because he was immune. Kwame blames his dish on the fact that he has few positive memories from 10 years ago - a fact that showed up on his plate. Michael notes that he perhaps made this challenge bigger than it needed to be and simply didn't get past it. Ya think?

Padma found Philip's dish just underwhelming, as the sweet potato purée overwhelmed any acidic components. Philip says that he erred by not keeping in mind the fact that the judging panel likes spice. Tom has had enough with this "I can't seem to cook in a way that pleases the judges." He tells Philip that the judges "don't want any of that, we just want good food." Padma advises Philip to go back to his roots for inspiration.

Finally, Gail just never found that the components in Jason's dish came together. "I get that 10 years ago, you were cooking in a different place," she says, "but I was still expecting to see the current you giving us inspiration from 10 years ago." Tom asks Jason "what's going on? You seem to be really tight, it feels like there's no joy in your food right now." I'm stunned by how personal Tom is getting - a rarity, to be sure.

Jason responds that he simply hasn't felt like himself. He left his restaurant before starting on Top Chef, trying to change things up to find some joy. Tom says, "I get that. You sacrificed a lot trying to figure out what's worth it. It's a tough place to be."

It's about to get even tougher cause Jason will be leaving the show. That almost feels like a double blow. This guy is trying to find himself and it's not gonna happen with the assistance (or forum) of Top Chef. While Chef Shirley Chung was able to find herself by running the culinary gauntlet of Top Chef last season, Jason is getting cut off at the knees.

He says in closing that he's always believed that life is a state of flux - that people have to keep moving from one place to another. Though people are sometimes afraid of change, it can be exciting. Hopefully Jason will be able to find is footing in whatever he chooses to do post-Top Chef.