Weekend Wrap-Up
Openers, Snowstorm Jonas Bury Box Office
By John Hamann
January 24, 2016
BoxOfficeProphets.com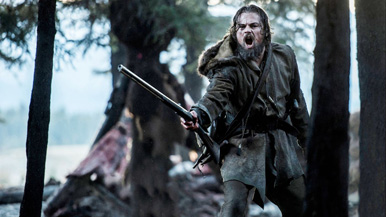 ---
The ugliness is everywhere at the box office this weekend, and we can't blame it all on snowstorm Jonas.

With a crop of dubious openers and a major snowstorm hitting the eastern seaboard, we shouldn't be too surprised that the box office is down, but there really is zero good news this weekend. Star Wars is now six-weekends-old, and 13 wide releases have come out since then. Still, The Force Awakens is still second this weekend, which shows the power of the JJ Abrams film but also shows the weakness of what has come out since then. The sad set of openers this weekend includes Robert De Niro embarrassing himself in Dirty Grandpa, a ridiculous looking horror film in The Boy, and the zillionth dystopian teen film to come out in the last few years, this time in a film called The 5th Wave. Add into it Snowstorm Jonas, and the holdovers got knocked back as well.

Snowstorm Jonas closed all of the AMC theaters in New York City after government officials called for a travel ban on Saturday. Normally, I would say that weather drives people to theatres in some cases, but in this situation, up to 11 million people weren't able to drive, take the bus or use the subway for all of Saturday afternoon and evening. That doesn't just affect the city, of course, but the rest of the eastern seaboard and some southern states as well. The Boston Globe said on Saturday that one in seven Americans would see at least a half foot of snow, which pushed the box office down for the frame. I bet VOD had a VERY strong weekend.

Our number one film of the weekend is no longer Ride Along 2, as The Revenant enjoys its first weekend on top, its third weekend in wide release. Unfortunately, its place in the top ten is about the best news The Revenant sees this frame, as it drops 50% compared to last weekend, earning $16 million. That's a much bigger drop than expected for the odds-on Best Picture winner, but the plunge is the result of a number of factors. First, The Revenant crossed the $100 million mark on Wednesday, its 13th day of wide release, and for a film that is as bleak as The Revenant is, that's a very strong pace. Second, the snowstorm had a significant impact on the box office, likely trimming the weekend totals by 10-15% or more. Lastly, whenever we are coming off a long weekend, percentage drops are higher, as the previous weekend basically had two Saturdays.

The Revenant has now earned a spectacular $119.2 million domestically for Fox, but has yet to match its $135 million budget with its domestic gross. The good news is that it's performing admirably overseas, picking up $60 million so far, and is opening in another 17 markets this weekend. I believe The Revenant will still finish with as much as $175 million domestic and get to $200 million or more worldwide. Should it win Best Picture (and I'm not sure what else has a chance at this point), we can likely add another 10% to those totals.

Star Wars: The Force Awakens remains a force at the box office, despite being out now for six weekends and blowing away all comers. The Force Awakens does see a significant decline, though, as it fell 46%, earning $14.3 million. When your film has earned $879.3 million at the domestic box office, it's hard to complain about this kind of a drop, but the storm obviously got to The Force Awakens as it faced the same problems that The Revenant did. Overseas, it has earned more than a billion and has now passed Jurasic World to become the fourth highest movie of all-time. It has a worldwide gross to date of $1.94 billion and has also sold more than $700 million in toys according to a report this week.

Third is Ride Along 2, which appears to have served all of its audience over opening weekend. After opening to a lower-than-the –original amount of $35.2 million, things got much worse this weekend. The Kevin Hart/Ice Cube starrer could only muster $13 million in its second weekend, as it dives 63% compared to the previous frame. The original Ride Along opened to $41.5 million and dropped 49% in its second weekend to $21.3 million. The original had earned $75 million after two weekends, the sequel, only $59.1 million. Ride Along 2 also cost $15 million more than the original, and may tap out before it gets to $80 million domestic.

Fourth place goes to Dirty Grandpa, the new R-rated comedic raunch-fest with De Niro and Zac Efron. With some calling it the worst De Niro film ever, Dirty Grandpa had something else to overcome on this snowy weekend – major suckage. Dirty Grandpa took in $660,000 through its Thursday preview, and turned that into a combined Thursday/Friday opening day of $4.2 million. That put it in position to at least hit the tracking estimate between $9 and $11 million, but not much else. The comedy ended up with $11.5 million from 2,912 venues for Lionsgate, a middling result at best.

While called one of the best actors of his generation, Robert De Niro has also made some stinkers. Little Fockers and its 10% fresh rating (3% from top critics) comes to mind, as does New Year's Eve, the 7% fresh (3% from top critics) comedy from Gary Marshall. Dirty Grandpa comes in at 8% fresh, not the low point – at least at RottenTomatoes – but critics were angrier than usual about this one. It earned a B Cinemascore, which is about as low as it gets for a comedy. Next up for De Niro seems like a much better choice, as the movie is called Hands of Stone, about boxer Roberto Duran and his trainer Ray Arcel, played by De Niro. May Dirty Grandpa disappear quickly, as I don't want to have to roll out that title for the next month.

Fifth spot goes to The Boy, the horror release from upstart distributor STX Entertainment. The Boy, starring Lauren Cohan from The Walking Dead, got started on Friday with a decent $3.9 million, but withered over the remaining frame and finished with $11.3 million. Surprisingly, The Boy was the best reviewed new release this weekend, but it was only 29% fresh at RottenTomatoes, with only 14 reviews counted at the time of this writing. The Cinemascore was an expected B-, better than the C that The Forest earned, and on par with Krampus. Made for $10 million, The Boy will likely earn $20 million domestically, and will need a small assist from overseas theaters.

Sixth is The 5th Wave, the latest in a long line of dystopian thrillers aimed at teens. This one features Chloë Grace Moretz surviving waves of disasters caused by an alien presence. Made for $38 million, this one opened on Friday with only $3.5 million and finishes the weekend with only $10.7 million. Like The Boy, this one also earned a B- Cinemascore and was only 19% fresh at RottenTomatoes (all of this weekend's openers are heading for the bargain bin at Walmart). If there is good news for The 5th Wave, its that it opened to $8.5 million overseas last weekend, and will keep the pain down for Sony as it counts its losses on this one.

Seventh is 13 Hours: The Secret Story of Benghazi, which is one of a very few films that didn't get absolutely creamed this weekend, as it is likely playing better in the southern states. After debuting to $16.2 million last weekend, the Michael Bay film dropped 40% this weekend to $9.8 million. While the result is nothing to party about, it could have been worse, as this is a Michael Bay film. So far, the $50 million film from Paramount has earned a not-enough amount of $33.5 million.

Eighth is Daddy's Home, which has its biggest drop in its five weekend run. The Will Ferrell comedy earned $5.3 million, falling a large 45% as Dirty Grandpa steals away some of its audience. The $50 million Paramount release has now earned an impressive $138.8 million domestically, and another $50 million overseas.

Norm of the North is ninth. After opening to $6.8 million last weekend, Norm declined 40% this weekend to $5.3 million. Made poorly for $18 million, this Lionsgate release now has a total of $14.3 million.

Tenth is The Big Short. The Oscar nominated flick earned another $3.5 million and fell 34%. The $28 million Paramount release has a running total of $56.7 million, and has earned another $20 million overseas.

Overall this weekend, given the storm, things could have been much worse. The top 12 films at the box office earned $102.3 million, which wasn't close to last year, when American Sniper again the led the box office to a top 12 worth $141.3 million. Next weekend, things should turn around. King Fu Panda 3 opens, and should find $50 million or so. Also opening is The Finest Hours, which could also do significant business. The last opener is the wild card, as Fifty Shades of Black could cave completely, or could surprise.