Top Film Industry Stories of 2015
#4: American Sniper
By Kim Hollis
January 21, 2016
BoxOfficeProphets.com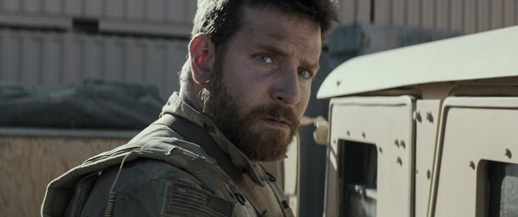 ---
When we left you with our Top Film Industry Stories at the end of 2014, the Sony hack was still fresh in our minds, global box office had transformed, and The Hunger Games: Mockingjay Part 1 was the reigning domestic box office champion.

Oh, how quickly things can change.

It turns out that Mockingjay Part 1's record would fall, although none of us saw it coming. As 2014 came to a close, director Clint Eastwood's American Sniper was making some noise in limited release. During the four-day Christmas holiday, it tallied $873,667 from its four venues, giving it a remarkable location average during that time frame of $54,529. The following weekend, American Sniper actually increased - and it didn't change its venue count at all. From the Thursday New Year's Eve through Sunday, January 4th, it earned $889,989. Was this an indication that something special was about to happen? Perhaps it could have been, but it's not like we haven't seen other films perform spectacularly in limited release previously.

In fact, once the holidays wrapped up, American Sniper stayed on those four screens rather than expand to a few more theaters. Its behavior was pretty normal, as it declined 19% from its holiday inflated weekend. After 21 days at the box office, the film had earned $3.2 million and would go into the Martin Luther King Jr. holiday weekend of January 16th with a big expansion. The film would move from its tiny four-venue plan to an ultra-wide 3,555 locations. Given the frenzy for the film in limited release and its just-announced Best Picture nomination at the Academy Awards, tracking was ready to call American Sniper a potential box office beast. Most forecasters were predicting a number in the $60 million range (for the entire Friday-to-Monday weekend), with Warner Bros. coming in more conservative at $55 million. BOP's Reagen Sulewski went even lower at $40 million.

Needless to say, everyone was wrong. By a lot. American Sniper's first wide release weekend resulted in a Friday-to-Sunday total of $89.3 million and a Friday-through-Monday tally of $107.2 million. This was the biggest January debut ever, blowing away previous record holder Ride Along by $48 million. American Sniper more than doubled that record. It was Clint Eastwood's second biggest film ever - after only four days in wide release. And it would easily beat his biggest, Gran Torino, before the beginning of the following weekend.

Now, you may be thinking back to the beginning of this article, because it was there where we told you that The Hunger Games: Mockingjay Part 1 would not hold onto its title of biggest domestic earner of 2014. Because American Sniper technically opened in 2014, it is considered a release from that year even though its wide release didn't come until mid-January of 2015. It opened lower than Mockingjay Part 2, but it would certainly hold up better over the long run.

After that amazing, record-setting opening weekend, American Sniper's box office would decline only 27% in weekend two. If we don't count late May, when the film was only in a few screens and already released on home video, its biggest drop-off was 52% on January 30th. From that point until the weekend preceding its home video release, American Sniper's average decline was 27%. It chugged along with those magnificent holds all the way through the end of June, which ultimately allowed it to accumulate $350.1 million domestically - $13 million more than Mockingjay Part 1 and $17 million more than Guardians of the Galaxy.

The question at this point became, "What happened here?" The answer is complex, because a lot of interesting (and sometimes competing) factors came into play.

First, American Sniper was able to build some nice buzz through a strategically small release on those four screens. Its trailer was tension-filled and effective, putting the viewer in Chris Kyle's shoes in a real-time scenario. Before the movie had arrived, people were already able to empathize with the character. The fans who saw the film during its limited release had mostly positive things to say, although there was some pushback from the more progressive contingent of the audience, who felt some discomfort in the way real-life events were depicted (not to mention some controversy over Kyle's hero status and the accuracy of his portrayal of his tour). You'd think that in a town like Hollywood, that kind of pushback would present a massive hurdle for a film like American Sniper, but instead it garnered awards attention and a lot of back and forth between critics on the quality of the film itself.

Even without reservations from liberals, the conservative, Republican-voting audience was going to support American Sniper wholeheartedly. Besides being directed by a conservative icon (Eastwood spoke at the 2012 Republican Convention), the film also specifically looks at its real-life protagonist as a hero of the war in Iraq, a gentleman known for having the most "kills" on record. American Sniper doesn't glorify this violence or craft a "war is good" kind of message, but it definitely is pro-soldier (a position that is nearly impossible for anyone to argue with). With some discussion about PTSD emerging in the months and year prior to the film's release, people wanted to embrace Kyle's story. Not only did he suffer from PTSD himself, but Kyle also helped others who had issues, eventually leading to his own shooting death at the hands of a fellow former soldier who was dealing with trauma.

Many people viewed their support for American Sniper as a way to show their support for American soldiers and their families, especially Kyle's widow, who did a lot of support for the film during the marketing and promotional campaign. At the same time, a number of people who had heard about the dichotomy between the views of conservatives and progressives chose to see the film so that they could decide for themselves which opinion was "correct." If anything, the controversy around the film helped it.

All of these factors combined (along with some good old fashioned red, white and blue patriotism) to propel American Sniper to unimaginable heights. It was a story no one could have predicted, not even in 2015 when the film was making waves in its limited release. These are the kinds of film industry stories that make our jobs fun - and challenging.