Weekend Wrap-Up
No Breakouts, No Problem, Over MLK Weekend
By John Hamann
January 17, 2016
BoxOfficeProphets.com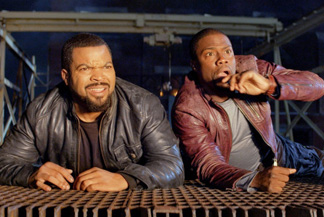 ---
Star Wars: The Force Awakens is out of top spot at the weekend box office after four weekends. Avatar was on top for seven weekends, yet The Force continues to pile on as the biggest domestic grossing film ever.

This is the weekend when The Force Awakens moves out of the penthouse, and it is also the weekend that lives in American Sniper's shadow, as a year ago, the Bradley Cooper flick earned $90 million over its opening frame. Despite all these factors, the box office still performed strongly this weekend, despite having two holdovers in the top four spots. Openers this weekend included Ride Along 2, sequel to the 2014 MLK opener that found a sizzling $41.5 million, again starring Kevin Hart and Ice Cube; 13 Hours: The Secret Soldiers of Benghazi, a Michael Bay film that tries to capture what it was like during the assault on US Diplomatic Compound in 2012; and Norm of the North, a low-rent animated feature with the voice of Rob Schneider. This crew may seem like a dog's breakfast, but with assists from Star Wars and The Revenant, a strong weekend is in store.

Our number one film this weekend is Ride Along 2, the comedy sequel to the breakout hit. After opening to $41.5 million, the original went to earn $135 million stateside and picked up another $20 million overseas, all against a budget of only $25 million. Universal is back with another Ride Along this weekend, looking to replicate or build on the success of the original. After $1.25 million from Thursday previews, the combined Friday number came in at $12 million. This amount was $2.4 million behind that of the original, which had a first Friday of $14.4 million. While the Friday box office total meant that Ride Along 2 was not going to find the same opening weekend success that the original did, it was still going to open in the neighborhood of $40 million over the long weekend, which meant Ride Along 2 would be good investment for Universal despite it carrying a price tag of $40 million, an increase of $15 million over the last film.

Over the Friday-to-Sunday portion of the long weekend, Ride Along 2 managed a weekend gross of $34 million, $7.6 million off the opening of the original. The Universal release debuted on 3,175 theaters, almost 500 more than the original. For me, this is somewhat of a surprise – the original broke out and was embraced by most, receiving an A Cinemascore. Critics hated both the original and the sequel, so the only thing different this time around is that the concept has been done before, and the marketing campaign was not quite as funny. Kevin Hart may also be getting to the point of overexposure. Since the original Ride Along, Hart has appeared in About Last Night, Think Like A Man Too, Top Five, The Wedding Ringer and Get Hard. Including the two Ride Along films, Hart has had five films released with a fresh rating below 30%, which may have affected the opening weekend gross.


The good news for Ride Along 2 comes from its Cinemascore. After the original earned a strong A score, I thought the sequel would dip like the box office has. However, the Cinemascore for the sequel came in at a B+, still a decent score that may push this one forward. By end of day Monday, the box office should be at almost $40 million (the original earned $48.6 million over four days), so given the Cinemascore, $100 million domestic should be in play for the sequel. If Ride Along 2 can earn a little more overseas than the original did (which it should), it should start the year solidly for Universal. The studio's next release, Hail Caesar on February 4th, looks like a lot of fun, and the making of another hit for the studio of the year in 2015.

The Revenant gets ahead of The Force Awakens this weekend, as a couple of Golden Globe wins and a bucketload of Oscar nominations drove viewers to the Leonardo DiCaprio flick. The Revenant got started on Friday by earning $9.3 million, off only 35% compared to the previous Friday, or only 23% compared to last weekend's "true" Friday, with Thursday preview amounts stripped out. Over the remainder of the weekend, the 20th Century Fox release pulled in an awesome $29.5 million, off an excellent 26% compared to last weekend's take of $39.8 million.

This weekend's result is very good news for Fox and for Arnon Milchan, who put up the additional funds to get The Revenant completed. Those costs pushed the budget from $90 million to $135 million, which means this film about a man struggling to survive in the wilderness would need to earn an additional $120 million worldwide in order to see a profit. Given the trending of the first two wide weekends and the award recognition it is seeing, we have further confirmation that Milchan is a visionary. I see The Revenant earning at least $150 million domestic, and wouldn't be surprised if it approached $200 million. It will need another $200 million overseas, but given that Wolf of Wall Street, The Great Gatsby and Django Unchained all easily achieved that amount from international venues, The Revenant should have no problem. So far, domestically, The Revenant has earned $87.7 million and has picked up $25 million overseas.

Star Wars: The Force Awakens is in third place after four weekends at number one and $826 million in box office receipts. This weekend, the biggest domestic earner of all time added another $25.1 million and fell 41% compared to last weekend. The total rises to an awesome $851 million domestically. One billion is now out of reach, but it should make it to $900 million. Overseas, the total has hit $1.01 billion, for a worldwide gross of $1.87 billion.

13 Hours: The Secret Story of Benghazi is fourth this weekend, but despite the ranking, still does a good bit of business. The Michael Bay film started on Friday with $6 million – not enough to push it past Star Wars, but decent considering the top four consists of films targeted to the male demographic – and they all combined for more than $100 million. Instead of taking 13 Hours in a political direction, this is simply a war/action film and people responded. 13 Hours earned $16 million over three days from a muted 2,389 venues for Paramount. Bay must have found some serious restraint on 13 Hours, as it cost the studio only $50 million to make, or $160 million less than Transformers 3. How this plays overseas is a good question, but the domestic start is a good one.

Michael Bay actually made a decent film this time around as well. At the time of this writing, 13 Hours was 60% fresh, Bay's first fresh film since he had a bit part in Mystery Men (also 60% fresh), and his first directed film since The Rock in 1996 (66% fresh). The Cinemascore was also fantastic at an A, which may indicate that Paramount could add screens to 13 Hours going forward.

Daddy's Home continues its quiet but remarkable run. In its fourth weekend, the Will Ferrell/Mark Wahlberg comedy earned another $9.3 million, off 38%, and brought its total up to a very impressive $129.3 million. Daddy's Home passed Anchorman 2 to become Ferrell's fifth biggest domestic earner and is going to finish domestically with about $150 million. It has another $50 million in overseas sales, so this $50 million production is hitting the win column for Paramount.

New animated release Norm of the North opens in sixth. It earned only $6.7 million to start, and is going to fade quickly. It is our first candidate of the year for a film with zero positive reviews, as 33 reviewers at RottenTomatoes have chimed in without a positive notice. The Cinemascore is also a B-, so this is going to vanish soon.

Seventh is last weekend's new horror release, The Forest. After opening to $12.7 million last weekend, the bottom fell out this weekend, as it earned only $5.8 million. That's a drop of 55%, but the $10 million film is going to do fine with a gross so far of $21.1 million.

The Big Short is eighth and holds nicely after picking up five Oscar nominations this week. After earning $6.2 million last weekend, the Adam McKay film fell only 16% this weekend, earning $5.2 million. The Paramount release lifts its domestic total up to $50.5 million against a $28 million budget.

Sisters is ninth, as it earned $4.4 million, dropping 39%. The domestic total for the $30 million film has now hit $81.8 million and it has another $10 million overseas.

The Hateful Eight received three Oscar nominations, but the bottom still fell out this weekend. The Quentin Tarantino flick earned $3.4 million and declined 46%. That's the second consecutive large drop for the western talker, as its domestic gross grows to $47.6 million against a $44 million budget.

Overall this weekend, the box office did okay, but there was no chance of catching last year, when American Sniper earned $89.3 million over three days. This weekend, the top 12 earned $145.1 million, a solid result, but well back of the $184.8 million earned last year. Next weekend brings three more releases each opening with a screen count between 2,500 and 3,000. STX opens The Boy with Maggie from The Walking Dead; Robert De Niro and Zac Efron share the screen in Dirty Grandpa; and Chloe Moretz rides The 5th Wave.