Friday Box Office Analysis
By Kim Hollis
January 16, 2016
BoxOfficeProphets.com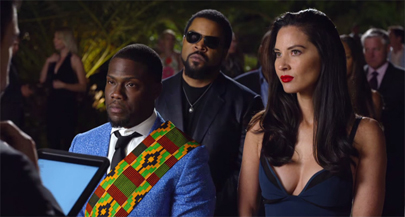 ---
With the arrival of the Martin Luther King Jr. weekend comes the official end of Star Wars: The Force Awakens' reign as the weekend box office champion. With three new movie releases and recent Oscar nominations to catch up on, movie patrons had plenty of options this weekend.

The new #1 film in the country is going to be Ride Along 2, the sequel to the Ice Cube/Kevin Hart comedy. Like the original, Ride Along 2 chose the MLK Jr. holiday frame for its debut. In 2014, Hart was a rising comedy star and the hottest new thing; today, the bloom has come off the rose just a bit. Ride Along 2's first Friday came in at $12 million, lagging behind the $14.4 million that the first film was able to deliver. If it follows a similar trajectory to its predecessor, Ride Along 2 should come in with $34.6 million for the Friday-to-Sunday portion of the weekend and $40.5 million for four days.

Leading all other Academy Awards nominees, The Revenant was rewarded with 12 nominations on Thursday, and the studio added a few screens as a result. Even so, it had such a significant debut last weekend that it was going to be pretty tough to top it. It declined 35% from last Friday, but we should see the numbers shore up some over the rest of the weekend. It should have a three-day total of $28 million.

That means that Star Wars: The Force Awakens will officially fall out of contention as the weekend box office champion. Its $6.3 million Friday total represents a 41% decline from last week. It's the kind of film that will get propped up some by the holiday weekend, though with a domestic total currently sitting at at $832.2 million, it's hard to imagine that people haven't seen it. Look for a Friday-to-Sunday total of $24.5 million. We're all just really watching its international numbers now to see if it can capture the worldwide record, but it's looking as though the Force Awakens is going to fall short due to China's lack of long-term familiarity with the franchise.

Michael Bay was back with lots of explosions, this time in the more politically charged 13 Hours: The Secret Soldiers of Benghazi. Clearly, people weren't ready for this story to be told, or more to the point, maybe they weren't ready for it to be told by Bay. It earned $5.9 million yesterday, which should mean a three-day total of $16 million. Lone Survivor and American Sniper set the gold standard for January military/war movie releases, but 13 Hours never seemed to have the same kind of focus from American audiences.

The final new wide release was Norm of the North, which you'll be excused if you didn't know existed. It earned $1.6 million and should finish the weekend with $6.4 million. That's probably about $6 million more than it deserves, and it will be an afterthought when Kung Fu Panda hits theaters.

Last weekend's new release The Forest showed typical horror film behavior by declining 65% from Friday-to-Friday to $1.8 million. It will likely just cross the $5 million mark for the weekend, and then settle in for its impending home video release in a few months, where it's likely to earn the bulk of its revenues.