Weekend Forecast for January 15-17, 2016
By Reagen Sulewski
January 15, 2016
BoxOfficeProphets.com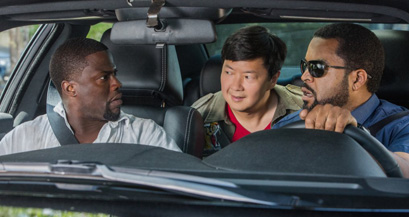 ---
An unusual confluence of factors make this one of the more interesting January weekends in ages.  A strong set of new films, plus one of the rare times that a major Oscar contender is earning big bucks at the time of its nomination, along with a newly-minted all-time box office champ, gives us a ton of things to look at this weekend.

2014 was in no small (hee) part The Year of Kevin Hart, with four films of moderate to large success. The first and most successful of these, Ride Along, gets its sequel this weekend, hoping that his pocket-Eddie Murphy status is just as strong two years later. The original saw Hart team up with hard-bitten cop Ice Cube, as a way to prove his worth in marrying his sister. Now for Ride Along 2, we dip heavily into the comedy sequel playbook, moving the setting to Miami, a boost in status for Hart, adding a second high-strung comic relief character (Ken Jeong) and bringing in the latest hot female comedy actress (Olivia Munn). This is the sort of thing that works well (Rush Hour 2) until it doesn't (Rush Hour 3).

Directed again by Tim "My Fantastic Four movies don't look so bad now, do they" Story, it's a film that's basically trying to hit all the beats of the first one again, but louder and longer. Hence Jeong's appearance as a sort of "Joe Pesci in Lethal Weapon" character, and the extended comedy bits where Hart ends up being smacked around a lot. This turn for a sequel was expertly parodied before in 22 Jump Street, but Cube decided to play it straight for his own franchise – which might explain why people are trying to figure out how to get more Jump Street movies out there, and view this one as more of an obligation. Reviews are through the floor, but it's a fairly review-proof audience for this film, and there's still a bit of an afterglow effect for sequels in place. With the first film's $41 million opening, we should see a solid tick upwards to $46 million.

I think that like most people, I had assumed that we were through with that whole "Michael Bay as serious filmmaker" experiment after the debacle that was Pearl Harbor, as successful as it was. And yet, here comes 13 Hours: The Secret Soldiers of Benghazi, a film that sees him once again tackling a real topic, albeit with explosions still involved.

Based on the attacks on the attack on the United States Benghazi diplomatic compound/CIA site on the 11th anniversary of the 9/11 attacks, it also expands from those events, shrouded in the fog of war, to the abortive rescue mission by a team of military operatives to rescue those inside. Likely to be handled with the same deft touch that Bay brought to his other films, which led to things like robot testicles and lengthy discussions about Romeo & Juliet laws as they apply to teenage sex in his films. I'm sure he'll be more reserved here.

Led by the unlikely choice of John Krasinski, freshly buffed up for the role, it also has a couple of decently known names – like James Badge Dale and Pablo Schreiber, but we're clearly not dealing with star power as the main driver. Instead, we are going after the same people who have only seen Lone Survivor and American Sniper in the last couple years – and probably a Nicolas Sparks film. It's perhaps one of the more cynically targeted films I've seen on an important (but loaded) subject in some time. Both of those films became surprise hits thanks to tapping under-served markets, which 13 Hours hopes to copy, but a difference here is that the film is both too politically charged, and doesn't have the same appearance of quality, instead giving off a mawkish look. It should still be quite successful in the range of Lone Survivor, but with an opening weekend of around $27 million.

While January is becoming a better month for many films, it is still a general rule that any family film released this early in the year is straight up garbage, as why would you release it now rather than two weeks ago when you could capitalize on the kids being out of school? Such is the case with Norm of the North, a film rescued (salvaged?) from direct-to-video release. Starring Rob Schneider (ugggghhhhhhhhhhhhhhhhhh) as a polar bear displaced to New York by... encroaching condo development? You know what? I'm out. This is an insane, ugly looking film with an insulting-looking plot and nothing resembling jokes. It should manage about $8 million based on people who accidentally walk into the theater.

With returning films, The Revenant finds itself in a relatively unique position of having opened the week before nominations, and to a much larger figure than expected. Now with 12 nominations, it has a chance to improve on its $39 million opening, or at least not drop as much as expected. A large part of why it might not bump up on that number is how challenging and alienating a film it is, while it also suffers from a lot of people having seen it in anticipation of awards. Usually when films get bumps in box office, it's on the order of a few million since they've already been out for a month or two. Last year saw American Sniper open to a massive number right after being nominated – which undoubtedly was a help but not the real reason it did so. I'd expect it to grab a great second weekend of about $32 million for a close run at first place.

Star Wars: The Force Awakens also grabbed some nominations, but no major ones, and shouldn't benefit much from those – dropping to about $23 million, as it starts to hit a major slide in its takes. Daddy's Home should drop to around $9 million, meeting The Big Short on the way up, as one of the other major Best Picture contenders grabs an audience. Horror film The Forest should fall to about $5 million, with other major nominees, Room, Carol, Brooklyn and Spotlight likely to make minor moves this weekend.