Weekend Wrap-Up
Box Office Showdown: Star Wars vs The Revenant
By John Hamann
January 10, 2016
BoxOfficeProphets.com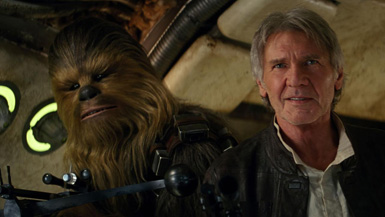 ---
Star Wars: The Force Awakens box office is like a bullet fired into the sky by the biggest gun ever built. Up the bullet went with fierce velocity; however, like all things, it must return to earth.

Following a torrid 21 days for The Force Awakens, where it broke almost every record and became the biggest domestic grosser ever, the holidays are over, and Leonardo DiCaprio's The Revenant took the space adventure down on its 22nd day, ending a long streak of absolutely dominant number ones. After earning $770 million over 21 days (averaging about $37 million per day), The Force was bound to falter, and is somewhat ironic that it is brought down by an earthy, rough, R-rated film like The Revenant.

Along with The Revenant, which prior to this weekend played on a handful of screens, our other opener is the standard early January horror film, this time called The Forest instead of Devil's Due (2014), Mama (2013), or The Rite (2011). The Forest used an effective marketing campaign and situation to play above the holdovers, but isn't good enough to break out. Awards season positioning is also happening at the box office this weekend, as films like The Big Short, Carol, Brooklyn, The Hateful Eight and Anomalisa all add screens to good and bad results. The outcome is another big overall weekend at the box office, as the streak started by Star Wars continues.

Our number one film of the weekend is again Star Wars: The Force Awakens, but it is closer to second spot because The Revenant over-performed. We knew the end of the holidays and kids being back in school were going to push The Force Awakens down on Friday, and down it went, losing to The Revenant. The Force earned $10.8 million on Friday, a loss on paper by $3.6 million to the DiCaprio film. There was no loss on Saturday and Sunday, though, as Star Wars: The Force Awakens bounced back over the remainder of the weekend, earning $41.6 million. That's off 54% compared to last weekend, which is a large but completely expected result.

Star Wars: The Force Awakens has now reached an incredible $812 million at the domestic box office. With so much earned over a short period of time, larger drops have to be expected, as even The Force can't shine as brightly as it has forever. The question now is where it finishes domestically. Normally, given its current total and the gross this weekend, I would expect a normal film to finish around or just over $900 million. However, this is the biggest film of all time, so I do expect some further holds. I believe $1 billion domestic is still in play, but we will know more after the President's Day frame.

Star Wars: The Force Awakens also opened in China this weekend, giving it an opportunity to further expand its overseas grosses, which have been neck and neck with the domestic take until now. Early results show a best ever opening day for Disney in China at $33 million, and an overseas estimate at $104 million. The worldwide gross surpassed that of Jurassic World this weekend ($1.67 billion), as the worldwide take now sits at $1.73 billion. On the worldwide scale, it now sits behind only Titanic ($2.187 billion) and Avatar ($2.788 billion), two films that are likely out of touch for the JJ Abrams film.

Finishing a very strong second is The Revenant, a film that was supposed to open to only $20 million. Instead, the Leonardo DiCaprio mix of old school storytelling and new school filmmaking almost doubled that early estimate. The Revenant got started weeks ago, on four screens, where it earned a remarkable $1.6 million over 14 days. On Thursday, The Revenant earned $2.3 million from a Thursday preview, and at that moment we knew it was going to have a large weekend. Interest was spiked through a strong marketing campaign, awards season recognition, and simply because so many were exposed to in-theater marketing materials due to The Force Awakens.

On Friday, The Revenant earned $14.4 million; however, $2.3 million of that came from previews, so the "true" Friday number was really $12.1 million, closer to Star Wars' Friday of $10.8 million. Over the remainder of the weekend, The Revenant thrived, with the Fox film earning a very strong $38 million over three days. With a price tag of $135 million, The Revenant is going to need to see an American Sniper style of success, and this debut does not match the almost $90 million opening frame that Sniper saw. However, The Revenant may prove popular overseas as well, and if it can find Oscar glory, the needed $400 million worldwide gross may still be in play. The B+ Cinemascore it earned will help, as will its 81% Certified Fresh Rating at Rotten Tomatoes. There are a ton of releases coming over the next month, so competition will be large, but The Revenant should still see an easy $100 million at the domestic box office. It has $39.6 million so far.

Third spot is Daddy's Home, the Will Ferrell/Mark Wahlberg comedy that excelled over the holidays. Now in its third weekend, Daddy's Home broke through the $100 million mark on Friday, when it earned $4.2 million, on its way to a weekend take of $15 million. That's off a severe 49% compared to the previous weekend, but we are destined to see these drops this weekend when compared to what was basically a holiday frame last weekend. The weekend gives Daddy's Home a total to date of $116.3 million, an excellent score compared to its $50 million production budget. Daddy's Home has another $38 million coming from overseas and will only grow that success in those venues.

Fourth is the new January horror film The Forest, another in a long line of cheaply and poorly made PG-13 thrillers. The Forest took in $13.1 million, a few million more than its $10 million production budget. The Cinemascore here was a putrid C, and reviews were an unkind 13% fresh at Rotten Tomatoes. Films like The Forest are January fillers, and we get another one in two weeks in the form of The Boy, which stars The Walking Dead's Lauren Cohan.

Fifth is Sisters, the Tina Fey/Amy Poehler comedy from Universal. In its fourth weekend, Sisters earned another $7.2 million, off 44% compared to last weekend. The $30 million film has now earned $74.9 million domestically, and has another $8 million so far from overseas theaters.

Sixth is The Hateful Eight, and despite adding 464 venues this weekend, the Quentin Tarantino film still falls hard. After expanding last weekend and taking in $15.7 million, The Eight lost 60% of its audience this weekend, earning only $6.4 million. I am somewhat surprised at this result given the reviews, but the B Cinemascore and the onslaught of The Revenant appear to be holding it back. The $44 million film is going to need a strong push at awards season, as it has a gross-to-date of $41.5 million.

The Big Short is seventh. The financial dramedy earned another $6.3 million, off 31% compared to the previous frame. The $28 million film from Paramount has now earned $42.8 million, and I think this one will see some award recognition and play for a while.

Alvin and the Chipmunks: The Road Chip also gets spanked this weekend. After earning $12.1 million last weekend, the Chipmunks fell 54% to $5.5 million this weekend. The $90 million Fox release now has a domestic total of $75.6 million and will need more than its current $36 million overseas haul if the studio doesn't want to wear this one.

Joy is ninth, as the Jennifer Lawrence comedy drama struggles to hold. Joy earned $4.5 million and declined 56%. The $60 million Fox drama has $46.6 million so far, but will need a lot more if the studio doesn't want a large writedown. It's just getting started overseas with $24 million, which may help bail it out.

Will Smith's Concussion is 10th. The football science drama earned $3 million this weekend and dropped 61%. The $35 million Sony release has now earned $31 million and will need some award recognition to keep it relevant.

Overall this weekend, the one-two punch of Star Wars and The Revenant keeps the overall box office going. The top 12 films earned a strong $144.9 million, well ahead of last year's $110 million, when Taken 3 led the pack. Next weekend brings an intriguing pack of films. Openers include Ride Along 2, which hopes to improve on the original's $41.5 million opening; Norm of the North, the first animated release since The Road Chip on December 18th; and 13 Hours: The Secret Soldiers of Benghazi, a new film from Michael Bay. All of these could open to $20 million plus, so it will be another interesting weekend.