Weekend Forecast for January 8-10, 2016
By Reagen Sulewski
January 8, 2016
BoxOfficeProphets.com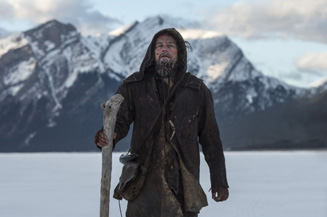 ---
With 2015 now done and committed to the memory books, we're into "Oscar hopefuls and weird throwaways" season, although January has started to show some weird, idiosyncratic life of its own in terms of new releases. One of the more challenging and strongest awards contenders goes wide this weekend, and in what is proving to be a more unpredictable than usual Oscar race, box office could tell part of the final tale.

Alejandro González Iñárritu's followup to last year's Best Picture winning Birdman might just be taking home another Oscar itself this year. The Revenant stars Leonardo DiCaprio in the true-ish story of a fur trader in the 1800s west, left for dead after a bear attack and forced to journey across a hostile wilderness. Hazards (I mean, beyond the bear) include the elements and Native Americans as well as those who left him behind and killed his young son. Filmed mostly in daunting fish-eye vision with a ton of Iñárritu's trademark long takes and first-person perspective, it's a paranoid, alienating fever dream of a movie that filled with gore and guts to boot – which is what makes it all the more surprising that it looks geared to be a hit.

A lot of this comes down to its star. DiCaprio has had a rather spectacular run of late, with only 2011's tonally odd and bizarrely make-uped J. Edgar as a blotch on his resume. Otherwise, he's taken films like The Great Gatsby, Inception, The Wolf of Wall Street and even Shutter Island to great heights. Working with great directors has generally paid off for him (*coughcough*Eastwood*cough*), and grabbing the most recent Best Director winner seems like par for DiCaprio's course, who is apparently learning from the best in marketability, like Tom Cruise.

In addition to DiCaprio, the survival story narrative is a good one if played right to audiences, and the marketing campaign has indeed not only not shied away from the intensity of the film, but embraced it. It's similar in the way to how Quentin Tarantino's films have been marketed of late, and as movie audiences seek out unique big screen experiences as opposed to just going to the movies, it's a valuable one. Combining this with DiCaprio's considerable star power and a strong supporting cast (including Tom Hardy and Domhnall Gleeson, late of Star Wars), this should be in line to build mightily on its over $100,000 per venue average last weekend to a wide release figure of about $31 million.

January horror is a thing that is apparently a thing of late, with films like Mama and The Devil Inside making their way to market in a typically dead period to modest success. To that pile of wonder we can add The Forest, the second of this week's films that posit that the wilderness will straight up try to kill you, although in this case it's by supernatural means. Natalie Dormer stars as a woman who travels to Japan to the suicide forest at the base of Mt. Fuji (a real thing) in search of her twin sister, who has fallen victim to what this film supposes is evil spirits who entice new customers into it. Things proceed pretty predictably from there and a-boogity-boogity-boo.

Reviews are predictably pretty dismal, such is the state of horror these days, but that doesn't necessarily stop horror audiences. It's all jump-scares and ghouls, although the mix of Japanese and American-style horror does have some appeal. Natalie Dormer's labored American accent aside, it does look like a passable early-year horror film and should be good for about $12 million to start.

This brings us to our new box office champ, Star Wars: The Force Awakens, which accomplished that feat on Wednesday, passing Avatar. It did so, however, in the shadow of a New Year's Weekend that showed weakness for the first time, if a $90 million weekend could be called weak. A 40 percent drop on a holiday weekend where films are generally not supposed to drop does mean that the party will end, and soon, for the Star Wars money train. It's just another fact of life for blockbusters in 2016, and everything runs hot and fast in that category. A fourth weekend win will be spectacularly simple, but with a lower-than-expected by some at this point figure of $42 million.

Following along behind will be Daddy's Home, which has beaten the $100 million mark as of Thursday, and will easily best the $119 million of The Other Guys, the last pairing of Will Ferrell and Mark Wahlberg. Let's hear it for family comedies, right? Give it about $16 million this frame.

We also have Tarantino's latest, The Hateful Eight, which graduated out of its roadshow to wide release with a modest $15 million, though long, long, long running times likely hurt that figure some. I'd expect some legs and about $10 million here.

Further holdovers include Sisters, which should be at $7 million, Alvin and the Chipmunks' latest monstrosity at $6 million, the same amount for Oscar contender The Big Short, and about $5 million for Joy, which is fading fast.