Weekend Wrap-Up
By Tim Briody
January 3, 2016
BoxOfficeProphets.com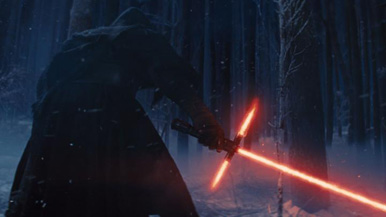 ---
With the first weekend of 2016, the great box office money train ride concludes for another year. Despite most everything else getting lost in the historic run of Star Wars: The Force Awakens, the season was not without a few other hits and a couple of misses. As we do every week, let's break down the top movies of the weekend.

The number one movie again was, of course, Star Wars: The Force Awakens. With an $88.3 million weekend, it now stands at $740.2 million after three weekends, it's just $20.5 million away from crossing Avatar as the biggest film in box office history. That will happen sometime this week, most likely with Tuesday's earnings.

After an impressive $34.5 million on New Year's Day, The Force Awakens displays a little bit of mortality for the first time in its run, falling 41% from Christmas weekend, with only $19.4 million expected today. I expect a slight underestimation there, though today is generally a day when people start to accept that the holidays are over and it's back to the grind on Monday.

As we've mentioned before, the calendar configuration is identical to 2009/10 when Avatar was released. As of this weekend six years ago, Avatar was at a mere $352.1 million, and we were questioning whether it was still a threat to Titanic at this point. The next month proved us wrong. It was also notable that Avatar had just a 9% decrease in its box office that weekend.

The Force Awakens is not Avatar, but it didn't have to be. What's clearer at this point is that The Force Awakens behaved like any other blockbuster released in the summer, but had the benefit of starting out with the largest opening weekend of all time and earning crazy numbers during a two week period where people have a bit more time to see movies. Its weekends have had fairly standard declines, which is against the norm this time of year. It's like if you dropped The Avengers or Jurassic World in The Force Awakens' release date, you'd probably get a very similar performance, albeit to a slightly lower magnitude. While spinoff Rogue One is out next December, I almost wonder if it's a mistake to release episodes 8 and 9 over Memorial Day weekend in 2017 and 2019. There's almost zero chance that the box office runs of those movies will be just as magical.

The Force Awakens will continue to be the most amazing box office story to watch over the next few weeks, and we'll be here to cover it when it passes Avatar as the highest grossing film in history early in just a couple of days.

Second place is Daddy's Home, the hit comedy from Will Ferrell and Mark Wahlberg, it added another $29 million on the weekend, off just 25% from last weekend, giving it $93.6 million since Christmas Day. That's an excellent total for the $50 million production, which will pass $100 million this week, becoming the 28th and final film of 2015 to do so. I do love that despite being in the era gargantuan openings, $100 million still means something. With Sunday's earnings, Daddy's Home crosses Get Hard, capping a decent year for Ferrell, and it's a good rebound in the comedy department for Wahlberg after Ted 2 disappointed earlier this year. It's probably headed to $125 million total.

After a successful run with a 70mm roadshow release last weekend, Quentin Tarantino's The Hateful Eight expanded to digital theaters on Wednesday and took in $16.2 million over the weekend, giving it a total of $29.5 million after 10 days in theaters. That's a decent enough opening, but it is not going to match the $162 million of 2012's Django Unchained, which is his most successful film to date, nor will it match the $120.7 million earned by Inglourious Basterds. Despite good reviews and some claims that this is the best film of his career, The Hateful Eight is probably looking at a total similar to his Kill Bill films, which earned $70 million and $66.2 million respectively.

Sisters, the film that this year best embodies the spirit of The 12 Days of Box Office, is fourth with $12.5 million, down just 12% from Christmas weekend. Opening against Star Wars to $13.9 million, the Tina Fey/Amy Poehler comedy has now earned $61.8 million in three weekends of release. That's textbook for what the last ten days meant to movies. Star Wars kind of blew the curve a little bit, but as we've said for 15 years, it's the high tide that rises all boats. It's downhill from here, but it only cost $30 million, so even a final landing spot of $85 million is just great.

Alvin and the Chipmunks: The Road Chip was another beneficiary of the holiday season, adding $11.8 million (off 10%) and giving it $67.3 million after three weekends. It will be the lowest earner in the Chipmunks franchise, which is now sadly four movies deep, but if they can convince Jason Lee to come back for another, I'm sure we'll see a fifth within the next couple of Decembers.

Joy, starring Jennifer Lawrence in another attempt to win an Oscar, is one of the few victims of audience rejection over the weekend, down 39% from its opening weekend to $10.4 million and $38.7 million after two weekends. That's a hit to its Oscar chances for anything other than Jennifer Lawrence and it really doesn't bode well for the film's performance from here. The David O. Russell film is looking to finish with about $60 million.

The Big Short held well with $9 million, down 15% from last weekend. Still in just 1,585 theaters, the likely Best Picture nominee is at $32.9 million so far as it eyes a future expansion. If it gets anything other than Best Picture (it's an ensemble film so any acting votes are probably being split), it stands to do very well in January.

Will Smith's Concussion is in eighth place with $8 million, a 27% decline from Christmas weekend, and it now stands at $25.3 million so far. Once the king of the action movie, Smith likes to opt for heavier films in December (The Pursuit of Happyness, Seven Pounds, etc.), and the results have been mixed. Concussion is probably looking at $50 million at best, which doesn't even match February's Focus, which took in $53.8 million and was considered a box office disappointment as well.

The remake of Point Break takes ninth place with $6.8 million, which is off 33% from last weekend and gives it $22.4 million in ten days of release. Also largely rejected by audiences wondering if this was even necessary, it's going to vanish quickly now that it's no longer propped up by the holiday box office season. It will be lucky to earn $40 million by the time it's done.

In tenth place we have our only non-December release, The Hunger Games - Mockingjay Part 2. It drops 12% from Christmas weekend to earn another $4.6 million which gives it $274.2 million after seven weekends in theaters. Still significantly the lowest earner of the four Hunger Games movies, Mockingjay, despite losing a lot of screens with the release of Star Wars and the Christmas releases, still managed to earn at least $1 million every day in the last two weeks except on Christmas Eve. The Twelve Days of Box Office strikes again, giving Mockingjay a respectable box office total.

While the holiday good times are over, there's still excitement to be had next weekend as Leonardo DiCaprio's The Revenant expands to wide release. It has quietly earned $1 million since Christmas in its four theater NY/LA Oscar qualifying release, and next weekend it's expected to be in over 3,000 theaters. Considered a lock for a Best Picture, Best Actor and Best Director nomination, could it be the movie to knock The Force Awakens out of the top spot? Or does the honor go to Ride Along 2? Stay tuned as we also continue to track The Force Awakens as it becomes the #1 box office film of all time and perhaps the first to crack $1 billion domestically.