The 12 Days of Box Office - Day Six
Weekend Wrap-Up: Star Wars, Overall Box Office Sizzle and
By John Hamann
December 27, 2015
BoxOfficeProphets.com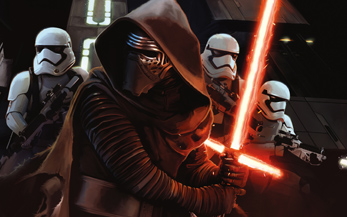 ---
Wow. That Star Wars magic is everywhere now.

The box office record book is in shambles again this weekend again as Star Wars: The Force Awakens continues to roll, lifting all of the individual titles and overall box office to amazing heights again. The top 12 films have six new entries on the list, and none of them truly failed, although Point Break wobbled. We also have two of the biggest ever limited releases in The Hateful Eight and The Revenant. There is a ton of box office news today, but the lead is the same as last weekend, as The Force Awakens continues to dictate.

To start the weekend, Star Wars: The Force Awakens continued its historic run on Christmas Day, grossing an incredible $49.3 million, obliterating the previous record for a Christmas Day take (Sherlock Holmes and his $24.6 million gross are now a very distant memory). As BOP's Tim Briody said yesterday, that Friday score when compared to The Force Awakens opening day of $119.1 million was off a severe 59% - however, once the $57 million in Thursday preview amounts are stripped out, last weekend's "true" Friday was really $62.1 million, which means the Friday-to-Friday drop was actually 21%. At the monetary levels being thrown around here, that hold is simply spectacular. Comparisons to Jurassic World and Marvel's Avengers are now really moot, and the only comparisons left are the two James Cameron blockbusters, Avatar and Titanic. We are in a rocket to the moon that is currently racing past mountain climbers.

Yes, Star Wars: The Force Awakens is simply leaving The Avengers and Jurassic World behind, as with every day that passes, these films fall further and further behind, despite the fact that they are the #3 and #4 biggest domestic grossers of all time. As of end of business on Friday, Star Wars was $140 million ahead of The Avengers and $115 million ahead of Jurassic World, and that spread was set to increase as the weekend continued. To be honest, I thought the pace of The Force Awakens would have slowed by now, with the advance tickets now being used up, and records for fastest to $100 million, $200 million, $300 million already being set.

On Friday, The Force Awakens did it again, crossing the $400 million mark in record time, hitting it in only eight days. Jurassic World completed the same feat in 10 days - but that 10 days takes into account two full weekends, whereas Star Wars only had a weekend a third to accomplish the same feat. In movie history, only 18 films have crossed the $400 million mark, and The Force Awakens did it in a little over a week, averaging $55 million a day. With the calendar configured for a Christmas Day Friday for the first time since 2009 (when Avatar was hot) that was not going to be the only record that fell this weekend.


Like last weekend, the interesting day was going to be Saturday. We've known for a long time that Christmas Day was one of the four big advanced tickets sale days for The Force Awakens, so the question was whether it could climb beyond that $49.3 million Friday. Remarkably, it did, earning $56.6 million Saturday - an 15% increase over Friday. Sunday was estimated at $47.6 million, which means the weekend tally for The Force Awakens finished at a simply astounding $153.5 million. Domestically, it has now earned a staggering $544.6 million.

Compared to that awesome $248 million opening weekend, Star Wars: The Force Awakens fell 38%. However, if we strip the $57 million in Thursday preview amounts out of that opening take, the number comes down to $191 million. This weekend's drop compared to that amount is a tiny 21%, especially relative to the incredibly high numbers we are talking about here. Had the $153.5 million gross this weekend been its opening weekend, it would have finished 10th amongst the biggest weekend of all time, just ahead of the original Hunger Games, which earned $152.5.

Also, after crossing $400 million on Friday, The Force Awakens also crosses the $500 million mark on Sunday, in only 10 days. Jurassic World hit that mark in 17 days, Avengers in 23 days, Avatar in 32 days, The Dark Knight in 45 days, and Titanic in 98 days. Those are the only films ever to cross the $500 million plateau, and The Force Awakens did it in only 10 days. Inconceivable.

The question that is left now is where The Force Awakens finishes. It's likely going to earn another $100 million before next weekend begins, and will likely earn another $100 million next weekend. That means that Star Wars: The Force Awakens will be the second biggest domestic earner ever by the end of next weekend (17 days - or less), if these patterns hold. Avatar finished with a domestic total of $760.5 million ($749 million from its initial release), a record that should fall by Martin Luther King Jr. day. The much harder number to catch will be Avatar's awesome overseas totals. It earned over $2 billion from overseas theatres alone. Currently, The Force Awakens has earned $546 million overseas, making it the fastest to one billion worldwide. The Star Wars versus Avatar race to watch is going to be the global cume, where Avatar earned $2.8 billion. Star Wars: The Force Awakens earned a billion in 10 days, *easily* the fastest any film has reached that mark.

Finishing a very decent second is Daddy's Home, the new comedy with Will Ferrell and Mark Wahlberg. While an extremely distant second, the comedy also over-performed significantly, which really shows how a super-blockbuster like The Force Awakens can lift the overall box office. After getting started on Friday with a $15.7 million Christmas Day (the third biggest Christmas Day opening gross ever), the Paramount comedy went on to have a huge weekend. It pulled in $38.8 million over three days, which puts it in the top 20 December openers of all time (Ocean's Eleven is #20 with $38.1 million). Out to 3,271 venues, Daddy's Home had a strong venue average of $11,862. Will Ferrell, who was constantly on TV in Elf over the lead up to Christmas, scores his second biggest debut of his career, his best since Talladega Nights: The Legend of Ricky Bobby hit $47 million in August of 2006. For Mark Wahlberg, this is his second biggest comedy opening behind Ted, which opened to $54.4 million in June 2012.

Daddy's Home cost Paramount, Nickelodeon, Red Granite and Gary Sanchez Productions about $50 million to make, which means it is going to make a fortune for the companies involved. Remember the season, as Daddy's Home is going to finish second for the next week, likely making $5 million a day. It should hold extremely well next weekend, and has little comedy competition until Ride Along 2 opens on the 15th. There is a reasonable expectation that Daddy's Home could get to $200 million, which will make producer Adam McKay the second biggest flavor of the month at the box office. McKay also directs The Big Short, which also had a big weekend, and could vie for Oscar in the months to come.

Third spot goes to Joy, which is directed by David O. Russell and stars his team - Jennifer Lawrence, Bradley Cooper and Robert De Niro. These four have now done Silver Linings Playbook, American Hustle (De Niro was in it, but uncredited) and now Joy. This is not your mother's Hunger Games - this is a straight drama, a rags to riches story, where governments do not fall and nothing blows up. Forgetting Serena, which nobody saw, Lawrence hasn't done straight drama since 2013's American Hustle, which made Sony a quarter of a billion worldwide, against a $40 million budget. In my mind, Joy is a tougher sell, a story about a woman who stormed QVC with the Miracle Mop. Still, it's Jennifer Lawrence and Bradley Cooper, so anything goes. American Hustle earned $19.1 million when it wide in December 2013, so the line had been drawn.

On Friday, Joy got started with $6.9 million, a few hundred thousand ahead of where America Hustle started ($6.5 million). This was a better debut than expected, as reviews were decidedly mixed (58% fresh at Rotten Tomatoes). The Cinemascore landed at a B+, though, which was the same score earned by American Hustle. Audiences responded to Joy, and the result was a weekend haul estimated at $17.5 million, as JLaw turns what could be trouble into a minor hit. Joy cost Fox $60 million, so the distributor will have to turn a good start into a strong run for this one to see a profit.

Sisters had a strong follow-up to its debut frame, as several former Saturday Night Live stars have big weekends. The second weekend for the Tina Fey/Amy Poehler came in at a strong $13.9 million, even with last weekend. The small $30 million comedy from Universal has now pulled in $37.1 million and will continue to roll for another week.

Alvin and The Chipmunks also had a strong second weekend, as The Road Chip dropped just slightly from last weekend's opening take. The fourth Alvin film earned $12.7 million this frame, after opening last weekend to $14.3 million. It dropped only 11%, and the $90 million film now has a domestic take of $39.4 million.

Will Smith pushes Concussion, the straightest drama in the bunch, above $10 million over the holiday weekend. Concussion earned $11 million this weekend from 2,841 venues, and despite the lower score for Will Smith, this feels like his first win in a very long time. This one is 60% fresh at Rotten Tomatoes, but managed an A Cinemascore, the best score amongst new releases this weekend. This one cost $35 million to make, and appears to be a good bet at this point for Sony.

The Big Short is seventh this weekend, but is out to only 1,585 venues, and despite the lower count, is still playing with the big boys. Paramount expanded The Big Short on Wednesday from eight venues, and on Wednesday and Thursday combined, earned $4 million. On Friday, it earned $3.8 million, and turned that into a weekend take of $10.5 million. With that lower venue count, The Big Short earned a venue average of $6,637. Despite a plot that might seem a little dry, The Big Short still managed an A- Cinemascore, and is a film I would really like to see over the holidays. The Big Short cost $28 million to make and has so far earned $16 million.

Point Break may be eighth, but even it managed a decent score. The extreme sports remake pulled in $10.2 million, and given the $105 million budget, one might have cause for concern. Point Break has already opened in China, earning $40 million in that one country alone. If it can eke out $50 million stateside, $100 million in China and $100 million from other overseas locations, this one should be closer to fine than it has any right to be.

Ninth goes to The Hunger Games: Mockingjay Part 2, which is hanging in there to gain a few extra dollars toward the end of its run. It earned $5.3 million, a 10% decline from last weekend. It has earned $264.6 million domestically and $352.2 million overseas. Creed is our 10th place film, earning $4.6 million as it declined 8% from the prior frame. It's inches away from $100 million, with a $96.3 million total.

The Hateful Eight finishes comfortably in the top 12 despite having a venue count of only 100 theaters. The Quentin Tarantino flick earned a serious $4.5 million from those 100 venues, giving it an awesome venue average of $45,366. Tarantino made this one for only $44 million, and it's going to have a long, healthy run as it heads towards awards season.

In limited release this weekend, The Danish Girl expanded to 400 venues and earned $1.5 million, giving it a venue average of $3,416. Carol expanded to 186 theaters and earned $1.1 million, giving it an average of $5,944. The big hitter though was The Revenant, which started at only four venues, and it earned $471,000 - giving it an outstanding average of $117,750.

The story of the weekend, though, is the overall box office, what with a sizzling eight films earning more than $10 million and Star Wars doing what it did. The big films did big business, and the smaller films also did big business, leading the top 12 to an almost miraculous $286.4 million.

The last time Christmas fell on a Friday, Avatar led the top 12 to $259.9 million, and last year, the top 12 came in at a mere $187.4 million. Next weekend is set to be a repeat of this weekend, as no new films enter the marketplace.