The 12 Days of Box Office - Day Five
By Tim Briody
December 26, 2025
BoxOfficeProphets.com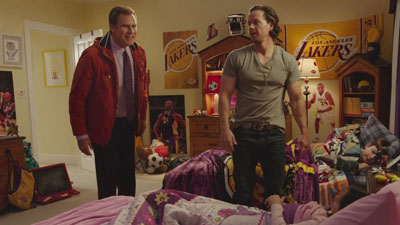 ---
It was a heck of a Christmas Day at movie theaters everywhere, and not just because Star Wars: The Force Awakens was setting yet another record. Four new wide releases, a notable expansion, a widely anticipated limited release and the films released last weekend that were not named Star Wars benefiting from Christmas. And the best part is that nothing outright flopped. It's a special (and clearly very, very crowded) time of year at the theater.

Star Wars: The Force Awakens

With another $49.3 million on Christmas Day, Star Wars: The Force Awakens continues to be a juggernaut, with $440.3 million in its first seven days of release. And much like what happened to every other weekday record this week, that number is the best Christmas Day ever, more than doubling the $24.6 million earned by the first Sherlock Holmes movie in 2009. That was also the last time Christmas fell on a Friday, so we'll be looking back at that year again in a bit.

So, yeah, $440 in seven days. For amusement, the current all time domestic box office champion, Avatar, had earned $160 million at this point. It was what happened in the following 10 days that launched it to the stratosphere. Star Wars is already way, way beyond that. Barring something really bizarre, it's only a matter of time before we've got a new record. And that might only be a few days into 2016.

(Something else to keep in the back of your mind for the next several weeks: Despite its historic run, Avatar was bumped out of first on Christmas Day by the aforementioned Sherlock Holmes, but then regained the #1 spot for 44 of the next 48 days.)

The Christmas Day earnings for The Force Awakens gives it a Friday to Friday drop of 59%, but that includes the ridiculous Thursday figure. Using the true Friday figure, it's only down 22%, which is remarkable given the size of the numbers involved. It's probably one of the largest week to week declines in Christmas Day box office history, but given that nothing like this has ever happened before, we'll let that one slide.

One of basics of box office that we've stressed here is that when the numbers get larger, the typical patterns don't apply. They're just not sustainable over the long term. The Force Awakens is laughing at that assumption. It's behaving like any mid-tier release, but doing it while setting box office records. There is an insatiable appetite for this movie and now we're headed into the ten best days of box office of the entire year. Things are about to get crazy. Well, crazier.

Should it follow the path Avatar took on this weekend, it's $161.4 million in its second weekend. Again, it doesn't seem very likely given the size of the numbers involved, but after the last week, it's hard to rule anything out at this point, and a weekend of $155 million is probably a safe bet.

Daddy's Home

The Will Ferrell and Mark Wahlberg comedy is the other big winner on Friday, with a Christmas Day of $15.7 million. A great comedic option for the male demographic (and potentially drawing some female audiences away from Sisters), this is a great start and sets it up for a nice run over the next 10 days. A weekend of $42.3 million is an excellent start.

Joy

The Oscar bait biopic, starring Jennifer Lawrence starts with a decent $6.8 million on Friday. With a Golden Globe nominee for Best Picture and Best Actress, it's currently on the outside looking in with regards to an Oscar nomination for anything other than Lawrence, but it's going to be a solid holiday performer. $19 million for the weekend is a good start for the David O. Russell film.

Concussion

The medical drama (dubbed the feel good comedy of the year by Roger Goodell) starring Will Smith started with $4.3 million on Friday. Smith still has a modicum of star power and I'd attribute the earnings on this one entirely to him, but I'd be willing to bet more people will watch football today and tomorrow than buy tickets to this. Give it a weekend of $11.1 million.

Point Break

The entirely unnecessary remake of Point Break earned $4.1 million on Christmas Day. Not screened for critics and currently rocking a 5% Fresh rating at Rotten Tomatoes, the high tide that is the 12 Days of Box Office will rise all boats, including this one, sending it to a respectable total by the time it's over. Look for a start of $10.6 million.

The Big Short

Expanding on Wednesday to 1,500 theaters after an NY/LA release, likely Oscar nominee The Big Short earned $3.7 million on Christmas Day, giving it a total of $9.2 million to date. It'll have a weekend of $9.6 million and will see further expansion in the near future.

The Hateful Eight

Quentin Tarantino's latest opus starts in just 100 specially outfitted 70mm theaters and earns a rather outstanding $1.9 million prior to its digital wide release next weekend. While this number is mainly due to the premium priced roadshow presentation tickets, it's still a great opening day. A weekend of $5.7 million is an excellent start.

Notable Holdovers

Sisters is a textbook example of a Christmas performer, off just 6.1% from last Friday with $4.6 million despite some direct comedic competition from Daddy's Home. That's what these next several days are all about. A weekend of $13.3 million is a solid hold and then it gets another week of strong earnings.

Finally, Alvin and the Chipmunks: The Road Chip drops 13.6% from last Friday to earn $3.5 million on Christmas Day. The Squeakquel had opened on this weekend in 2009 so it doesn't work as a good comparison, but the fourth Chipmunks entry will be a solid earner over the next 10 days as it's the only film directly aimed at kids maybe too young for Star Wars (who are probably seeing The Force Awakens anyway), so a weekend of $12 million is in store here.