Weekend Forecast for December 25-27, 2015
By Reagen Sulewski
December 24, 2015
BoxOfficeProphets.com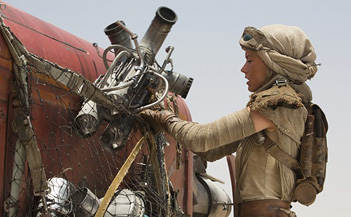 ---
And now we plunge headlong into the Christmas box office season, albeit with a more of a hodgepodge group of new films that steer away from any kind of tentpole nature. You can probably guess why that is, although to me it's an unnecessary precaution by studios with the nature of Christmas box office. Thus, it's Star Wars and Misc. for Christmas movies this year.

The one with the best overall prospects is a reunion of an unlikely but productive comedy team, with Will Ferrell and Mark Wahlberg coming back together for Daddy's Home. Ferrell stars as the second husband of Linda Cardellini and her two kids (who despise him, mostly), who faces a tremendous challenge to his status by the return of Wahlberg's bad boy/unreliable dad. As the games begin, this leads to ever-increasing levels of antics which spin out of control in Ferrellian fashion.

A comedy of the cringe variety, it appears to be another in the line of films where Ferrell shows up to set with close to nothing and attempts to spin gold out of straw. When it works (Anchorman), it's amazing, but when it doesn't (Anchorman 2), it's kind of a dirge to get through. Daddy's Home appears to be more of the latter, with jokes about hitting cheerleaders in the face with a basketball being the highlight. Admittedly, the overall premise of Responsible Schmuck Ferrell being contrasted against Irascible "All That Is Man" Deadbeat Wahlberg has some promise, but the execution of said idea leaves a bit to be desired. We're not quite in Ferrell's hubristic Land of the Lost territory here, but it's clearly lesser Ferrell, and there's likely not much urge to see it beyond Ferrell-superfans. I'd expect around $18 million as an opening weekend.

In the "respectable drama" department, we have Joy, the third collaboration between Jennifer Lawrence and David O. Russell, which sees Lawrence as the head of a matriarchal business dynasty over four generations. Also starring Bradley Cooper, Robert De Niro, Diane Ladd, Isabella Rossellini, Virginia Madsen and... Susan Lucci..., it's billed as a sweeping tale about family and power and is clearly banking on the goodwill from Silver Linings Playbook and American Hustle carrying the day. However, it is extremely difficult to tell from the ads just what this film is actually about, and without raving critical support (it's managed a few things here and there, including a couple of Golden Globe noms), we're sitting at "Hey, it's Jennifer Lawrence, and she's doin' stuff!" This might actually be enough for some people, but it's going to keep it from really breaking out, at least at first. Honestly, if it was fantastic, I think we'd be hearing a little about it by now, so... yeah. I expect about $13 million here.

The Big Short opens Wednesday in a "national" release, but still wide enough to qualify as within reach of just about everyone. Based on Michael "All of my non-fiction books get adapted" Lewis's book about the 2008 banking crisis, it follows a group of oddballs who saw it all coming and engineered a way to make millions off it. With a tremendously star-studded cast of Brad Pitt, Ryan Gosling, Steve Carell, Christian Bale, Marisa Tomei, and Melissa Leo, it's a slightly comedic take on just how topsy-turvy and insane the financial system got prior to the crash – and how it hasn't really changed. It's a strange mix of a film, which on the surface looks like it should be a prestige film, but can't shake a strange tone.

Director Adam McKay... of Anchorman fame... heads this and seems to have delivered a solid, if unspectacular take on the material. In a couple of weekends of limited release, it has produced okay numbers, but will need worth-of-mouth to carry it through to awards and larger success. This weekend, I expect about $12 million.

Will Smith movies have a good relationship with Christmas time, but Concussion is not exactly that kind of film. The story of the doctor who discovered the link between football head trauma and CTE, the brain disease that is ravishing its way through the pro ranks and his battles with the NFL for recognition, it is not anything in the way of "feel good," but very much an Important Story. Smith plays Dr. Bennet Omalu, who faced stiff opposition in his research, no doubt in part to being African, and in large part because it's the NFL, with billions of dollars at stake.

Concussion is billed to some degree as "the film the NFL doesn't want you to see," but also was made in consultation with them, so it's kind of confusing, not to mention that a whole bunch of ads ran for it during NFL games. As an Earnest Issue Drama, Concussion is hoping to tread some of the same path as The Insider and Erin Brockovich, but does not appear to really have the same impact on the big screen. While likely well-acted and competently produced, it's sort of just there, despite its big names (including Alec Baldwin, Albert Brooks, David More, and a weirdly miscast Luke Wilson as NFL commissioner Roger Goodell). While there's been a ton of ad support, it's not the kind of topic that really brings people out without critical acclaim, and I think it should open with a modest $11 million.

In the "unnecessary remake" file, we have Point Break, which adapts its "undercover FBI agent gets too close" story to modern times and moves from the world of surfing to extreme sports. Edgar Ramirez and Luke Bracey play the Swazye and Keanu parts respectively, capturing the "brashly suave" and "earnestly wooden" acting profiles pretty exactly. In this version of the film, Ramirez is the leader of an anarchist group that robs banks, then distributes the funds via plane drop to impoverished areas, then has a bit of a thrill ride while he's at it.

The question might be why remake this at all, but savvy film viewers will note that it was remade in all but name as The Fast and the Furious, a franchise that has now made enough money to become its own economy. This Point Break takes the DP from the first film of that series for its director, so he at least knows of what he talks about. Truth be told, the stunts actually look interesting, but that's difficult to hang a film on these days without a solid name in either of the lead roles. Review-wise it's been held from critics, for the most part, and looks like a bit of a dud, so about $8 million seems right here.

Which brings us to the 500 pound gorilla, Star Wars, the film that shattered the opening weekend record with $248 million in its start. While Christmas lifts even the mega blockbusters – look back at things like Avatar, the Lord of the Rings films, even I Am Legend, a straight repeat of that weekend just isn't happening, for multiple reasons. For one thing, $57 million of that was tied up in Thursday night sneaks, which simply won't happen this time around. Furthermore, a lot of last weekend's performance came from a rush to see the film before it became spoiled by all and sundry. And while most fans are at least satisfied with the film, there's a small amount of pushback against it as being a pretty big retread of A New Hope. Mind you, we're starting from a massive, massive number so it's a massive number for weekend two just to start with. Taking the "true" Friday number of $62 million as a starting point, I expect a spectacular Christmas Day followed by a larger drop over the rest of the weekend, with about $133 million in store here.

Our returning films should fare a little better relatively speaking, as they don't have front-loaded audiences to deal with. Alvin and the Chipmunks should use its family friendly (quote-unquote) audience to good use, improving somewhat to about $18 million this weekend. The Tina Fey/Amy Poehler comedy Sisters will get a slighter uptick to $14 million.

Faring well will be films like Mockingjay Part 2 and The Good Dinosaur, whose audiences were both hurt by the opening of Star Wars and gain from their audiences now having extra free time. I expect about $8 million for both, while Creed should see a nice jump to $7 million.