Top Chef Recap
By Jason Lee
December 23, 2015
BoxOfficeProphets.com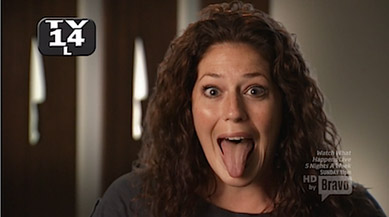 ---
We check back in with the cheftestants as they head to their next set of challenges from Los Angeles to Santa Barbara to Palm Springs, which if you're at all familiar with Southern California, will surely leave you scratching your head (just Google Maps it).

As the cars trundle down Interstate 10, one chef wonders aloud what Palm Springs is like. "Lotsa gay, lotsa old people," Jason informs them. Sounds right to me. Jason notes that his friends go down to what he describes (accurately) as a "gay mecca." They "spend the weekend and drink white wine spritzers." Okay, now we're just delving into stereotypes.

Instead of heading to one of Palm Spring's famous resorts, the cheftestants are dropped off in the middle of the desert (Welcome to California!). Meeting them are Padma and Jose Andres, along with a lot of mirrored contraptions. Padma informs us that, in the spirit of Palm Springs' commitment to clean energy, they'll be using the cleanest energy available to cook their dishes: solar power.

Jose explains that next to each cook station is either a solar oven (a long silvery tube swaddled in mirrors), or a solar stove (hot plate atop mirrors). The chefs draw knives to find out which apparatus they'll be using before kicking off their dishes in an effort to win immunity. As they get started, Jose reminds the chefs that they'll need to orient the mirrors to the sun to get any type of heat.

As the Quickfire progresses, there's an interesting number of calamities. Giselle tries to make some couscous in her oven and adds water to the tube, which almost instantly explodes, sending shards of glass everywhere. Keeping with the "how do these things work?" theme, Grayson has no idea how to work her oven, forgetting to orient it to the sun. She reminds me a bit of my mom trying to work her first non-flip phone. Meanwhile, Hipster Phillip wanders out to the mountains behind him and picks up a big grey stone. He's going to use it as a serving platter for his RAW OYSTER dish. Ick. Such a bad idea. Does he not realize how much heat that stone is gonna soak up?

Padma and Jose visit each of the 14 remaining chefs, and I won't bore you with the details. Suffice to say that the three chefs with the worst dishes are Grayson (her skirt steak and tomato salsa is far too dry), Giselle (her Mediterranean couscous just didn't come together after the explosion), and Phillip (who Padma calls out specifically for the disgusting texture of his oyster and Italian sausage).

On top are Jeremy (his seared halibut with pickled mushrooms had beautiful simplicity), Wesley (his shrimp with coconut broth paired salty-sweet in a great way), and Isaac (who had the balls to cook CORNBREAD in his solar oven).

I predict that Jeremy wins but instead immunity goes to Messy Wesley. Good for him. After narrowly avoiding elimination last week, he's managed to turn things around quickly.


On to the Elimination Challenge. The chefs who got to use solar stoves are paired up as one team (Blue), while the chefs who used the solar ovens constitute the other team (Orange). While the judges and some Top Chef friends are busy enjoying a game of golf, the cheftestants will be serving up the food. Each team will prepare a four-course progressive meal, with each dish served out of a refreshment cart. Each team confers and quickly agrees on a direction - Blue will focus on vegetables, while Orange will incorporate Latin flavors.

While Blue has little trouble deciding which chefs will prepare which dishes, there's drama on the Orange team. Initial pairings leave Angelina and Giselle to form one duo, but Angelina puts her foot down. She is not interested in working with Giselle for a third challenge. Giselle (needless to say) feels the same. Things are quickly rearranged and it'll be Grayson who'll work with Angelina.

After some uneventful shopping at Whole Foods and a few hours of relaxing in the pool that night, the chefs head to the golf course for cooking in the morning. The first two pairs quickly realize that they're both making ceviche, which makes sense given how hot it is out there. The Blue Team (Karen and Jeremy) serve up a citrus marinated halibut with kumquats. John Besh calls it outstanding, Padma dubs it delicious, and Tom loves the flavors. Everyone appreciates how cold the dish is, which is the result of Jeremy's bright idea to serve a bowl of ceviche atop another bowl filled with ice.

The Orange Team's (Kwame and Chad) ceviche doesn't fare as well. Jose Andres finds it a bit too warm, Tom says the dish is a bit too sweet, and Mary Sue Milliken can't find any sweet potato flavor in the purée.

The second dishes feature Jason and Marjorie on the Blue Team, and Grayson and Angelina on the Orange Team. Again, the two teams serve similar dishes, with the Blue Team getting the better of the Orange Team. Jason and Marjorie have a grilled shrimp with summer squash, which Jose compliments as very fresh, Padma calls delicious, and Richard saying the vegetables are perfect.

Meanwhile, Grayson and Angelina have avocado, chorizo, shimp, and corn. Jose dislikes their use of corn, wishing that they'd left it uncooked to bring a bit of freshness to the dish. Despite having time to tweak their dish in light of this feedback, Grayson decides to leave the dish the same. When served up to Tom, he expresses desire for more acid in the dish. Mary Sue also dislikes the way the corn is incorporated into the dish, calling it undercooked, which results in the corn husks sticking to the diners' teeth.

The third dish from the Blue Team comes from Wes and Carl. They serve a roasted pork loin with yogurt and grapes. Jose questions the decision to cook the grapes, adding that raw grapes would have brought something cold and fresh to the palate. Wes and Carl take the hint and change the dish accordingly, which results in Tom calling it "really tasty," and Richard comparing it favorably to a restaurant dish, not one cooked on a golf course.

For the third time in a row, the Orange Team can't keep pace. Giselle and Amar have a spice-rubbed New York strip steak with bacon and potato salad. Jose doesn't find that the two elements come together to form a cohesive, enjoyable dish. Tom wishes that the flavors from the marinade came through more strongly, saying that all the flavor derives from the salsa verde.

The teams finish up with dessert, and both chefs (Phillip for Blue and Isaac for Orange) are struggling with the wind. Neither chef can keep his respective burners lit or his bowls on the plate. Isaac goes first and offers up a grapefruit sabayon with tequila whipped cream and lemon almond crumble. Jose and Tom both enjoy the dish but wish there was more grapefruit flavor, and Richard adores the texture of the dish.

Meanwhile, Phillip is the first chef on the Blue Team to come up short against his Orange team counterpart. He's doing his take on a recipe from his wife, with coconut pudding with strawberries, basil, and a rum-lime foam. Jose questions whether the coconut and strawberry work together, while Richard and Tom both question the lack of texture in the dish.

In my mind, the Blue Team has clearly won the day, despite the slip up from Hipster Phillip, and Padma confirms it. Tom compliments the chefs for putting out some really good food, noting that a few dishes were spectacular, before Padma announces the Blue Team as the winning group. One dish within that group, she continues, stood out above the rest: Jeremy and Karen's ceviche. Tom loved the clean and fresh flavors, while Richard loved the presentation of the dish. As for the individual win, it goes to Jeremy for the somewhat arbitrary decision (it seems to me) to serve the dish atop bowls of ice.

This instantly sends Jeremy to the top of our yet-unpublished Power Rankings, with two Elimination Challenge wins out of four episodes so far. He's definitely someone to watch.

Meanwhile, Tom consoles the Orange Team, saying that they didn't serve up a bad meal, they were just "out-classed a little bit" by the Blue Team. Padma notes that they were all solid dishes, except for one, which was "clearly inferior": Grayson and Angelina's shrimp.

Grayson is somehow perplexed. "I really liked the dish, I'm trying to think of why [you didn't like it]," she says. Tom notes that the dish incorporated fatty avocado, fatty chorizo, and not enough lime to cut through all of that. Grayson defends her decision to leave the corn the way it was, not incorporating any raw corn. On the other side of the dish, Tom criticizes Angelina's cooking of the shrimp as over-marinated and "kind of rubbery."

With errors on both sides, Tom says that one ingredient set the dish apart from those served by the rest of the team, and that one ingredient will govern the judges' decision. That ingredient is corn, and thus results in Grayson going home (and Angelina dodging a bullet for four episodes out of four. She should audition for a Wachowski movie.).

But not without a fight. "We both got the corn," she protests as she shakes the judges' hands, "we both decided to put it in."

"You cooked it," Tom responds.

"Fuck that shit," Grayson mutters as she walks out of the room.

In her departing monologue, she says she's "furious" that the "judges completely blamed [her] for the dish." She asserts, though, that she's "fine" with taking the fall - using a tone that makes it clear how not "fine" she is with it. This is not "Angelina's first rodeo, I've been on this earth longer than her and I've been in kitchens longer than her, so the fact that the judges chose me to go home when they damn well know I'm a very seasoned chef, it boggles my mind."

"One little kernel of corn," Grayson acknowledges, "can send you home." That's true, and I'm sorry she feels cheated by the judges' decision. But I certainly won't miss her whining and complaining. Have a nice trip back home, Grayson.