Weekend Wrap-Up
An Irresistible Force Awakens the Box Office
By John Hamann
December 20, 2015
BoxOfficeProphets.com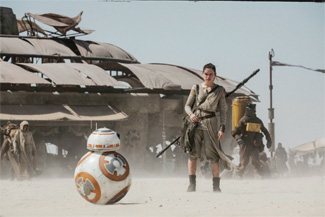 ---
We knew it was going to be big, but not this big.

Star Wars: The Force Awakens finally opened this weekend, and the result is out-of-this-world. The record breaking smash is bigger than expected, and will usher in a new era at the box office. The three-day box office score came in at scintillating $238 million. Only the top 106 films in all of box office history have earned more than that in their entire domestic run.

This is a big day in box office history, like the day the 1989 version of Batman opened to $40.5 million, or the day when the 2002 version of Spider-Man debuted to $114.8 million. This weekend, The Force Awakens had a Thursday preview amount that was more than Batman's weekend gross, and a first day that was bigger than Spider-Man's weekend take. The Force awakened the box office record book this weekend, and set itself up to become one of the biggest films ever released.

As everyone on the planet knows, Star Wars: The Force Awakens got started on Thursday night for real, as those who had been sweatily gripping their advanced tickets gained access - and the word-of-mouth onslaught began. Thursday night sales, which started at 7 p.m, amounted to a ludicrous $57 million, giving The Force Awakens its first record of the weekend. It absolutely trounced the $43.5 million that Harry Potter and the Deathly Hallows Part 2 earned from its preview. Thursday's $57 million put it 134th on the biggest opening weekends of all-time list, beating the three-day score of big films like Despicable Me, Mission: Impossible - Rogue Nation, X-Men: First Class and How the Grinch Stole Christmas. The Force Awakens had not played for a full day and was already huge.

The combined Thursday/Friday number was sure to be the biggest ever, as the $57 million push was guaranteed to get it past the record $91.1 million that The Deathly Hallows Part 2 earned on opening day in 2011. The opening day for The Force Awakens came in at an astounding $120.5 million, as it smashed the record by almost $30 million. Had that number been its weekend gross, it would have put it in the top 20 openings of all time, squeezing between Shrek the Third ($121.5 million) and Man of Steel ($116.6 million). At this point, Star Wars: The Force Awakens was about $40 million ahead of Jurassic World and The Avengers, which had opening days of $82 million and $80.8 million respectively - but an interesting piece of data came with that record-breaking Friday number.

That interesting data comes from The Force Awakens "true Friday" - the Friday number without the preview amounts included. That number - the $120.5 million opening day, less the $57 million from Thursday - was $63.5 million, almost exactly what Jurassic World earned on its "true Friday." This theoretically should have made Star Wars a little more mortal than some of the earlier figures represented. Before hurling your BB-8 toy out the window, I want to remind everyone that this is December, not May, June or July, and that a lot of kids were in school on Friday instead of on summer vacation. Let's pause and remember that the biggest ever weekend in December came from The Hobbit: An Expected Journey, which had an $84 million weekend in 2012. Due to holiday obligations, films are not built to be record breakers in December. Yet, The Force Awakens smashed all records anyway, handing it to the summer films and breaking out of the December behavior that we have been carefully tracking at the box office for a decade and a half.

Since it is December, the number we were all waiting was Saturday's result. We knew that advance ticket sales would drive Thursday and Friday results sky-high, but the question for months has been whether Saturday would match the "true Friday" amount or drop significantly due to the calendar configuration. Jurassic World was able to turn a "true Friday" of $63.5 million into a Saturday of $69.6 million. Marvel's Avengers turned its "true Friday" of $62.1 million into a Saturday of $69.6 million. Conversely, due to the huge, pent-up demand, Harry Potter and the Deathly Hallows Part 2 had a "true Friday" of $47.6 million, which slipped further on Saturday to $42.4 million. The biggest December opener, The Hobbit, saw a "true Friday" of $24.1 million but still increased to $27.7 million on Saturday. This tells us that the Saturday amount compared to the Friday amount is more dependent on the film than the calendar configuration.

The Saturday figure for The Force Awakens came in at $68.7 million, an 8% increase over the $63.5 million "true Friday." The record for the biggest Saturday was held by Jurassic World at $69.6 million, and that is about the only record that Star Wars: The Force Awakens didn't steal this weekend. The Saturday showed that it could basically fall apart on Sunday and still easily break the $208.8 million record held by the Jurassic reboot. It certainly did not fall apart, as the estimate for Sunday came in at $48.8 million, estimated to be off 29% compared to Saturday.

That puts the weekend total for Star Wars: The Force Awakens at a best-ever $238 million, beating Jurassic World's shortly held record of $208.8 million not by a million or two, but by a significant $29.2 million. Released to 4,134 venues and 10,000+ screens, The Force Awakens earned an outstanding venue average of $57,571. Jurassic World opened at 140 more venues, had a release date built for a big opening, and had no other opening films to contend with, and yet it still lost this battle by a significant margin. The Force Awakens more than doubled the opening weekend total of Spider-Man, which when it opened to $114.8 million in 2002, changed the box office forever. Now, it is all happening again 13 years later.

How could this possibly happen? How could any film beat the weekend record by such a significant amount? We know the marketing drive by Disney, including things like ComicCon and the release of the first trailer, was downright masterful, but what else did Disney do to make this oh so right? Disney hit all the big marks for a record-breaker. They made Jurassic World's awesome marketing campaign, the best ever since Spider-Man, look silly. They used old-school charm and combined that with modern technology by building a story around original cast members Harrison Ford, Carrie Fisher and Mark Hamill. This means that not only did they have the old-school characters to interest the older demographic, they also brought in new young stars to add a fresh approach.

Disney also used IMAX cameras to shoot The Force Awakens, released it in 3-D, and created incredible buzz prior to opening by using advanced ticket sales information to paint it as a success before it opened. All of these things helped, but at the end of the day the result is all about the rabid fanbase, people who only seem to get more rabid as the decades wear on.

Disney used the oldest trick in the book to get people out to theatres this weekend. They made a good movie that was embraced by a fan base that had been abused by the George Lucas prequels. They embargoed reviews perfectly. By waiting until Wednesday to hold critical notices back, they kept spoilers contained, meaning that the experience was likely ruined only for a very few. RottenTomatoes has 255 reviews listed already, and only 13 are negative, giving it a fresh rating of 95%. That's the way Marvel's Avengers did it as well, creating an almost perfect product for the salivating masses - serving up a film with a 92% fresh rating. The Cinemascore came in as an A, and some key segments of the audience gave it an A+ - including women and the under-25 set. I believe that had the reviews not been there, we would have seen a lower opening. Instead, we have a record breaking weekend, and a future that looks really, really good for The Force Awakens over the Christmas season.

Bob Iger must be feeling fantastic right now. When Disney's chairman bought LucasFilm for $4.1 billion in 2012, eyebrows were raised at the purchase price due to the questionable future of the franchise. Combined, the George Lucas prequels earned about $2.5 billion worldwide against production costs of about $350 million and marketing costs likely in the $250 million range. With these numbers, one might think payback on $4.1 billion would take forever. Then, JJ Abrams showed up, and after rebooting the Star Trek films successfully, he had another daunting task to complete.

With this opening weekend, and early reports of a worldwide take of $517 million (slightly less than Jurassic World's $524 million), a $2 billion worldwide gross for the first film is completely possible. Estimates for merchandise sales for 2015 range between $3 and $5 billion (including the holiday season). Therefore, just through merchandising and Star Wars VII box office returns alone, it's going to end up surpassing Disney's investment by 50% by the time the money is all counted - and that doesn't even account for merchandise sold over the last couple of years. Disney's $7.4 billion acquisition of Pixar in 2006 has netted $6.3 billion in worldwide movie ticket sales, and his $4 billion acquisition of Marvel in 2009 has netted $7.5 billion in worldwide movie ticket sales. This is the Midas touch if we've ever seen it before.

Yes, there were other films released this weekend. Finishing second this weekend is unfortunately Alvin and the Chipmunks: A Subtitle I Had to Look Up (The Road Chip). Despite Star Wars, Alvin and the Chipmunks was still able to open to $14.4 million this weekend from 3,653 venues. That's a fairly steep step down from the last film, Chipwrecked, which debuted to $23.2 million, but that one wasn't playing against the biggest opener in history. The Fox release should easily make five to six times this amount, which should give it a finish of between $75 and $85 million. Add another $200 million from overseas, and we will likely see more of these, like them or not.

The Tina Fey/Amy Poehler release Sisters is third. From Universal, this fem-centric comedy got out the gate with an okay score - $13.4 million from 2,962 venues - which should be enough to carry it through the holidays. Next weekend, both Daddy's Home and Joy will to try to push this to the sidelines, but it has earned decent reviews (62% fresh) and serves an audience that is often under-appreciated. Made for $30 million, Sisters is going to be just fine.

With a top three that is this strong, holdovers were in real trouble, as the pie only expands so far, and this pie is really stretched. The Hunger Games: Mockingjay Part 2 drops to fourth after living at #1 for the last month. This weekend it earned $5.6 million and fell 51%. Mockingjay Part 2 has now hit $254.4 million domestically and has over $340 million earned overseas.

Creed is fifth, earning $5.1 million. It fell 50% compared to last weekend, but I wouldn't be surprised at all if we saw a 10-20% increase next weekend if the studio promotes it. So far, the Rocky offshoot has earned $87.9 million against a $35 million budget.

The Good Dinosaur suffered with both Star Wars and Alvin and the Chipmunks stealing audience, but still tallied $4.2 million this weekend. It dropped 59% and has a cumulative total of $96.5 million. Krampus is seventh, earning $3.8 million. It was down 55%, but remember that it cost $15 million to make and has now pulled in $34.8 million.

Eighth is the Ron Howard misfire In the Heart of the Sea. After opening to $11.1 million last weekend, the Chris Hemsworth film dropped a searing 69%, earning only $3.5 million. It now has a total of $18.6 million.

Two Indian films are ninth and tenth as Star Wars creates a window. Dilwale earned $1.9 million from 268 venues and Bajirao Mastani earned $1.7 million from 304 locations.

The overall box office also hits a record this weekend thanks to Star Wars: The Force Awakens. The top 12 films combined earned an amazing $294.8 million, handily beating the weekend that Jurassic World led the top 12 to $266 million. The biggest December weekend had been Christmas weekend in 2009, when Christmas fell on a Friday (as will happen this year). That weekend delivered $259.9 million.

Next weekend brings a massive five new releases, all of which have no chance of finishing first. New films include Daddy's Home with Will Ferrell and Mark Wahlberg, Joy with Jennifer Lawrence, Bradley Cooper and Robert De Niro, Concussion with Will Smith, the Point Break remake, and The Big Short, with Christan Bale, Brad Pitt, Steve Carell and Ryan Gosling. In limited release, the Hateful Eight roadshow begins and is joined by The Revenant, which debuts on four screens. That's a lot of releases for a single weekend, but its Christmas, so anything can happen. It certainly happened for The Force Awakens this weekend.