Top Chef California: Episode 3
By Jason Lee
December 14, 2015
BoxOfficeProphets.com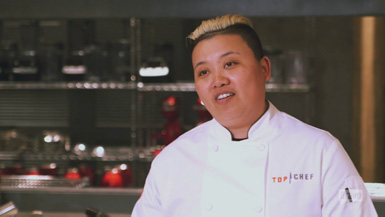 ---
Padma promised road trips and finally, after two fun-filled challenges in Los Angeles, Top Chef's first road trip has arrived. Shortly after last week's episode finished, the Top Chef producers reveal, Padma advised the cheftestants to get a good night's sleep because in the morning, they're headed to Santa Barbara.

Lucky bastards. I'd love to take a trip to Santa Barbara.

And, of course, where are the cheftestants taken? For the umpteenth time (seriously, how many times has this happened already?), after a strange side-trip to the dock to check out some freshly caught uni, the chefs are dropped off at Sanford winery for a Quickfire. Been there, done that.

Except, we haven't. Not this season, at least. This isn't just any ordinary Quickfire a winery. Nope, it's this season's first Sudden Death Quickfire. With the fresh uni sitting in the trunk of the SUVs, Padma tasks the cheftestants with pairing two of Santa Barbara's most iconic ingredients - highlight the uni in the Quickfire dish, and make sure that it pairs well with a Sanford wine of their own choosing.

Grayson notes that there weren't any Sudden Death Quickfires on Top Chef: Texas. It's a new thing for her and she's not super fond of it. Seriously, Grayson, is there anything that you're fond of on the show?

The chefs quickly get cooking, except for Chad. He quit drinking years ago and can't taste the wines. Instead, he resorts to reading the descriptions of the wines on their bottles. Meanwhile, Giselle scrounges for eggs - she really wants to make scrambled eggs with uni (I feel like we've seen this before many times on Top Chef). But she can't, as Carl has grabbed all the eggs to make exactly that.

On the other side of the kitchen, Angelina starts making pasta with uni butter. She says that, in a Sudden Death Quickfire, it's smarter to play it safe and aim for the middle.

Out of the 15 chefs, Padma and Dana Cowin (our guest judge for the Sudden Death Quickfire) pick three chefs as their favorites. Grayson (!!!) showcased her uni very well with her dish of crab salad with cucumber and uni. Wes served creamed corn with uni and employed flavors that built on each other. Finally, Carl smartly paired eggs and uni. Giselle scowls. At least she doesn't have to feel too bad, as Grayson (!!!) ends up winning immunity.

Wow, what a comeback.

On the bottom, we have Angelina, as her pasta with uni butter was way too salty. Joining her is Giselle, who offered potato with onion jam and uni, but her potato was undercooked and the jam was overly oniony. Finally, we have Karen and her hot and sour soup with whipped (but nonexistent) uni.

Giselle ends up as the overall loser, and given the Sudden Death Quickfire, must choose one chef to cook against to stay in the competition. She chooses Angelina. Smart choice. Padma gives each chef a huge ostrich egg and asks for a dish that highlights it.

Both women decide to do some version of scrambled eggs with Latin flavors. Giselle serves soft scrambled eggs with Latin salsa. Angelina has a spicy tomato jam with ostrich egg scramble. Dana offers the following judgment. Giselle focused too much on plating, with too many pepitas in her dish. Meanwhile, Angelina absolutely overwhelmed the flavors of her ostrich egg. To no one's surprise, Angelina (who's quickly proving herself to be out of her league in this show) is on the bottom and Giselle remains in the competition.

On to the Elimination Challenge. Given that Santa Barbara is known for its glorious seafood and wonderful proteins, the chefs will be paired up to make a single surf and turf dish. Grayson, with her immunity, is designated a team of one. Angelina and Giselle, fresh off their (mostly) losing efforts, cannot find a teammate and are stuck with each other. Dangling in front of the chefs is the prospect of getting their own barrel of wine and their own label, which of course, is the victor's reward.

Inside the barn are little signs with the names of proteins (lamb, chicken, rib eye, etc.) and seafood (prawn, scallops, cod, etc.). The chefs bum rush the barn and start grabbing at signs frantically. It's like Black Friday at Walmart. With the surf and turf ingredients decided, the pairs start figuring out their dishes. There's passive aggressiveness (Angelina and Giselle are brimming with tension), shotgun marriages (Jason's Italian roots do not mesh well with Frances's Asian flavors), and happy marriages (Marjorie and Karen are besties).

After a quick stop at Whole Foods, the chefs head to the kitchen to start cooking. As they marvel at the size of the kitchen, Tom walks in. Twist time. It's not going to be surf and turf . . . instead, the cheftestants will be doing surf vs. turf. Instead of a single dish with teams competing against each other, the chefs in each pair will be working individually to make either a surf and turf dish that will be compared to the dish made by their partner. The losing chef in each pair will be up for elimination. Grayson, as the winner, can do either surf or turf, and may compete against any team of her choosing.

She chooses the team of Wesley and Amar. "Maybe I can bust that shit up," she says. They do not respond. "Boom boom!" she says.

No one thinks you can bust that shit up, Grayson.

The trio is the first group up to serve. They find ten individuals sitting around a big table, including Dana Cowin, Tom, Iron Chef Cat Cora, and Richard Blais. Amar has olive oil-poached halibut and eggless béarnaise. Tom likes the sauce but finds the fish overcooked. Cat says that it lacks complexity.

Wesley has sous vide rib eye with stenciled design made of asparagus puree. Tom criticizes the stencil, saying it looks like splatter. Richard hates the rib eye, saying the sous vide went "horribly wrong."

Finally, Grayson has a lacquered pork belly and spiced carrot purée. Cat loves the flavors, while Richard praises the purée as fascinating and dynamic. Grayson is the top pick of the group and wins the round.

Next is Jeremy (pan roasted spot prawns with potato gnocchi) against Phillip (rib eye with rutabaga purée). Cat absolutely adores what Jeremy did with his prawn, and Tom says that the dish is "all about finesse," with perfectly cooked prawns. Cat also likes Phillip's flavors, but his sauce is a bit off-putting. Jeremy is the unanimous pick around the table, but Phillip appears safe.

Angelina puts her marinated mussels against Giselle's quail and cucumber radish salad. No one likes Angelina's mussels, which are dry. Tom even accuses her of "torturing" her ingredients. On the other hand, he likes Giselle's sauce and says that her background flavors "keep it interesting." By voice vote, it's Giselle over out-matched Angelina.

While walking away from the judges, Angelina cannot help herself from releasing a stream of expletives, snarling that "this bitch f*ing beat me again. I'm like f***. She f***ing won."

Kwame serves up what looks like an ice cream scoop of tuna salad. It turns out to be rock crab salad. Tom likes it, calling it playful and fun. Suzanne Coin (one of the guest judges) describes it as "deliciously slutty." Sounds like a compliment to me.

Opposite him is Chad with an orange-lacquered lamb. Cat finds his lamb to be cooked perfectly.

With the table split 4-4, Tom casts the deciding vote in favor of Kwame.

Next is Isaac with a fennel-crusted halibut (which is overcooked, per Dana, and needs acid, per Tom) against Carl with a roasted chicken thigh with prosciutto (and a sauce that Tom likes, and chicken that reminds Cat of her mom's home cooking). Although Cat casts her vote "definitely" in favor of Carl, who edges out Isaac by two votes.

Next is our all-female duo, with Karen frantically trying to get everything plated before service. She fails. One plate goes out without a piece of fish and lands in front of Padma. And of course, Padma - classy lady that she is - calls Karen out on it. "I - I just ran out of time," she stammers.

Lucky for her, the diners absolutely love her seared rock cod with carrot orange puree. One diner declares that it's one of the best dishes he's had today. Cat calls her relish "to die for." Marjorie is the clear bridesmaid with her roasted pork loin with potatoes. Tom criticizes the pork as dry and Dana compares it to "1960s nursery food." By voice vote, Karen is the clear winner.

Our shotgun marriage is next, as Jason offers marinated pork loin with steamed crudités (yeah, that's right, he steamed the veggies you find in a Safeway veggie platter and offered it as a dish). Tom wants more flavor, while another diner says that Jason clearly did not feel comfortable cooking this dish and these flavors.

Frances receives an equally tough grilling for her ginger-glazed black cod with jicama relish and acorn squash. Tom calls it a "hodgepodge on a plate," while another diner hates the skin on her cod.

None of the diners likes anything this pair has to offer. Only because they're forced to choose a winner, they go down the line until it's tied at four votes a piece. Tom casts a deciding vote in favor of Jason, but he doesn't look any happier than Frances, who's up for elimination.

Back at Judges Table, Tom notes that although this didn't seem like a tough challenge, it seemed to throw a lot of people off their game. The top dishes came from Karen (Tom loved her moist fish and salsa), Kwame (whose rock crab had tons of assertive flavor), and Jeremy (who cooked his prawns perfectly). Padma informs Karen that as she received no fish on her plate, she cannot win. Thus, the recipient of a barrel of Sanford wine and his own label is… Kwame! Wow, watch out for this guy. He saved his team from elimination last week and now he wins. We may have our first front-runner on our hands.

On the other side of the spectrum, we have Frances, Angelina, and Wesley. Wesley, we are told, didn't check his seasoning, and Tom is particularly unhappy with his decision to focus on using stencils instead of flavor. Richard hated his use of sous vide.

Angelina failed to showcase her mussels. Tom notes that she made the elementary mistake of taking her mussels out of their shells, which dried out quickly.

Finally, Padma criticizes Frances's use of too many ingredients on the plate. Tom thinks she should have spent her time seasoning her fish instead of trying to get acorn squash on the plate.

I guess that Wesley is headed home, as he made the biggest mistake by trying to sous vide his rib eye, but it's Frances who's packing her knives this week. She's upset because she doesn't feel like she had yet showcased her own style of cooking, but notes that this is simply another instance in which she's had to fight and scrap to get to the top. She offers us her mantra: "Always hope. Just keep dreaming."

She'll do well to follow her own advice in Last Chance Kitchen.