Weekend Forecast for December 11-13, 2015
By Reagen Sulewski
December 11, 2015
BoxOfficeProphets.com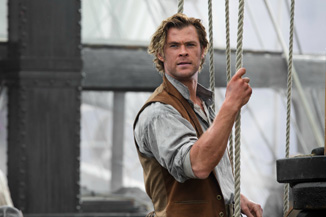 ---
As studios keep their powder dry before Christmas week, a single wide release hits the market, albeit a troubled one with poor reviews and a difficult subject to relate to. And still it's the favorite to win the weekend, thanks to an extremely weak slate of returning films.

In The Heart of the Sea is Ron Howard's latest, the true story of the naval voyage that inspired the writing of Moby Dick, a phrase which was likely inevitably followed in pitch meetings by "wait, no, it gets better". Starring Chris Hemsworth as the first mate of an 1800s whaling ship that's targeted by a giant white whale in the middle of the Pacific (I'm supposed to be cheering for the whale, here right?), the film follows the crew of the ship as they deal with massive storms, shortages of food, and yeah, a big honkin' angry whale.

Filled with admittedly gorgeous looking shots of the as-previously-mentioned storms and whale attacks, it's also a film that appears to be wildly without a constituency. While undoubtedly a film with something to say, and a director who has on occasion risen to the prestige picture occasion, it's the sort of epic-scale "ripping adventure yarn" that's largely gone out of fashion of late, and would have starred Marlon Brando or Tyrone Power in the past.

While Hemsworth has certainly shot to fame thanks to his involvement with the Marvel universe, like just about every other actor in those films save Robert Downey Jr., he's found it difficult to translate that fame into more success in other movies. Indeed, this is his second collaboration with Ron Howard, after 2013's criminally underrated Rush, which earned just $27 million domestically. This year's Blackhat did even worse, with just $8 million. So there's no guarantee that Thor will bring anyone to the box office, even if he does have the hair.

The most obvious comparison subject matter-wise is Master and Commander, a solid hit in the fall of 2003, but also came at the height of Russell Crowe's stardom, and also had much better reviews and more of a battle-oriented plot. Where that film was sunny and cheerful, this film is green and dour. As such, that's going to severely limit the opening weekend, in addition to any suppressive effects from December. With all these things working against it, it should wind up with about $14 million to start.

Thanks to cratering returning films following Thanksgiving, that's probably good enough for the lead. The Hunger Games finale managed a third weekend at the top with just under $19 million, a far cry from the nine-figure debut. Things have traditionally gotten a bit better for these films once we get into this time period in terms of legs, but we're already at a significant deficit. In its fourth weekend, it should hit just $10 million.

In a bit of a surprise, Christmas-themed horror film Krampus was a close second with $16 million, and might actually have a chance over the holidays thanks to themeing. I expect it'll get passed by both The Good Dinosaur and Creed for this weekend, though – the former because of its kid-friendly audience, and the latter thanks to strong word-of-mouth.

Pixar's latest is being wildly hailed as its weakest effort since Cars 2, a low bar we hope never drops further. But regardless, Dino isn't showing well and needs that Christmas boost to get to respectability. I'd look for $9 million this weekend. The continuation of the Rocky story, however, is perhaps moving in the opposite direction in public perception – even Oscar consideration is in the mix - and may eke above it. Drop Krampus in behind this with $8 million.