Top Chef California: Episode 2
By Jason Lee
December 8, 2015
BoxOfficeProphets.com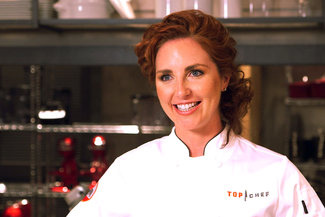 ---
Back for seconds? Our second helping to Top Chef this season kicks off right where the last episode ended (which was probably as close to a cliffhanger as Top Chef will ever come) - with the chieftestants atop the roof of the Hotel Roosevelt being told that they'll be opening four pop-up restaurants across Los Angeles… today.

The guest judge is Ludo Lefebvre, who Top Chef fans might remember as "that really whiny French chef who was on the first two seasons of Top Chef Masters." Ludo confesses that he's experienced the craziness of opening pop-up restaurants. He does not envy the tasks the cheftestants have in front of them.

The chefs are divided up into four groups:
Isaac, Marjorie, Angelina, and Amar
Hipster Phillip, alum Grayson, sassy Renee, and FOB Frances (I'm allowed to use that acronym cause I'm Asian. Also, Frances described herself that way, so there)
Carl, Jason, Giselle, and Karen
Messy Wessy, Chad, Kwame, and Jeremy

Padma advises the chefs that each pop-up will be situated in an iconic neighborhood that showcases the diversity of LA. Each pop-up must embody the culture of its neighborhood. The chefs will not, however, know which cuisine they'll be cooking until they actually arrive at their pop-up.

The Phillip-Grayson-Renee-Frances team figures out that they're heading to Venice Beach, to one of my favorite streets in all of Los Angeles - Abbot Kinney. Phillip, who (of course) brags about being the only born-and-raised Angeleno, can nonetheless not figure out in advance what cuisine they'll be tasked with.

Meanwhile, the Isaac-Marjorie-Angelina-Amar team passes by Phillip's restaurant, which (unsurprisingly) has a huge picture of Phillip emblazoned on the front of it. Major chef trash-talking ensues. Love it.

That team eventually makes its way to Westwood where they arrive at a Persian restaurant named Taste of Tehran. "Nothing," laments Isaac. "I know nothing about Persian food." Thankfully, the team gets a few minutes to chat with the owner of the restaurant who advises incorporation of grilled meats, stews, yogurt, and sour-and-sweet flavors.

As a side note, I find it striking that the person driving the conversation - the person whose force of personality appears to be taking over the team, not by conscious effort, but by the natural adoption of a leadership role - is Marjorie. Yep, the acolyte of Mike Isabella in Washington DC. Can Marjorie do what Mei (as the acolyte of Michael Voltaggio) did last year?

On the other side of the city, team Carl-Jason-Giselle-Karen has arrived in Koreatown at restaurant called Monk Space. The dining area is super modern, and very New York - long, unvarnished wooden tables, exposed brick, etc. I love it. Sang Yoon (again, another alum of Top Chef Masters) walks in and I'm not surprised at all to find out that this is his space. His advice for the team is to incorporate big flavors, lots of produce, fruit, honey, and tea. Afterwards, as the team sits down to start planning their menu, Giselle nervous throws out the idea of doing Korean hot wings, which "I've eaten but I've never made, maybe it's not a good idea for me to make them if I've never done it before, but they're delicious, I mean, you guys won't let me fail, right?" Giselle looks around at her teammates who stare at her in disbelief.

Our chefs over on Abbott Kinney arrive at a restaurant called Seed Garden. As the name implies, these chefs will be cooking vegan food. Phillip is thrilled, as his wife is both an actress and a model, and she often eats vegan. OF COURSE, YOU HIPSTER CHEF. Meanwhile, Grayson is doing her best impression of the annoying character from every horror movie ever who's inevitably the first one to get killed. "God put animals on this earth to eat," she complains. "I can make vegan food, but I'm not happy about it."

As a side note, I am utterly bewildered why Grayson decided to do Top Chef again. If all she wanted to do was to cook her own food, unencumbered by silly rules and restrictions put in place by the show, then she should have stayed in New York City and cooked at her restaurant.

Finally, team Wes-Chad-Kwame-Jeremy arrives at Olvera Street in Los Angeles, which leads my husband immediately to comment, "they're cooking Mexican." He's right. At the restaurant Broken Spanish (which, incidentally, is a GREAT name for a Mexican restaurant), the cheftestants waive off any advice or suggestions that the owner has to offer. They know how to cook Mexican food, thank you very much.

Armed with the knowledge of which cuisine they'll be cooking, the chefs start shopping. Isaac starts by buying a bunch of spices he sees on sale at the Persian market, reasoning that "if they sell these spices here, they should go with Persian food, right?" Grayson, careens from channeling a woe-is-me Eeyore to Oscar the grouch when she finds out that the wax beans she wanted to use for her dish are nowhere to be found in Whole Foods.

Finally, over at the Korean market, Karen is busily accosting all the marketgoers she can find. "Hi, are you Korean? Do you cook Korean hot wings? How do you make them? Do you fry them or bake them? What spices do you use?" Karen is certainly showing that she's #topchef material on this episode.

The eating is about to start, and surprise, surprise, in an episode featuring the diverse, ethnic neighborhoods across Los Angeles, our judges are stuck in traffic. Classic. They head over to Team Persia first, in Westwood, and order up five of everything.

Amar offers grilled carrots with cauliflower hummus; Ludo loves the carrot flavor. Angelina has a fennel and coriander-crusted chicken with lemon confit. Tom finds the protein well cooked but lacking salt. Isaac gives them lamb kofta with smoked eggplant, which Tom and Padma love. Finally, Marjorie (who appears to really have been running the show there), serves a yogurt mousse with a pistachio sponge cake. Ludo goes gaga over it. Tom declares that he likes "everything about the dessert." Gail comments on how well the team did as a whole, and Ludo notes that all the chefs appear very happy. The praise continues back in the car, with Padma noting that their meal was "surprisingly good."

For totally unknown reasons, the judges head all the way east to downtown LA, instead of doing the practical thing and heading 10 minutes south to Venice Beach. Ridiculous. In any event, Team Mexico kicks things off with a carrot (there's certainly been an abundance of carrot dishes lately) asado with banana yogurt and carne seca from Chad. Tom finds the carrot flavor good but the ingredient itself undercooked. Padma notes that Chad has two Mexican restaurants and wonders why he doesn't understand Mexican flavors better.

Kwame is next with a chipotle raisin-glazed shrimp with masa porridge, which barely sounds Mexican to me. The judges enjoy it, though, with Tom finding lots to like in the masa and shrimp.

Jeremy offers up a grilled skirt steak with potato confit and poblano - again, this barely sounds Mexican to me, save for the poblano. Tom finds the beef well-cooked and well-seasoned, but doesn't get "Mexico" from the dish. Gail notes that lack of boldness in the flavors.

Finally, Wes serves an orange and tomato stew with chorizo and hominy. "It's almost trying to be a posole," my husband notes - a point quickly echoed by the owner of Broken Spanish. Ludo likens the texture of the chorizo to Hamburger Helper (always a flattering comparison). Wrapping things up, Gail laments the fact that the team didn't ask more questions of their "cultural ambassador" (i.e. the owner of Broken Spanish). "They could have benefited from your knowledge," she says, "and I'm sorry they didn't take advantage of it."

It's time to head ALL THE WAY back across the city to Venice Beach (the production team really should have spent some more time thinking about this) to dine on what the judges hope will be some yummy vegan cuisine. Phillip is up first with the ridiculous sounding dish of "Cauliflower Cauliflower Cauliflower." This from the chef who previously named his dish "California Product with Flavors of the Pacific." He's not just a hipster chef, he's a douchey hipster chef. Tom likes the cauliflower flavor, but not the pureed cauliflower. Gail agrees, noting that it lacks flavor.

Frances has a chana masala (Indian curry) with tofu chips and saffron. Padma finds the chickpeas delicious and Gail enjoys the tofu chip, but Tom faults the fact that Frances (despite vegan food being all about the vegetables) used canned chickpeas.

Grayson is next with a charred bean salad and pickled red onion. She confides to us that it's a dish that could have really benefited "with a little pork fat." Ah, rules governing Top Chef challenges! If only they weren't so meddling and interfering! Ultimately, Gail finds Grayson's dish disjointed and "sad." Tom calls it the "vegetable version of her meatball" in the previous episode - something that "anyone can do at home."

Finally, sassy Renee has a stuffed beet with tofu, roasted cashews, and bitter spring green sauce. Ludo criticizes it as dry and mushy, while Tom hates the filling of the beet, calling it "heavy and pasty."

Last up is Team Korea. Carl gives the judges a cuttlefish and shrimp salad with avocado, which has nice texture according to Gail, though Sang Yoon wishes that he'd done something to the cuttlefish. Jason has noodles with iced broth, cucumber, Asian pear, and egg. Gail enjoys the texture of his noodles and the sweetness added by the Asian pear. Karen serves up grilled kalbi with nectarine kimchi, which according to Gail, has the most flavor of any of the team's dishes. Finally, crisis-ridden Giselle has her Korean wings with cucumber salad. To the extreme relief of her teammates, Tom likes the dish, even though "it's not authentic."

With the eating portion over, the judges and cheftestants head back to the stew room and Judges Table, respectively. To me, it seems pretty clear that Team Persia had the strongest day, while Team Vegan was limper than three-day old celery in the fridge (aren't you proud of me for avoiding the obvious sexual euphemism there?). As for the win, that seems equally easy to predict: Marjorie with her dessert.

Padma summarizes the challenge faced by the cheftestants of opening four pop-up restaurants in a single day. Tom pointedly notes that each team was given a cultural ambassador, which some teams chose to utilize, while others (*cough* Mexico *cough*) did not.

Padma proves me right - Team Persia comes out on top. Tom notes that the cheftestants appeared to enjoy working together and it showed. He also applauded their willingness to listen to their ambassador. Amar's carrots gets props for their flavor, Angelina's chicken was nicely cooked (though lacking salt), and Ludo loved Isaac's meatballs. Tom notes that cheftestants often get "beat up for making desserts," but assures that Marjorie won't suffer the same fate so long as she keeps making desserts on par with what she served today, which was a "lovely, lovely dessert," in Tom's words.

And yes, she ends up taking home the day's top prize. Ludo calls it well-balanced with amazing flavor, and gives her the biggest compliment: the owner of Taste of Tehran wants to add the dessert to the restaurant's menu. Awesome.

I'm right again regarding the worst team, though it was not nearly as clear-cut as I'd assumed. Though Team Vegan lands on the bottom, Padma notes that if it weren't for Kwame's dish on Team Mexico, "things might have been different." "He really saved you," Gail chimes in.

As for Team Vegan, Gail notes that the question for those four chefs is, "what is exciting vegan food?" In response, Grayson cannot help but make a "how the f* would I know?" expression. Picking up on that, Gail notes, "you had an ambassador there; he could have helped you." Ludo agrees and says that he expected more creativity from the bunch.

Frances defends her dish by noting that she has a background cooking Indian food. Since she had to go vegan, she decided to incorporate chickpeas. This explanation doesn't sit well with Tom. "You're in Southern California with amazing produce and you use canned beans? I just don't understand it."

As for Grayson, her problem according to Tom was that she made a "nice little salad that she could whip up on a Sunday afternoon without thinking."

"Those green beans died for nothing," Ludo notes with aplomb.

"I didn't feel passionate, I didn't love [cooking vegan]," Grayson says.

"You're not here always going to be cooking the food you like to be cooking," Gail responds. Maybe Grayson's attitude is getting on Gail's nerves as much as she is on mine.

As for Renee, Gail thought she had a good dish conceptually with the dandelion sauce, but there wasn't enough of it and thus the dish "ate dry." Ludo repeats his criticism of the dish as "very mushy."

As for Phillip, Padma wanted more flavor and inspiration. Phillip takes offense. He says that his team, forced to cook vegan, "didn't have the opportunity to give most of the ingredients that other people did, and that played into some if it."

"Not at all," Padma flatly disagrees. "In my mind, your group had the easiest task, you could have gone anywhere, just omitting animal products." Gail further notes that Phillip's dish just felt fussy, employing my favorite new adjective: "tweezified."

The cheftestants head back to the stew room and Phillip immediately congratulates Team Mexico for "dodging a bullet." He fails to note, however, that if Team Mexico saved themselves from last place by having one great dish, he could have done the same for his own team.

Back at Judges Table, Frances seems safe. Padma notes that Frances's dish at least had a lot of flavor, though Tom still grumbles about her use of canned chickpeas. Padma couldn't get past the lack of flavor in Renee's dish, and Tom agrees, "the thing in the center was just terrible." Padma calls Phillip safe, and Tom agrees - it was pretty good, just too involved with the appearance. Gail says that Grayson's dish "just confounded me," calling it an "average" dish that needed acid and inspiration.

The four bottom chefs return to Judges Table for the verdict. If judged on a two-episode arc, I would think the judges would send Grayson home for her utter lack of interest in actually cooking like she's on Top Chef. If, however, judged simply on the basis of this episode… I still predict Grayson's lackadaisical, mediocre-to-a-fault dish sends her home.

Tom says that making a successful vegan pop-up restaurant requires "special" food, but that none of the four dishes hit that mark. There was no show of love and little evidence that the chefs even enjoyed what they were doing. Which leads to the departure of… Renee. Wow. Tom says the dish "just didn't eat well at all, didn't have a lot of flavor, and that paste - we just couldn't get past it." Ugh.

In her closing remarks, Renee expresses her surprise at being out so soon. From this experience, she's learned that she's simply not good at cooking under time constraints but is proud she did the best she could. She arrived sassy and is leaving even sassier.

Hopefully, that sass serves her well in Last Chance Kitchen.