Movie Review: Creed
By Matthew Huntley
December 7, 2015
BoxOfficeProphets.com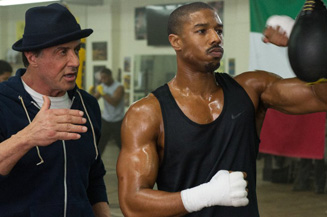 ---
Creed unfortunately proves a movie franchise can pretty much go on for all time so long as each installment is well made (and continues to make money for the studio, of course). I write "unfortunately" because although this seventh Rocky picture is, indeed, well made, it means we're probably bound to see more of them, and that means the talented cast and filmmakers will be diverted from other projects that could be just as good but also different, and Hollywood could use different.

But I suppose I'm being unfair, not to mention unrealistic, since Hollywood ultimately sustains itself by producing the same type of content over and over again. So if we're inevitably going to get more Rocky movies, we should at least be grateful when they're given this kind of thought and attention. Plus, I must admit, there's something comforting about seeing the avuncular and gentle Rocky Balboa (Sylvester Stallone) every few years, watching him age across time. Creed even suggests the Italian Stallion has finally passed his torch to someone else and that perhaps we'll see an entirely new set of Rocky-like adventures, albeit with a different central character.

His name would be Adonis "Doni" Creed (Michael B. Jordan), the illegitimate son of boxing legend Apollo Creed (Carl Weathers), who you'll recall was Rocky's opponent in the first two Rocky films and eventually his best friend, before dying in the ring in Rocky IV. At some point, though, Apollo had an affair and that relationship produced a son whom he never saw or supported. After young Doni's mother passes away, Apollo's widow, Mary Anne (Phylicia Rashad), feels responsible for the boy. She visits the young hothead, who's prone to fights, in a Los Angeles youth facility and asks him if he wants to come live with her, taking on the role of surrogate mother.

That was in 1998. Now it's 2015, and Doni, truly "his father's son," routinely sneaks off from his cushy job at a financial firm to box in Mexico. Twelve hours later, he's back at his desk. Clearly, boxing is in the young man's blood, and he's determined to go professional and leave a legacy of his own, apart from his father, which is why he doesn't tell anyone who he really is.

So Doni quits his job and moves to Philadelphia, where he seeks out Rocky as a trainer. Rocky, who still runs his own restaurant, is hesitant at first, but the kid gives him a new purpose, and so they begin training the old-school way, like waking up at the crack of dawn and running the streets of Philly, or chasing a chicken around the backyard to acquire speed and balance. Soon, Doni is winning local matches and word gets out of his true identity, which prompts the current lightweight champion, "Pretty" Ricky Conlan (Tony Bellew), to challenge him in the ring to see if the son of Creed can "really fight."

Amidst his training, Doni fosters a relationship with Bianca (Tessa Thompson), an aspiring singer-songwriter, and we have to give the movie credit for actually taking the time to develop her character and for allowing Jordan and Thompson to really engage on-screen. Their one-on-one moments seem obligatory at first but the film lets them play out naturally and fully so they take on meaning. It helps, too, that the actors have strong presence and chemistry. Meanwhile, a subplot develops with Rocky as he must come to terms with his own mortality.

The plot of Creed is by no means complicated, and much of it mirrors the original Rocky (1976), not to mention countless other sports movies, in regards to it structure. You know the drill: the underdog hero starts off lost and cocky and struggles with adversity and self-identity. Eventually, through hard work and determination, he gains knowledge, compassion and humility, thus coming out as victor, either literally or just in the eyes of himself, his family and his friends.

We've seen this story hundreds of times, but what makes Creed special is its genuine human qualities. One could argue each of the characters is an archetype in a standard genre film, but the dialogue, performances and drama allow them to overcome that label. Director and co-writer Ryan Coogler (Fruitvale Station) also adds some subtle, unexpected nuances to the storytelling that help overshadow the predictable plot. For instance, in one scene, Doni has a panic attack and needs to have his boxing gloves cut off immediately for reasons I won't reveal, although when you find out why, the moment will ring true of one we've all experienced at one point or another.

Praise should also be given to Claudia Castello and Michael P. Shawver's soft, rhythmic editing, which makes the drama really stick. So often in sports movies, excessive, rapid cutting prevents us from soaking everything in. But Creed takes its time, from a long take when Doni walks down the hall toward the climactic match, to the beauteous final shot, which could have been cheesy, but Coogler lends it grace and even the last line sounds perfectly right.

Given how good Creed is, do I want them to make more Rocky movies? Honestly, no; we've seen our fair share and this one allows the series to end on a high note. I would, however, like to see more from Coogler, Jordan, Stallone and Thompson, perhaps all in the same film that tells a completely different story. Since they've shown they can breathe fresh life into a nearly 40-year-old franchise, how about they create an entirely new one altogether that's just as good? Creed makes me believe they can do it.