Weekend Wrap-Up
Creed and Dinosaur Strong at Thanksgiving Box Office
By John Hamann
November 29, 2015
BoxOfficeProphets.com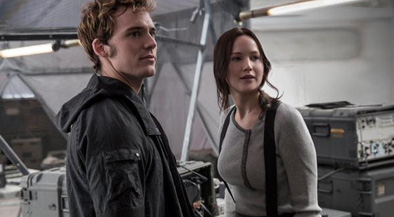 ---
Thanksgiving at the box office is not about the size of the bird. It's all about the drumsticks.

Thanksgiving is the oddest holiday weekend at the box office. Movies released over the holiday week fail more often than they succeed, and the weekend has never had a $70 million plus opener. In fact, there has been only one $60 million plus opener. Four films from the 1990s continue to litter the top 10 biggest Thanksgiving weekend openers, proving this can be a tough weekend to open a movie.

Since the millennium turned, 33 films have opened over Thanksgiving weekend, and 13 of those films opened to less than $14 million – some of them much, much less. A year ago, Penguins of Madagascar opened to $25 million, but Horrible Bosses 2 flopped with $15.5 million. In 2013, none of three openers earned more than $7 million. 2012's Rise of the Guardians opened to only $23 million despite good reviews and a $145 million budget, while Red Dawn flopped during the same frame. Similar to Rise of the Guardians, Arthur Christmas imploded in 2011 with $12 million, and in 2010, Burlesque, Love and Other Drugs and Faster all went to seed, earning between $8.5 and $12 million. Big films, built-in audience films, kids movies – nothing is truly protected over Thanksgiving weekend, and the winners are never huge.

This weekend, debuting films have significant built-in audiences, but none are really true sequels. Openers include Pixar's The Good Dinosaur, with the studio trying to repeat the success they had with Inside Out. This time, they appear to be aiming for an even younger audience, as this one does not have the same inspired premise as the summer release that picked up $358 million domestic. Also opening is Creed, the latest movie in the Rocky universe. This time around, Rocky is the supporting character, and it asks whether audiences will still respond following 2006's resurgent Rocky Balboa. The Rocky films have never opened to more than $20 million, but have always had legs, making this is a solid choice for a Thanksgiving turn. Lastly, Victor Frankenstein opened, and it is the true turkey of the holiday weekend.

The top of the weekend box office is the same as it has been over the last several years, with a blockbuster holdover on top, this year in the form of The Hunger Games: Mockingjay Part 2. After opening almost $20 million below that of Mockingjay Part 1, Katniss and friends were looking for a bounce back weekend over turkey frame, and in some ways they got it. Even so, it continues to trail its predecessor. The weekend really started on Wednesday, with Mockingjay Part 2 earning $13.8 million, which was less than a million away from the $14.6 million that Part 1 earned on the same day. Thursday was $10.4 million for Part 2, versus the $11.1 million Part 1 earned. Black Friday is the key to the weekend, as it is one of the biggest moviegoing days of the year. Part 2 earned $21.3 million, still off the $24.2 million that Part 1 earned, and a massive $10 million away from what Catching Fire earned on Black Friday in 2013.

Over the three-day portion of turkey weekend, Mockingjay Part 2 took in $51.6 million, a very good, solid score, but one that pales in comparison to previous Hunger Games efforts. Part 1 earned $57 million over three-days, so while the lead of Part 1 has been trimmed, it's still significant. Mockingjay Part 1 fell 53% compared to its opening frame, compared to Part 2's 50% decline. Part 2 will have to face off against Krampus next weekend, which I think will be more of a challenge than The Pyramid (and its $1.4 million opening) gave Part 1 last year.

Over the five-day weekend, Mockingjay Part 2 earned a healthy $75.8 million, a number Lionsgate should be proud of given the competition this weekend. The finish is in the eight best Thanksgiving weekends of all-time, and it continues to thump scores put up by the Twilight franchise. The domestic total has reached $198.3 million after only 10 days of release (versus Part 1's $225.7 million), and also has $242 million from overseas venues.

The real news at the box office happens in second and third this weekend. Pixar's The Good Dinosaur finished second, setting itself up for a long December run. Animated films aren't opened on Thanksgiving weekend to achieve big opening weekend results; they open here so that holiday season legs can take hold, with parents dropping kids off at the cinema while they do their Christmas shopping. The Good Dinosaur did what it had to, starting with a $9.8 million Wednesday. Thursday dropped significantly to $6.6 million, but of the five-day frame, Thanksgiving itself is the slower day amongst the bunch. Friday was the key, and it did very well, earning $15.7 million, an almost 140% increase over the previous day.

Over the Friday-to-Sunday portion of the weekend, The Good Dinosaur performed admirably, pulling down a gross of $39.2 million from 3,749 venues, the fourth biggest Thanksgiving debut ever. While this number seriously lags against films like Inside Out ($90.4 million open) and The Incredibles ($70.5 million), remember that even the bigger films in the Pixar cannon would not have succeeded to the same degree had they opened over Thanksgiving. With Inside Out, Pixar has already had that big opening weekend success, and will now try for the leggy, long-term success they have seen in the past. The budget here is estimated to be between $175 and $200 million, so it will need a worldwide gross between $500 and $600 million to see a theatrical profit.

In the mid-to-late 1990's, Pixar owned Thanksgiving, releasing three films between 1995 and 1999 on turkey weekend: Toy Story (1995), A Bug's Life (1998) and Toy Story 2 (1999). The Good Dinosaur, a non-sequel, relates best to A Bug's Life, and has similar attributes. Both were squeezed between two very big films (the first two Toy Story films for A Bug's Life, and Inside Out and Finding Dory for The Good Dinosaur). Both are likely inferior films to the films they were squeezed between, but of course the jury is still out on Finding Dory. A Bug's Life opened to $33.3 million on Thanksgiving weekend, but it was still able to earn $50 million between December 18th and January 3rd. It finished with a domestic gross of $162.8 million, or 4.9 times what it opened to. That means that The Good Dinosaur should challenge $200 million at the domestic box office and then do quite well overseas.

Why will it challenge $200 million? If it's Pixar, it's gold is one reason, but The Good Dinosaur has what it takes to roll through the Christmas season. Reviews were good enough to get it going – 77% fresh overall, 84% fresh from "top critics," or those critics with the widest audience. The Cinemascore reinforced those notices with an A score, and it has the field to itself until December 18th, when Alvin and the Chipmunks 4 and a little film called Star Wars open. A Bug's Life had to fight off The Rugrats Movie when it debuted, and then Jack Frost two weeks later followed by The Prince of Egypt. The field is clear for The Good Dinosaur, and I expect strong word-of-mouth will propel it forward following an initial drop next weekend.

Creed is third, and according to Variety, tracking had Creed looking for $33 million over five days this weekend. However, with a new star, and stellar reviews in its back pocket, Creed broke out somewhat, starting on Wednesday when it earned a strong $6 million. Normally, films fade a bit on Thursday, given that families are gathering. Creed punched that thought in the face, as it pulled in $6.5 million on Thursday, gaining 7%, where normally it should be giving that back. On Friday, Creed earned an astonishing $11.7 million, which would put it in the $30 million range over three-days, when tracking was calling for that gross over five days.

Creed took in a stellar $30.1 million over the three-day portion of the weekend, and a wild $42.6 million over the five-day Thanksgiving frame. This is a huge win for Warner Bros., which was facing a bit of a risk with Ryan Coogler's film. Rocky himself had been reduced to a supporting player, and the entire franchise had never seen an opening weekend beyond $20 million. That's why it was smart to position Creed on Thanksgiving. Rocky films are not meant to open big – they are meant to leg out significant wins, as three of the six Rocky releases earned more than $100 million despite opening to less than $20 million.

Creed brings the best of both worlds now, opening decently and having the elements needed to stay hot through Christmas. Creed earned a stunning 93% fresh rating at RottenTomatoes, the best rating for a wide release since The Martian opened. It also earned an A Cinemascore, so it has the one-two punch it needs to stay relevant. It cost only $35 million to make, and I would not be surprised if it earned $150 million domestically.

Fourth goes to Spectre, which needed a bailout weekend if it was going to get very far beyond $200 million. It definitely got that bailout, as Spectre earned $12.8 million over the three-day portion of the weekend, off just 15% compared to last weekend's $15 million weekend where it fell 55%. Other Daniel Craig Bond films are tough to compare this weekend, as all spent Thanksgiving weekend in different parts of their run. Spectre remains far behind Skyfall, but ahead of both Quantum of Solace and Casino Royale. It has a domestic gross to date of $176.1 million against that massive $245 million budget. Overseas, it has already moved well past the half-billion mark, so financially it should be fine by the end of its run.

The Peanuts Movie is fifth, and despite The Good Dinosaur, it also holds well this weekend. The animated throwback earned $9.7 million over three-days this weekend, dropping 27% - which is solid given the competition. It crossed the $100 million mark on Monday, its 18th day, one day longer than it took The Smurfs. The $100 million Fox/Blue Sky production has now earned $116.8 million stateside, and only $10 million overseas but from a handful of small markets. It opens in Japan next week, and the markets get bigger and bigger in the lead-up to Christmas.

The Night Before is sixth, as it was hoping to build on last weekend's subdued opening weekend figure of $9.9 million. With a great Cinemascore (A-), and decent reviews, it was possible that the Seth Rogen release might just increase on what it did last weekend. Unfortunately, that was not the case, as the Christmas comedy earned $8.2 million and fell 17%. The Sony release was made for only $25 million, and it has a gross-to-date of $24.1 million, so it's going to need a little help overseas. It opened in a few overseas markets this weekend and heads to Europe next weekend, so it could still be okay.

The Secret In Their Eyes did not have a great second weekend. It earned $4.5 million and dropped 32%. The STX release has now earned $14 million. Going the other way is Spotlight, the sure-to-be-Oscar nominated newspaper movie. Spotlight earned $4.5 million, up a significant 27% compared to last weekend. Open Road added about 300 theaters for Thanksgiving weekend, and Spotlight now has a domestic gross of $12.3 million.

Brooklyn is another film moving up this weekend, as the Saoirse Ronan film moved from 111 screens last weekend to 845 this weekend. With venue increase, Brooklyn moved from $1.6 million last weekend to $3.8 million this weekend, for an increase of 230%. It has a gross to date of $7.3 million. Moving the other way is The Martian, which earned $3.3 million in its ninth weekend. It now has a domestic gross of $218.6 million and an overseas gross beyond $325 million.

That means that new release Victor Frankenstein, starring Professor X and Harry Potter, failed to make the top ten. It finished 12th and earned only $2.4 million. Since opening Wednesday, it has earned a paltry $3.4 million. The budget is rumored to be at $40 million, so overseas patrons is going to have to love this one. Unfortunately, reviews were awful and the Cinemascore was a dreadful C.

Overall this weekend, the Thanksgiving box office was decent, but in no way record-breaking. The top 12 films this weekend took in $173.1 million, which was a leg up over last year, when Mockingjay Part 1 led the 12 to $155 million. The year earlier, though, with Catching Fire on top, the top 12 earned a hot $194.6 million.

Next weekend brings Krampus into wide release and a film called The Letters in a mid-tier release. There are only two true wide releases prior to Star Wars: The Force Awakens opens – Krampus and In the Heart of the Sea in the following frame.