Weekend Forecast for November 27-29, 2015
By Reagen Sulewski
November 25, 2015
BoxOfficeProphets.com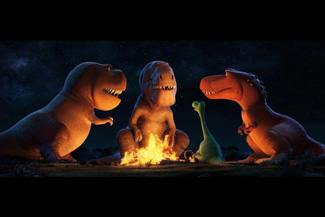 ---
And with barely any time to contemplate the failings of the last Hunger Games film, we turn around quickly to Thanksgiving and a solid holiday lineup, plus one turkey… Sorry.

For the first time since they started releasing features, Pixar will release two films in one calendar year, bringing The Good Dinosaur to the big screen this weekend, following Inside Out from this summer. Now, this is largely a payoff from having no Pixar films in 2014, but let's take what we can get, shall we?

Positing a world in which the meteor that wiped out the Dinosaurs missed the Earth, it follows one particular Apatosaurus, separated from his family after a flash flood, who adopts a wily little human as he journeys across an unforgiving landscape. It's basically a reverse of the Boy and His Dog trope, and mixes a bit of Finding Nemo and Monsters, Inc. And while it's perhaps the most visually impressive Pixar film to date (I mean, of course it should be), it's in some ways the most ordinary-seeming Pixar film they've ever made, excluding Cars 2. While Pixar films have rarely sold well in commercials and trailers, being as high concept as they usually are, the thinness of the script is peeking through and this feels a lot more like a lesser Disney film or (gasp) Ice Age than the high quality associated with Pixar.

Reviews are politely positive, veering away from the typically reverential reviews (again, excluding the Cars films) that typically accompany these films. For as much as the voice cast matters (and we all agree we're past that now right? Or is Ed Asner that big a draw?), it's a medium level of fame, with Sam Elliot, Anna Paquin, Frances McDormand, Jeffrey Wright and Steve Zahn the most recognizable names (and answering the initial questions of whether it would be a totally dialogue-free film).

Financially, Pixar remains without a true swing and a miss and while the peak opening weekend remains Toy Story 3, they've basically held serve against most trends, with this summer's Inside Out hitting a massive $90 million and falling just shy of being their second biggest hit ever. That was in large part based on legs and the quality of the film (a Best Picture nomination isn't totally out of the question), so I'm skeptical that this will transfer over to Dino. Complicating things slightly is that this is the first Pixar film to be released in the holiday season since 2004 and The Incredibles. The opening weekend will likely be suppressed because of that, as well as the spread-out Thanksgiving opening, and a start of about $62 million over three days is likely.

A film that could verge on the edge of self-parody, Creed continues the Rocky mythos with the story of Apollo Creed's son, Adonis. As a young troubled boy on the streets of L.A., Creed (played by Michael B. "Not That" Jordan) struggles to live up to the legacy of his father, the former world champ killed in the ring by Ivan Drago. The product of an extramarital affair, he winds up being cared for by Creed's wife (awkwaaaard) and potentially settling into a normal life but finds himself pulled towards the boxing world. And so he seeks out his father's old rival and sparring partner, one, uh, Rocky Balboa. Stallone returns to his signature role, albeit in a supporting position, now the same age as Burgess Meredith was in the original Rocky.

Thankfully, it's not Stallone who's being asked to anchor the film. Jordan, who came to everyone's attention through Friday Night Lights, has proven to be relentlessly captivating even in the worst of situations (coughcough Fantastic Four). Even though I have some issues with the timeline of the series (any kid of Apollo has to be at least 31 and way too old to get into the boxing game), the match of concept and talent, including young director Ryan Coogler, is a potentially dynamic one. Unexpected raves are coming in for the film, including a final fight sequence shot in a single take. Perhaps it needs that jazzing up as the plot itself looks rather by-the-numbers. Of course, after the excesses of the past Rocky films, maybe that's just what's needed to get this series back to where it needed to be. 2006's Rocky Balboa pulled in a decent $12 million over a Christmas weekend, which comes with its own box office depressing factors, despite it being a questionable sequel. The ads for Creed are on point and emphasize the crucial aspects of the story and that, combined with the surprisingly strong reviews should put this on pace for a strong opening. The market for sports movies can be tough, but I expect this one to pick up some pace as it heads into the weekend, and open to around $27 million.

Filed under "I Can See What You Were Going For There, But...", Victor Frankenstein opens on Wednesday, presumably to cavernous, echoing rooms. Fox's take on the Frankenstein monster legend is a semi-humorous interpretation of the subject, with James McAvoy playing the famed doctor obsessed with bringing the dead back to life, and in a bit of spectacular stunt casting, Daniel Radcliffe as his (non-humpbacked) assistant Igor. As directed by Paul McGuigan, it's a very noisy-looking, tongue-in-cheek mess, hitting all of the details from every other Frankenstein movie ever made. In essence, nothing you've never seen before.

In some ways, it's quite like something you have specifically seen before – the 2004 version of Van Helsing, which tried to soup up the monster-hunter portion of the Dracula story and also starred another member of the X-Men franchise. In theory, we're a lot more savvy about these old-timey horror adaptations (but then again, Dracula Untold...) so that film's $51 million opening is way, way, way (way) out of the question. Really what's going to sink this film is its spectacularly scattershot tone, where it's not clear if we're supposed to be excited, or scared, or laughing, or... Essentially this film fails the simplest test of a movie's advertising, in that it doesn't tell its audience what kind of film they're going to get. I'd expect a significant flop here, with an opening weekend of just $7 million.

Expanding into sort of wide release is Spotlight, perhaps this year's top contender for the Best Picture Oscar. A look into the investigative reporting done by the Boston Globe on the molestation scandal in the Catholic Church, it's a star-studded prestige picture that has garnered tons of praise from all the right groups. Directed by Tom McCarthy of The Visitor and, uh, The Cobbler... it stars Michael Keaton, Mark Ruffalo, Liev Schreiber, Rachel McAdams, John Slattery and Stanley Tucci amongst others. In limited release, this certainly non-feelgood-film-of-the-year has put up some solid numbers, cracking the top ten last weekend with $3.5 million in just under 600 venues. In its expansion, look for about $5 million this weekend.

It's strange to start sounding the death knell for a $100 million film, but here we are – The Hunger Games: Mockingjay Part 2 continued the slide of the previous entry, losing one-full third of the opening weekend of Catching Fire. In some ways, this is classic sequel behavior – like way, way classic – but not what studios expect now, and the management of this property will be quite the case study in a couple of years. This has also not been a particularly leggy series, and this last film will probably be the worst for that, dropping to about $44 million this weekend.

Other Thanksgiving leftovers are slim pickings, with Spectre limping home to about $8 million and The Peanuts Movie grabbing about the same, picking up what's left over from Pixar. The Night Before may pick up some business from young adults who literally can't stand to be around their families anymore, but should hit a maximum of about $6 million.