Monday Morning Quarterback Part II
By BOP Staff
November 25, 2015
BoxOfficeProphets.com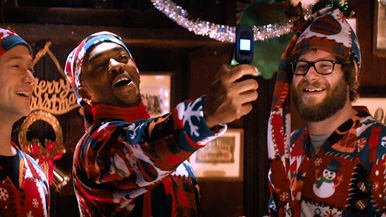 ---
Kim Hollis: The Night Before, a pre-Christmas comedy featuring Seth Rogen and Joseph Gordon-Levitt, earned $9.9 million this weekend. What do you think of this result?

Jason Barney: This is probably a disappointing opening, I have to imagine that Rogen and company were hoping for a little stronger number. There was no indication that this was going to open anywhere near its budget, which was around $25 million. However, that budget number is pretty cheap, and there is definitely a chance it could match it over the course of its run.

Beyond that, there is not much here. A $10 million opening gives it a shot, but we don't know the marketing costs involved, so it would have to have an impressive run over next weekend and stick around for a couple of weeks. With the Rotten Tomatoes score of 63% fresh, it might get some positive word-of-mouth, but I think it will be gone pretty quickly.

Max Braden: I would have liked to have seen it perform better but I don't think I'd call it a significant disappointment. I see this mostly as a Seth Rogen comedy, and he's typically more of a summer draw. Last year's interest in The Interview was more about the international affairs news it generated than the movie itself. Three years ago he had a weaker opening with The Guilt Trip at Christmas, but viewers then were more interested in seeing it for Barbara Streisand. I think I was hoping for something bigger because Joseph Gordon-Levitt is continuously underrated by audiences, and Mackie seems to have been flirting with a bigger piece of stardom for a while.

Edwin Davies: This strikes me as a decent result given how crowded the marketplace is at the moment, and the nature of the film itself. A seasonal comedy like this doesn't need to make a huge amount of money on opening weekend. Instead, it needs to make enough of a splash that people start talking about it, then ride out the Thanksgiving/Christmas craziness to profitability. This opening suggests that The Night Before won't be a huge hit, but it's done enough to get people's attention, has decent word-of-mouth so far, and it presents an irreverent alternative to festive cheer which could play well in the weeks ahead a la Bad Santa. We're not looking at another Neighbors here, but a somewhat leggy performance like the last Levine/Rogen/Gordon-Levitt team-up, 50/50 ($8.6 million opening, $35 million finish, 4.0 multiplier) seems pretty achievable.

Ben Gruchow: I agree that it's not terrible; when accounting for ticket-price inflation, it grossed roughly the same amount as 2011's 50/50. You have to go all the way back to 2008 and Zack and Miri Make a Porno to find a similar genre, release date, opening figure, and cast bankability. The release date may let it simulate similar legs to that, but the audience for it is going to have a lot vying for its attention over the next couple of weeks.


Kim Hollis: The Secret in Their Eyes, a drama featuring Julia Roberts, Nicole Kidman and Chiwetel Ejiofor, earned just $6.6 million. What went wrong here?

Jason Barney: I'm surprised how low this film opened. I never thought it was going to be on the radar for very long, but the lack of interest from audiences is telling. Opening with the approach of Thanksgiving is a prime slot on the movie release schedule, and this pretty blah.

The budget was about $20 million, and the opening puts it on a path of earning that back, but this film won't even be in the top ten in a few weeks.

There are three new openers during the week, and with a Rotten Tomatoes rating of 43%, this will be gone in no time.

J. Don Birnam: Is it this movie or the box office in general? My theory for this year is that, because the average American goes to three or four movies a year, there is little space for extra movies. Everyone is going to see Jurassic Park and Star Wars and that leaves space maybe for Inside Out or The Hunger Games. Everything else seems to be doing quite poorly.

The art house crowd knew that this was a knock off of the Argentinian Oscar winner, and the non-art house crowd probably doesn't even know who Nicole Kidman is at this point.

Max Braden: I just think this was too dark a topic for a wide release early holiday season movie. It's the kind of movie that will earn appreciation from film festival audiences, but who really wants to see a tormented Julia Roberts suffering the loss of her daughter a week ahead of Thanksgiving? August: Osage County was released in an Oscar-qualifying pattern after Christmas in 2013 and only expanded wide in January. If you're not going to deliver an action thriller or tap into the charm that is Julia's major selling point, you're looking at a limited audience right from the start.

Edwin Davies: This is probably a best case scenario since the studio clearly realized that they had something of a dud on their hands. Not good enough to hack it as an arthouse, platform release (especially since that audience might be more interested in the Oscar-winning original), but too dark to connect with mainstream audiences, they made the right choice to release it wide to try and get their money back. Given the release window, they probably hoped that it would be part of the awards conversation (see also: The 33), but instead they've probably done enough to ensure that they cover their budget domestically, while the caliber of the stars could ensure a profit from overseas. All in all, it's a case of snatching (an incredibly slight) victory from the jaws of defeat.

Kim Hollis: Last weekend, Love the Coopers debuted with just $8.3 million and has a running total of $15.1 million. What do you think about this result?

Ben Gruchow: As a horror movie, it'll be about as successful as The Ghost Dimension. It also cost $7 million more than that did.

Realistically, the only chance Love the Coopers had at being anything other than a footnote expired once it was screened and people started to get a sense of its quality. In an alternate universe, where it's a better film, I could see this bubbling under a lot of the big openers for several more weeks into December. As it is, we're probably looking at about $21-$22 million domestic finish and a quick trip to the bargain bin/Deals section of Vudu.

Max Braden: I've had a passing interest in this because a Diane Keaton movie about a holiday family gathering makes me immediately think of The Family Stone, which I liked a lot (though not really because of Keaton). The Family Stone had a December opening 10 years ago and grossed $60 million. Love the Coopers won't get there and it had a weaker opening average. Again I wonder where the advertising was, because I've been watching CBS and ABC TV shows lately and I can't remember seeing any ads for this movie.

Edwin Davies: It's not a total disaster, but that might be damning with faint praise. The cast probably got it some attention on opening weekend, particularly from the older demographic, but the absence of good reviews or good word-of-mouth will prevent it from finding enough purchase to make it through the next six weeks, which is what it needs to do in order to make any decent amount of money. Instead, it's probably going to get lost in the shuffle and be completely forgotten before too long.