Weekend Wrap-Up
Mockingjay 2 Closes The Hunger Games With Its Lowest Open
By John Hamann
November 22, 2015
BoxOfficeProphets.com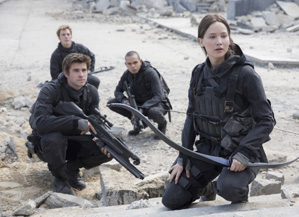 ---
As the checkered flag flies for The Hunger Games, Mockingjay Part 2 opens to $100 million plus. So why the sad face? Is an eventual $3 billion from four Hunger Games films not enough?

Welcome to the pre-Thanksgiving weekend at the box office, the frame where Hollywood drops a huge film to take advantage of this weekend, Thanksgiving weekend, and all of the big, big frames heading toward the Christmas Box Office Lottery. For the last eight consecutive years, three franchises have dominated year in and year out. We have either had a Hunger Games film (three), a Twilight release (four), or a Harry Potter film (one) over those eight years. Those eight films have opened to a combined $1 billion, for an average opening weekend of $125 million.

It would appear that that the run is over; however, Warner Bros. will try again next year with the Harry Potter spinoff Fantastic Beasts and Where To Find Them, which opens November 18, 2016. In 2017, DC Comics will try and take over, with The Justice League Part One. Suffice to say that the pre-Thanksgiving weekend has been the launching pad for some big, big films for almost a decade, and we have another one this weekend.

This weekend closes out The Hunger Games franchise, at least for now, as The Hunger Games: Mockingjay Part 2 debuted this weekend, but this time, with two other wide releases accompanying it. Competition has stayed away from The Hunger Games since Vince Vaughn's Delivery Man tried to play as counter-programming versus 2013's Catching Fire, but it was gunned down, opening to only $7.9 million. Eventually, Delivery Man tapped out with a loss and had already been mothballed by Christmas.

This weekend, Sony is pushing out The Night Before, the new Seth Rogen Christmas comedy, coming out on the heels of Love the Coopers, the holiday season's first disaster. Additionally, upstart STX Entertainment goes for revenge drama with The Secret in Their Eyes, with Julia Roberts. The weekend had all the possibilities of being huge, as the weekend hoped to stay on pace with the huge weekends of the last eight years, where three of those years had summer-style top 12 grosses combining for over $200 million.

I don't think anyone will be shocked that The Hunger Games: Mockingjay – Part 2 is our number one film of the weekend, but there are surprises to come. The Jennifer Lawrence starrer got started with Thursday previews, of course, earning a powerful $16 million. While that number sounds great, it was a million off of the last film, Mockingjay Part 1, and almost $10 million lower than Catching Fire, which was the biggest earner of The Hunger Games franchise. Is $16 million a bad number for a Thursday preview? Of course not, but it does tell us that either the franchise is tiring, or the young girl fanbase has grown up (and moved on) since the first film debuted in 2012. I believe these numbers are slightly lower due to what some call the mistake made by Lionsgate, splitting up the last film in the series into two parts, which was not a bad decision financially.

The combined Thursday preview/Friday gross for Mockingjay Part 2 came in at an awesome $46 million, $20 million more than what Spectre did on opening day, and exactly what Minions earned over its first day back in July. Minions was able to turn its $46 million Thursday/Friday into a $115.7 million weekend, a number Mockingjay Part 2 would struggle to achieve due to the viewer demographic. Compared to the other films released on this weekend over the last eight years, the opening day combo pales in comparison. Mockingjay Part 1 debuted to $55.1 million, Breaking Dawn Part 2 drew $71.2 million over Thursday/Friday, Breaking Dawn Part 1 did a similar amount, Harry Potter and the Deathly Hallows Part 1 earned $61.7 million, Twilight: New Moon earned $72.7 million, and the first Twilight earned $36 million. So, this is a much lower start than its same-weekend brethren, but it's hard to complain about a $46 million opening day.

Over the rest of the weekend, The Hunger Games: Mockingjay Part 2 was looking to remain on the same pattern as Mockingjay Part 1, which would push the weekend gross over $100 million. The previous Mockingjay had a Thursday/Friday of $55.1 million and then dropped 26% to $40.9 million on Saturday. Mockingjay Part 2 fell 27% on Saturday to $33.8 million, so it was still on target to hit the opening weekend century mark. On Sunday, the final Hunger Games chapter earned $21.3 million, which pushed the weekend gross to $101 million.

Despite the comparisons to the other blockbusters, this number is still stunning. The Hunger Games: Mockingjay Part 2 is only the 33rd film to open above $100 million. It is also the 31st biggest opening ever, as it settles between Indiana Jones and the Kingdom of the Crystal Skull ($100.1 million) and Harry Potter and the Goblet of Fire ($102.7 million). The Hunger Games and The Avengers are the only two franchises ever in history to have all of their parts open above $100 million – a statistic that should make Lionsgate proud. Please feel free to stick that stat in the face of the haters that are sure to knock this result.

Throughout its run, The Hunger Games has always achieved success by putting out a quality product and marketing it well. For the fourth consecutive time, the franchise has earned a Cinemascore of either A (which the first two films earned) or A- (which the last two films earned). Reviews are similar to last Mockingjay, with Part 2 currently at 70% fresh, compared to the 68% of Part 1. These films likely could have scored even worse at RottenTomatoes, but still would have been saved by the draw that is Jennifer Lawrence, who is the biggest thing going today. Lawrence has had only one real misstep in the last three or four years, as Serena was her only real turkey. Lawrence is still not done this year, as she has the Christmas release, aptly titled Joy, still to come.

Those who argue that numbers for Mockingjay would have been higher had they not split the last book into two films are exactly right. Had Mockingjay been one film, it likely would have opened to more than both of these films, and also probably would have finished with a larger worldwide total. However, even if a one-part Mockingjay had opened to $40 million more, done an additional $100 million domestic, and another $200 million worldwide, it still pays for Lionsgate to split these into two films. Should Part 1 do exactly the same business as Part 2, Lionsgate sees $1.5 billion in cash flow versus what is likely $400 million in costs (both films cost $125 million to make, and then marketing costs are estimated). Additionally, these are theatrical costs only – the entire entertainment chain benefits financially from two films. While the perception now is that the viewer may suffer from these decisions, The Hunger Games isn't coming back in the near term, so there is no brand to tarnish. These films have been huge successes for Lionsgate, so I wouldn't be surprised to see an origin film (sans both Jennifer and Francis Lawrence, of course) come along in the not too near future.

That pushes Spectre down to second this weekend, as the size and power of The Hunger Games puts the pressure on James Bond. Spectre's third frame got started with pain, as it was off 58% from its previous Friday, earning $4.3 million. Over the remainder of the weekend, it came back a bit, pulling in $14.6 million for a weekend-to-weekend drop of 57%. Quantum of Solace and Skyfall's third weekend was Thanksgiving (they fell 30% and 14% respectively), so they aren't the greatest comparisons. Casino Royale fell 51% earning $15 million, so you can see how Spectre is slipping somewhat domestically. So far, Spectre has earned $153.7 million domestically, making it the second biggest earner of the Daniel Craig Bond films after three weekends. Worldwide, Spectre has found almost $600 million, so this one will be fine despite its massive $250 million budget.

Third is The Peanuts Movie, which also got punished as The Hunger Games took the big theaters away. Charlie Brown and friends earned another $12.8 million this weekend, off 47% compared to last weekend. The Peanuts Movie continues to play young, which means huge increases when it moves from Friday to Saturday and Sunday. The animated film with the $100 million budget (too much) has now earned $98.9 million, and will cross the $100 million mark in the next few days. The Good Dinosaur is going to go all carnivore on The Peanuts gang next weekend.

Fourth goes to The Night Before, the new Christmas comedy with Seth Rogen. I didn't like Sony's decision to put this one up against The Hunger Games. The comedy would have played to its audience more next weekend, against Creed, The Good Dinosaur and Victor Frankenstein. Alternately, it might even have worked last weekend. The result is a weekend take of only $10.1 million, as the bigger venues all belong to The Hunger Games, Spectre, and The Peanuts Movie. Of course, The Night Before is made to play throughout the holiday season, but for that to happen a film needs to open to $20 million or more. Considering that the reviews were positive (65% fresh) and the Cinemascore was decent (A-), this comedy with its $25 million budget may be able to leg something out here, but it will need a pretty wild Thanksgiving to do so.

The Secret in Their Eyes is fifth. The under-marketed Julia Roberts/Nicole Kidman/Chiwetel Ejiofor revenge drama drifted in the rubble a bit this weekend, as it couldn't compete with the bigger, splashier films. The Secret in Their Eyes earned only $6.6 million this weekend, as reviews were less than stellar at 42% fresh, and the Cinemascore came in at a dreadful B-. I have a feeling that upstart distributor STX Entertainment knew they didn't have a winner, and chose to drop it in the pre-Thanksgiving weekend to get whatever they could out of this release. The good news is that the film cost less than $20 million to make, and it could do some decent business overseas given the stars involved. Overall, though, this is a fairly hefty disappointment, as it crosses another potential Oscar chaser off the list.

Love the Coopers, last weekend's debuting Christmas comedy, took it from both The Hunger Games and The Night Before this weekend. It earned only $3.9 million and fell a wild 53%. Made for $17 million, this CBS Films release has a cumulative total so far of $14.9 million.

That puts The Martian down to seventh in its eighth weekend. This time around, the Matt Damon film earned another $3.7 million and declined 45%. To date, The Martian has earned a powerful $213 million stateside and $270 million overseas, all against a $108 million budget.

Spotlight, which earned $1.4 million from 61 screens last weekend, expands to 598 venues for Open Road this weekend. The additional screens pushed the weekend gross up to $3.6 million, good for an increase over last weekend of 166%. This one cost $20 million to make, and is my current favorite for Best Picture, but it will need to earn more at the box office to increase its relevance. So far, it has picked up $5.9 million and will likely expand further in the weekends to come.

Ninth is The 33, which also gets punched this weekend. The 33 pulled in only $2.2 million, dropped a significant 61%, and has a running total of only $9.9 million. Tenth is Bridge of Spies, which likely spends its last weekend in the top ten. It took in $1.9 million this weekend, was off 54%, and has a running total of $65.2 million against a budget of $40 million.

In limited release this weekend, Fox Searchlight pushed Brooklyn up to 111 screens, and it earned $1.2 million. It had a venue average of $10,360. Carol, the new Cate Blanchett flick, debuted on four screens and earned $248,149, giving it a strong venue average of $62,037.

Overall this weekend, the box office could not keep up with the heights of previous pre-Thanksgiving weekends, as this Hunger Games fell short of previous teen titans released over the same frame. The top 12 this weekend still earned a respectable $163.6million, but that's well off the $186.7 million pulled in last year, when Mockingjay Part 1 was in theaters.

Next weekend brings another interesting frame to the box office, as we have three films that aren't true sequels, but all have significant predecessors. Likely to win the weekend is The Good Dinosaur, the latest in a line of Pixar movies, with this one coming off the summer success of Inside Out; Creed, the latest in the Rocky saga opens; and Victor Frankenstein, the sixth big screen retelling of the monster story.