Weekend Wrap-Up
Spectre Second Weekend Leads Box Office
By John Hamann
November 15, 2015
BoxOfficeProphets.com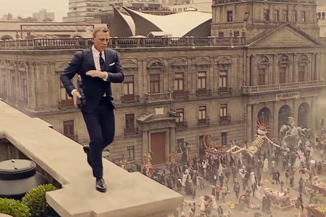 ---
Another trio of openers at the box office, another weekend of futility.

The weekend that is the bridge between James Bond and Katniss Everdeen was never going to be huge – who wants to land their big film between known franchises like The Hunger Games and Bond? Openers this weekend included a Christmas movie in Love the Coopers, the Chilean mine rescue story The 33, and the latest faith/football story, My All American. We've also got Oscar expanders with Spotlight and Brooklyn, both moving from a handful of screens to a couple of dozen. That means it's a repeat weekend at the top, as Spectre and The Peanuts Movie dominate by default.

Our number one film for the second straight weekend is obviously Spectre, as James Bond comes off his $70 million debut looking to hold decently this weekend. Skyfall fell 53% in weekend two, but Skyfall no longer is the best comparison for Spectre, given the poorer reviews and audience reception than the previous Bond film. A better comparison now is Quantum of Solace, the more questionable 2008 Bond entry, which fell 60% in its second weekend. Solace, however, was dealing with the debuts of both Twilight and Bolt, which combined for about $96 million in new business while Solace was attempting to have a second weekend.

Given the fact that this weekend's openers were only able to put up about $15 million, the skies should be clear for a strong hold this weekend, right? Not so fast – The Peanuts Movie continues to hog some big venues and could be pulling parents away from Spectre to see Snoopy and Charlie Brown with their kids. At the end of the day, given the opening and the overseas response thus far, I think Sony and MGM would have been quite happy for a hold in the 50% range, if they were lucky enough to get it.

As BOP's Tim Briody reported yesterday in the Friday Box Office Analysis, Spectre earned $10.2 million over its second Friday, off 63% from the Thursday preview inflated first Friday. You may be surprised to hear that I think this is a decent Friday-to-Friday hold, as it didn't match Skyfall's Friday-to-Friday drop (60%), but it did beat the Quantum of Solace's 69% Friday-to-Friday plunge. That put Spectre right where it wanted to be for the rest of the weekend – almost on par with Skyfall, but much better than the dreadful Quantum of Solace.

Because the 63% Friday-to-Friday drop for Spectre included those pesky Thursday previews, we knew that its percentage was going to improve drastically over the remainder of the weekend. Without the Friday rush to get out and see the new Bond like we saw last weekend, the internal weekend multiplier for Spectre was much better than last weekend at 3.47, and the latest Bond was able to manage a weekend gross of $35.4 million. That puts the weekend-to-weekend drop at 50%, a figure that Sony and MGM should be quite pleased with, even if the lack of competition made things look more promising than releases in the past. What most don't realize is that Skyfall's second weekend went up against Twilight: Breaking Dawn Part 2 ($141 million opening), and the expansion of Lincoln, which earned over $20 million.

Spectre crossed the $100 million mark on Friday, its seventh day of release. That's one day slower than Harry Potter and the Chamber of Secrets and the same amount of time as The Hobbit: The Battle of the Five Armies. Skyfall hit $100 million in four days, and Quantum of Solace did it in nine days. Casino Royale, with its much lower open but better staying power, took 14 days to reach $100 million, before going on to earn $167.4 million at the domestic box office. The domestic total for Spectre has now reached $130.7 million, and the overseas total sits at $413 million. With a global total sitting at $543 million today, Spectre still needs about $150 million more worldwide for Sony and MGM to see a theatrical profit.

Finishing second is The Peanuts Movie. Normally, without other kid-competition coming out, I would expect a decent hold for a film targeting this demographic, but with the size of the debut and the somewhat old-fashioned storytelling in an albeit 3D design, this is not the norm. The Peanuts Movie had a second Friday at $5.6 million, which put the Friday to Friday drop at 53.5%. However, over its opening frame, both the Saturday and Sunday numbers were higher than the Friday number, which meant this weekend's hold would get better over the rest of the frame.

The Peanuts Movie was able to hold, finishing the weekend with a tally of $24.2 million, off a slightly higher-than-expected 45% compared to last weekend. Yes, The Peanuts Movie is old-fashioned, and the other thing we could be seeing here is adults seeking it out over the opening frame due to the nostalgia factor, and then dropping off. The Simpsons Movie dropped 66% in its second weekend, simply because adults got off the ride after the first three days. Alvin and the Chipmunks likely would have seen a similar drop, but it spent its second weekend in the frame prior to Christmas, and kept its drop to 36%. The third Alvin film, appropriately titled Chipwrecked, fell 46% in weekend two, despite that second weekend being Christmas. The Peanuts Movie is playing like a sequel, and with a gross to date of $82/5 million, and an expected finish of about $135 million, everything is going to be fine once all is said and done, but will need a much bigger impact overseas than the $8 million it has seen so far.

Finishing third is our first opener, Love the Coopers, which manages to push The Martian down to fourth for the first time in its run. Love the Coopers, with its cast of thousands and Christmas theme, really needed to be relevant this weekend. If it opened and audiences responded, a film like this could stay in the top ten for the next six weeks through the lead up to Christmas. Instead, The Coopers, led by John Goodman and Diane Keaton, earned an only okay $8.4 million from 2,603 theaters this weekend. Normally, I would say that would give it some room to expand; however, Coopers earned an ugly B- Cinemascore to go with its awful 16% fresh rating at RottenTomatoes. These two pieces of information will likely kill The Coopers, because it needs momentum heading into December to be successful, and will now have to find that momentum limping on one leg.

That puts The Martian down to fourth this weekend, which is the first time in six weekends that rank has been below third. The Matt Damon release still holds beautifully, continuing a run that has gone against the grain through a troubled October. This weekend, the Ridley Scott film earned another $6.7 million, off only 26% compared to last weekend. The Martian's seventh weekend beats the same weekend from Gravity's run, when the Sandra Bullock starrer was earning $6.1 million. At that point in Gravity's term, it had earned $240.4 million. The Martian, on the other hand, has earned $207.4 million. Gravity was stronger than The Martian in the initial part of its run, but The Martian is actually showing better legs later in the game. The Martian has also earned $270 million overseas, which is still a far cry from Gravity's $450 million.

Fifth goes to new release The 33, the story of the Chilean mining crew trapped underground for almost 70 days. Anyone who followed the story knows that it ended well, so unless you're a relative, I'm not sure who is coming out to this - it seems more like TV Movie of the Week stuff to me. I wasn't the only one, as The 33 earned only $5.8 million from 2,452 screens this weekend. It did earn an A- Cinemascore, so the film is doing what it should emotionally for people, but its 40% fresh rating limited audiences coming out on opening weekend. Made for $26 million, The 33 will need to find an audience outside of North America – it has so far, earning $12 million – to hopefully find a profit.

Sixth is Goosebumps, which is still surviving two weekends after Halloween. This weekend, Goosebumps earned another $4.7 million and fell a not-bad 32%. The Sony release has now scared up $73.5 million in domestic sales, but carried a budget of $58 million, which means when this finally sees the light overseas, it is going to need at least $75 million in ticket sales – the good news is that it already has $30 million over there, so collecting the rest shouldn't be too difficult.

Bridge of Spies drops two spots to seventh this weekend, but holds nicely. The Tom Hanks/Steven Spielberg flick took in another $4.3 million and declined a teeny 27%. It opened to $15.3 million, and hasn't seen a drop higher than 30% yet. It cost $40 million to make and has a domestic total so far of $61.7 million.

Eighth is Bollywood film Prem Ratan Dhan Payo. It earned $2.4 million from 286 screens, giving it a venue average of $8,392.

Ninth is Hotel Transylvania 2, now in its ninth weekend. The Adam Sandler flick earned another $2.3 million and fell 35% as The Peanuts Movie took a lot of its business. Still, the spooky sequel has picked up $165.2 million stateside and has over $250 million in overseas sales as well.

The Last Witch Hunter takes 10th place, earning $1.5 million as it declines 42%. This October holdover has now accumulated $26.1 million from domestic venues. Its international total is approaching the $60 million mark.

Sitting down in 12th is My All American, the second football and faith movie we've seen over the last few weeks (Woodlawn was the other). This new release earned only $1.4 million this weekend, and joins the litany of other failures released this fall. Clarius Entertainment released this one to 1,565 screens, and didn't push hard enough to get either the football or church crowd out to see it. If there's good news, it's that it earned an A Cinemascore, but at 34% fresh, it wasn't able to make waves.

In limited release, the Brangelina flick By The Sea didn't do much, earning $95,440 million from 10 screens. This wasn't made to mint money, so it will likely disappear given the 31% fresh rating at Rotten Tomatoes. In better news, Spotlight expanded from five screens to 61 screens, and earned $1.4 million, giving it an average of $22,925. Brooklyn also expanded this weekend from five screens to 23. It earned $485,000 and ad a screen average of $21,087.

Overall, the box office did okay given that all the openers basically cratered. Compared to last year, though, the box office spends another weekend playing catch up. This weekend, the top 12 films at the box office took in $98.5 million, which pales against last year when Dumb and Dumber To led the box office to $129.6 million. Next weekend, things will turn again. The last of The Hunger Games films finally opens and is joined by Seth Rogen and friends with The Night Before, and the Julia Roberts film Secret In Their Eyes. It could be a very interesting frame.