The Amazing Race Power Rankings
By Kim Hollis
November 13, 2015
BoxOfficeProphets.com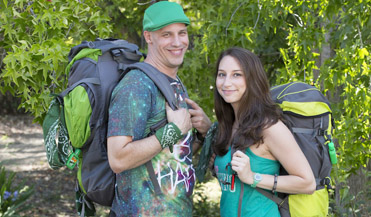 ---
Last week's Amazing Race episode actually featured an elimination, so here we are back doing Power Rankings once again. If the producers of the show are merciful, they'll get down to it and get rid of the remaining terrible teams with no delays so that we can get on to the potential happiness of watching some competitive teams do battle against each other in the final three.

1. Justin & Diana (#TheGreenTeam)
Yes, #TheGreenTeam won once again – and that was with a few struggles and challenges with some of the tasks during the leg. They're extremely confident (for good reason), and the other teams just seem so demoralized every time they realize that they're losing to Justin & Diana once again. We'd love to give some clever analysis here about why they're at the top, but they're just that much better than everyone else. The other teams are truly going to have to hope for major mistakes and/or meddling from the show producers if there is going to be any chance of #TheGreenTeam falling down.

2. Kelsey & Joey (#TheReporters)
That's right! A shakeup between second and third! There's still effectively not much difference between the standing of Kelsey & Joey and Tanner & Josh, but the guys showed some vulnerability last week as they struggled with details. This gave #TheReporters the opportunity to show their stuff, which was good but not good enough to beat Justin & Diana. All you really need to know here is how utterly excited they were to be ahead of #TheGreenTeam for a short time. Their glee didn't last, of course. Still, they're a lot less emotional than Justin & Diana, which might prove an advantage down the line.

3. Tanner & Josh (#TeamTexas)
Is it just us, or have these guys lost their mojo since giving up the Express Pass? Their swagger certainly seems to have dissipated at the very least. In the last leg, not only did they take in the sights in Paris while the other teams figured out they could leave on earlier trains, they also had difficulty with details in the challenges. They're still better by far than the remaining teams, but cracks have emerged.

4. Tiffany and Krista (#TheCheerleaders)
Look, none of the teams other than the top three is competitive, but we have to give at least a little bit of dap to Tiffany & Krista. The last couple of legs, they've done a really good job of choosing tasks that are well within their skill set, allowing them to rise above other teams who have had some dreadful days. They're just a meltdown away from elimination, though.

5. Logan & Chris (#ThePaparazzi)
Then again, you could say that any of the bottom three teams are a meltdown away from elimination. And if any team was ever ripe for a meltdown, it's these two. They have them regularly. Details are not their friend, and even though they berate themselves over and over again for their errors, they never seem to learn from their mistakes. They would really be ranked at the bottom if it weren't for…

6. Denise & James Earl (#TeamAlabama)
The mother/son team is only still in the game because of #ChacAttack's 19 catastrophic mistakes. Had Cindy & Rick only had 18 dumb errors, Denise & James Earl would have been sent packing instead – and probably by a lot. Their biggest problem is that Denise wants to control all aspects of their Race even though James Earl is perfectly capable (and would probably be the better leader for them). Instead, he seems to defer to her as a way to avoid conflict. Bunching might help them rise back up again, but their days are probably numbers. Fortunately for any team that loses today, it will probably be an official non-elimination leg since we haven't had one of those yet. But for us, this every other week trend of non-eliminations (official or not), is getting annoying. Send someone home, Phil!