Weekend Forecast for November 13-15, 2015
By Reagen Sulewski
November 13, 2015
BoxOfficeProphets.com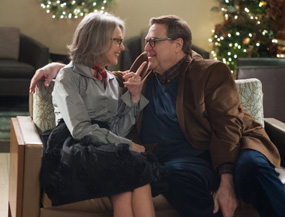 ---
Well, that was fun, wasn't it? One whole weekend of hits before we're back to flashbacks of October. The good thing is that we've got a guaranteed hit just around the corner, but this weekend has three more of those "hey, everyone thought it was a good idea at the time" films that really should have premiered in September or January or something.

Leading off the group is the awards-bait film The 33, about the group of Chilean miners trapped after a mine collapse, which inspired a world-wide rescue effort. Although hopes were low that the miners had managed to survive, they managed to locate a hiding spot and ration their meagre food supplies in order to survive during the two months it took for a new shaft to be drilled into their mountain. And then, they got out (I know, I know, spoilers). That's ... pretty much it. It's an inspiring story, and you can see why it's great fodder for a film, but it's kind of thin overall and doesn't leave a lot of room to make real cinematic greatness. In some ways, it's kind of The Martian, but underground and with 33 people, but those aspects also suck the life out of the project.

The larger hopes of the film, then, rely on performances. Antonio Banderas is the most notable of the (naturally) mostly Hispanic cast, with Rodrigo Santos, Oscar Nunez, Cote De Pablo and Lou Diamond Phillips being the names that jump out most. James Brolin and Juliette Binoche also have significant roles, but overall we're not talking "star-studded" here. While few are calling this movie straight-up bad, there's not too much in the way of praise either, with the best reviews resorting to that great backhanded compliment of cinema, "watchable." Let's just say that "Capable of Being Perceived By Human Senses!" is not likely to appear as a pull quote anytime soon. There's a bit of compelling movie-of-the-week quality to this, but without star power or a particularly fun premise, we're looking at a rather small opening weekend of about $9 million.

So let's get this out of the way first; mid-November is a perfectly possible time to release a successful Christmas movie. The Polar Express, Bad Santa, The Santa Clause, Home Alone and Jingle All the Way all come to mind. With that in mind, Love the Coopers is not a film I would put in the category of "likely successful Christmas films", despite a heavy-hitting cast of theoretically funny people.

Love the Coopers takes the "Wow Isn't Our Family Crazy" plot and runs with it to terrible sitcom levels, subjecting good and talented people such as John Goodman, Diane Keaton, Ed Helms, Olivia Wilde, Amanda Seyfried and Marisa Tomei to such wonderful non-tired comedic ideas as "fake boyfriend," "too many Santas" and "swearing toddler". There's nothing here that doesn't stink of desperation, and the writer-director duo of Steven Rogers and Jessie Nelson have a host of notoriously mediocre movies to their credit, like Stepmom, Hope Floats and I Am Sam. I know, you're super excited now, aren't you? There's always some market for a gentle family comedy this time of year, but some measure of competence is assumed. This, instead, looks wince-worthy and should disappear quickly as all dismal comedies do. An opening weekend of about $6 million seems likely.

Lastly, in a national release of about 1,500 venues, we have My All American, the true story of college football player Freddie Steinmark, who was diagnosed with cancer and had his leg amputated during the middle of his team's championship season. His ultimately unsuccessful fight against the disease inspired laws committing more effort into cancer research and creating the modern disease "awareness" concept.

An important story, sure. But as a movie, however, it's lacking in a lot of things, particularly in this maudlin, syrupy treatment. Relative unknown Finn Wittrock (who I can't believe isn't a fake celebrity from The Flintstones) stars as Steinmark, while its bigger names appear in supporting roles – Aaron Eckhart, Robin Tunney and Sarah Bolger - so, we're not exactly burning the lights off the marquee here. With little advertising and a paint-by-numbers premise, it's hard to imagine this getting any traction, which would put it at about $2 million this weekend.

Thus, it's an easy second weekend win for Spectre, which debuted a little over $70 million last weekend. While that's still a solid second largest opening weekend ever for a Bond film, it's almost $20 million below Skyfall's mark, and also was overestimated – meaning it's either weaker than anyone thought in the word-of-mouth department, or it's a studio anxious to push inflated numbers. Neither is a great scenario. Now, to put this all in perspective, it's still going to be the second most successful Bond film ever, and with international box office doing what it's done in the last five years, it's not crazy to talk about a billion dollars worldwide (even if I ultimately think it falls short). Suffice to say that there will be more Bond films, with or without Daniel Craig. This weekend it drops to about $38 million.

The Peanuts Movie was second with $44 million, a solid albeit unspectacular result for a unspectacular but relentlessly faithful adaptation of the Peanuts property. This is likely to have some legs thanks to the upcoming Thanksgiving holiday, as well as its non-confrontational quality. I expect this to hold well, and it should grab about $30 million this frame.

Meanwhile, The Martian is showing old-school legs, coming close to the $200 million mark and still earning well. While the Christmas promised-land is probably too much to ask for, it's going to at least get a Thanksgiving boost. Give it about $7 million here.